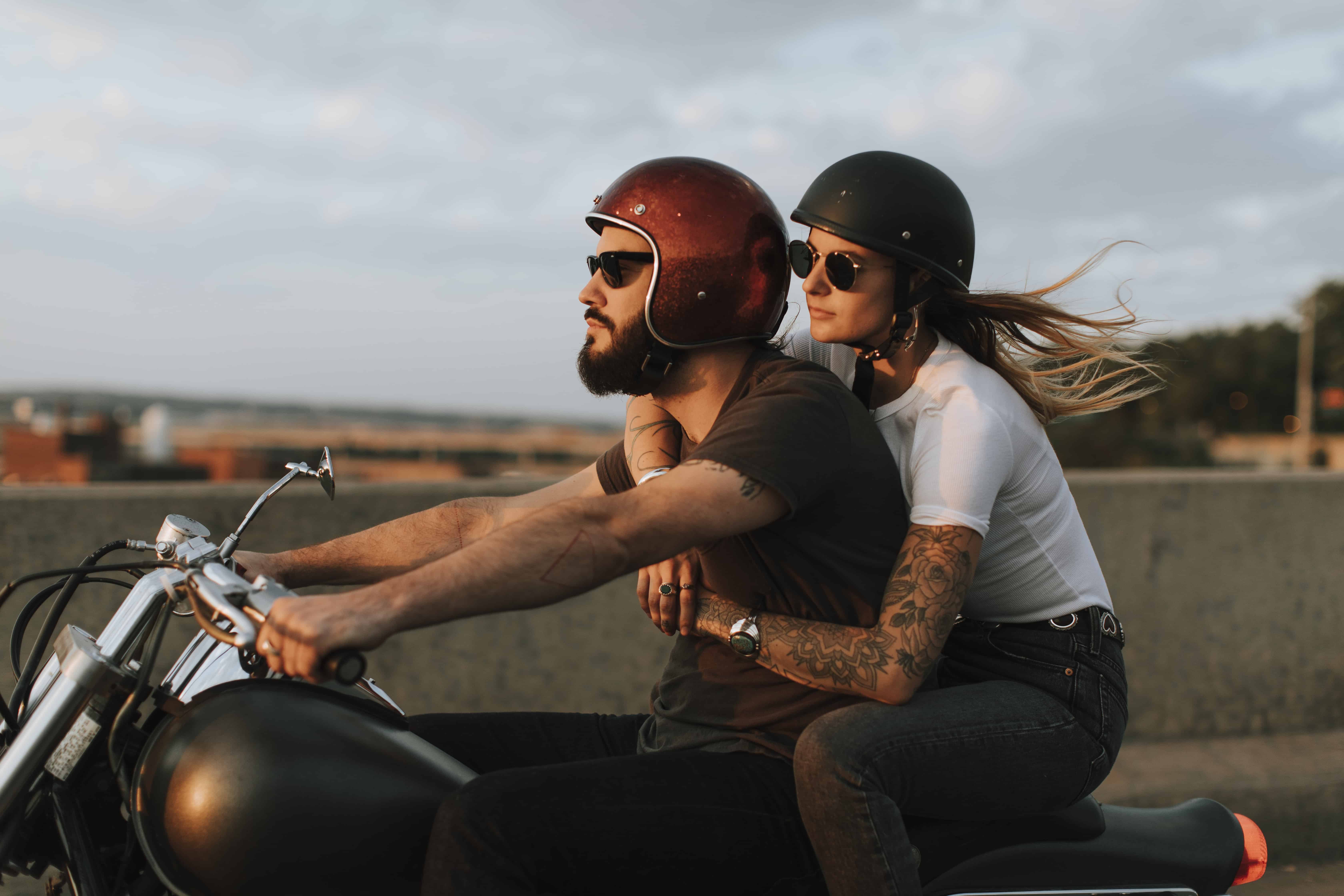 Half helmets are exactly what the name suggests, helmets that cover half the head. There's no doubt that a full-face helmet can provide the best protection, however, the half helmet also offers a ton of benefits that new riding enthusiasts aren't aware of.
There are pros and cons to every type of helmet. While most riders swear by full-face helmets, there's something to be said about a helmet that provides protection, while also allowing you to breathe fresh air and really enjoy your ride as you're flying down the highway. Since the half helmet doesn't fully cover the head, it feels less constraining, compared to a full-face style helmet.
The fact that these helmets expose the rider's face to the elements can be a good thing, in the right weather conditions, keeping the rider cool and allowing them to fully experience the ride.
Movies and TV shows have made the half helmet more popular than ever before. But with this new rise in popularity, the market is now flooded with dozens of half helmets, available in a variety of colors and styles. If you're looking for the safest half helmet on the market, but you're having a hard time pulling the trigger, I'll go over what features to look for, safety ratings, design options and more.
I've included a total of ten top half helmets, each of which offers ultimate protection and comfort on the road. Below, you'll find a comparison chart that displays some of the similarities and differences between each model, such as cost, rating, and weight.
Comparison Chart
Product
Weight
Visor
Cost
Rating
LS2 Helmets Rebellion


Shop On Amazon!

3lbs
Yes
$$
GLX Cruiser Half Helmet


Shop On Amazon!

2.1lbs
Yes
$$$
TORC T55 Spec-Op


Shop On Amazon!

3lbs
Yes
$
Core Vintage Helmet


Shop On Amazon!

3.6lbs
No
$
VCAN Cruiser Helmet


Shop On Amazon!

2.81lbs
No
$
AHR Motorcycle Helmet


Shop On Amazon!

1lb
No
$$
ILM Motorcycle Helmet


Shop On Amazon!

2.55lbs
Yes
$
TORC T50 Route 66 Helmet


Shop On Amazon!

5lbs
No
$$
Daytona Helmets Half Helmet


Shop On Amazon!

1.6lbs
No
$
LS2 Helmets Rebellion Half Helmet Motorcycle Helmet
This half helmet by LS2 called the Rebellion, consists of a lightweight shell that's made out of tough kinetic polymer alloy. While it has a retro look, it also has some modern flavor and comes equipped with ported, flow-through ventilation, which will keep the air flowing through the helmet, so you remain nice and cool.
The twin short peak shield system offers protection from the sun and features two adjustability options:
Full option for total protection
Half-way lock for shade
The helmet's quick-release system allows you to quickly put the helmet on, or take it off. The hypoallergenic liner is removable, washable, and made out of moisture-wicking materials, so you'll stay nice and dry.
Pros
DOT approved
Adjustable visor
Flow-through ventilation system
Moisture-wicking inner liner
Cons
Visor only protects the eyes
Price
GLX Cruiser Scooter Motorcycle Half Helmet
This is what some would call the perfect half helmet for motorcycle riders. It deserves the top spot on this list because of its minimalist design alone. It not only has great aerodynamics, but it also has a cool retractable shield to go with it.
The built-in shield protects you from all sorts of bugs, flying debris, dirt, rain, dust, and more. The helmet features a high impact absorbing system made of expanded polystyrene. This helps protect the old noggin against heavy blows upon impact, offering a type of protection that's comparable to that of a full-face helmet.
Pros
Low price
Moisture-wicking liner is designed to keep the rider dry and cool
Liner is removable and washable
DOT certified for safety in the US
An optional smoke shield is also available, but it is sold separately
The quick-release retention system helps the helmet stay on and come off very easily
Cons
The helmet may not work for all head sizes
TORC T55 Spec-Op Helmet
The Spec-Ops helmet brings to mind the military, Call of Duty and hi-tech machinery. In all cases, you'd be right about this helmet. It has a decidedly WWII feel to it, but one that was brought into the 21st century. It's a slick helmet with a great paint job.
More than that, it features a solid construction which means you'll be safe on the road. The best part about this helmet is its lightweight design. It's so light that you probably won't even notice the weight.
The less you notice, the longer you can be on the road in comfort. With a traditional full-face helmet, after an hour or two of riding, you'll start to feel pain and discomfort in your neck and face.
This type of discomfort can cut your ride short. But if you're on a long trip, riding your bike across the country, then you need this type of lightweight helmet so you can keep up with your buddies, enjoy the ride, and take in the sights. The helmet is also available at a reasonable price, so it won't hit your wallet too hard.
Pros
The drop-down visor stays out of the way when it's flipped up
Anti-bacterial inner lining
Lightweight polycarbonate shell
Cons
The drop-down visor is tricky to remove
Pay close attention to the manufacturer's sizing chart since the helmet can run a size small
Core Vintage Open Face Helmet
This helmet by Core has a decidedly retro feel to it. It looks like something out of the 1960s. More specifically, it looks like something that Steve McQueen or Peter Fonda would wear.
It provides more protection for the face compared to other helmets in this category, which is what makes it one of the safest models on the market. The exterior of this helmet is covered with automotive-grade paint. This means that it has increased durability and scratch resistance.
It also meets the DOT standards for safety; hence it's a great helmet to have on the open road if you're traveling across the country and you need more protection than a basic half helmet can offer.
Pros
The nylon liner inside helps to promote airflow
Liner is removable and washable
Lightweight design
Exceeds current DOT standards for safety
Cons
The snaps that hold the visor have been known to fail
May not fit every head shape
VCAN Cruiser Gloss White Motorcycle Half Helmet
This model by VCAN is a very low profile, basic looking half helmet. However, riders tend to flock to it because of its retro feel. It has a decidedly 60s feel to it and comes with a visor that's designed to improve visibility in bright light conditions.
It also features a zippered neck skirt to keep out the cold air, so it's perfect for use in colder weather. This is a helmet that is great for both summer and winter riding.
Pros
Adjustable forehead vents keep you cool on warm days
Chinstrap is highly adjustable
Low price
Lightweight design
Retro look
Built-in visor
Cons
The visor can be difficult to adjust
Outer shell tends to scratch a little too easily
AHR Motorcycle Half Face Helmet
This helmet is solidly built and offered at a price that's affordable. It's lightweight but features a tough ABS shell. It also has a high-density buffer layer that will protect the rider upon impact.
It's available in four size options and offers the type of comfortable, cushioned fit that most riders are looking for. The highly adjustable chinstrap will help the rider to securely attach the helmet and will keep it solidly in place, even in the event of an accident.
Pros
Low price
Thick buffer layer protects rider upon impact
ABS shell
Comfortable
Lightweight design
A removable visor helps to protect against the sun, debris, and bugs
Highly adjustable chinstrap
Removable visor
Cons
Neck protection is minimal
ILM Motorcycle Half Helmet
This helmet has a classic look and fits both men and women. The premium ventilation system helps to keep the rider nice and cool in hotter climates. The integrated drop-down visor protects the rider's eyes from harmful UV rays and improves visibility in bright light conditions. It will also help to protect against flying debris, bugs, wind, dirt, and dust.
Pros
The drop-down visor is removable and upgradable
The quick-release chin strap helps to detach the helmet quickly
One of the lighter helmets that you can buy at 2.55 pounds
Low price
Excellent ventilation system
Cons
Will not fit all head sizes
Chinstrap can be difficult to adjust
TORC T50 Route 66 Half Helmet
This is the ultimate retro half helmet. The black shell features a shark face design that's very reminiscent of the 1950s and 1960s. The shell is made out of lightweight ABS material that's incredibly durable.
The weight of the helmet itself promotes longer use since you won't have to deal with tension in the face or in the neck like you would with a heavy full-face helmet. The helmet comes with a single smoky visor, which is removable.
The visor is designed to handle bright light conditions and can protect the wearer's eyes from harmful UV rays, in addition to wind, and flying debris. The interior liner is thick, removable, and washable. This model is also DOT approved, which will give buyers peace of mind knowing that's it's met certain safety standards.
Pros
DOT approved
Thick, removable, washable liner
Padded chinstrap secures the helmet to the head tightly
Great paint job
Low price
Made out of ABS material
Cons
Rider may experience high wind noise
Bulky design
Daytona Helmets Motorcycle Half Helmet
This Daytona half helmet is designed for heads of all shapes and sizes. It meets DOT safety standards and comes with a one hundred percent money back guarantee. The shell is made out of tough, lightweight carbon fiber, which not only provides excellent protection upon impact, but its lightweight design allows you to ride for a longer period of time, in total comfort. The contoured design of the shell will fit snug against your skull, keeping it firmly in place, even at high speeds.
Pros
DOT approved
Contoured shell design
Moisture-wicking inner liner
Lightweight
Highly adjustable chin strap
Buyer's Guide
Modern half helmets are much safer than they were twenty years ago. Many come with a removable shield, quick release buckle system, thick impact-resistant liners, and highly adjustable chinstraps that make it easy for the rider to achieve the perfect fit to prevent the helmet from flying off upon impact or in high wind conditions.
These days, half helmets are considered one of the most popular styles to choose from because they provide more freedom than a full-face helmet. This is due to the reduced amount of coverage the helmet offers. Unlike the full-face helmet, this style doesn't provide protection to the face. It also doesn't protect the ear or neck area. Many riders may consider this reduced level of protection a drawback.
Another disadvantage is the fact that these helmets don't provide eye protection, which means the rider will need to figure out how to select the right visor for their motorcycle helmet, or wear glasses or goggles to improve visibility. With this type of helmet, there are many pros and cons.
But some models can still provide the type of protection you need to stay safe on the road, you just need to learn more about the different features and design options available in order to choose a helmet that will work for your riding needs and budget.
Improved Breathability
If you've ever worn a full-face helmet, then you know the struggle of trying to stay cool, keep the sweat out of your eyes, and ride in comfort when it's hot out. Breathability is one of the half helmet's biggest advantages and the main reason many riders choose this style over another. These helmets are basically made out of half the amount of material that a modular or full-face helmet is.
This means there's less material used to cover your head. The design offers a much larger surface area on your head, allowing wind to flow past. This works to keep you nice and cool while you ride.
A full-face helmet doesn't leave much surface area on the head exposed, which means there isn't much space where air can flow to keep the rider cool. Most full-face helmets come equipped with ventilation systems designed to promote airflow through the helmet in an attempt to keep the rider cool, but these vents don't work quite as well as a half helmet.
General Safety Concerns
If you're thinking about making the switch to a half helmet, then you've probably already done some research on the pros and cons and what you can expect concerning fit, comfort, and protection. Newer models are designed tougher than ever before and made out of different types of hard-case materials such as carbon fiber and polycarbonate. These materials are basically impossible to break.
There have been many debates in the riding community over the years, concerning whether or not these helmets are really safe. Many riders will argue that safe riding will mostly depend on the rider and not the type of helmet they use. But accidents can happen, even to the most skilled rider.
While these helmets are designed for top of the line comfort, the fact that a large portion of the face is left open poses a serious danger to the rider, which is why I don't recommend a half helmet to new riders.
Freedom-Lack of a Face Shield
Of course, when most riders think of a half helmet, their first thought is the feel of the wind in their face. But aside from staying cool and feeling a nice rush of wind, you'll also be exposed to dirt, dust, and flying debris.
Because of this, most riders who use this type of helmet will often ride with a bandana covering their mouth, chin, and neck area. While this can protect you from the elements and flying debris, considering the chin takes a major hit upon impact, a bandana isn't going to provide the type of protection you'll need if you get into an accident.
Basically, if you're going to make the switch to a half helmet, then you'll need to learn how to adjust when you're riding through smoke, dirt, or high wind areas. A rider wearing a full-face helmet only has to drop down their visor to ride on comfortably. Additionally, if you're riding in the winter, you'll also have to deal with cold temperatures, rain, and hail.
Why Half Helmets Aren't Designed for Beginners
These helmets are not meant for new riders. If you've just bought your first bike, you should avoid wearing this type of helmet until you have a good feel for riding and know how to handle yourself on the road.
However, regardless of how experienced you are, you'll also need to consider your riding habits. If you often ride at a decent speed, then this type of helmet will work just fine. But if you're known for gunning it on the freeway, then stick with a full-face helmet.
If you spend a lot of time on the road, then a full-face helmet can be uncomfortable, especially considering most weigh at least twice what a half helmet does.
DOT Approved
In the past, these helmets have gotten a bad rap. But modern designs offer ultimate protection upon impact. While in the past, helmets were not required to undergo testing, things have changed. In order for a helmet to be sold in the U.S., it must meet DOT safety standards.
These days DOT approved models are quickly flying off the shelves as riders learn that new models of half helmets are now required to meet certain safety standards in order to be considered road safe.
Weight
These helmets are made out of lightweight materials that are designed not only with safety and protection in mind but with rider comfort. These lightweight helmets weigh in at an average of two to three pounds, compared to full-face helmets that typically weight five to eight pounds.
Design
Some models of half helmets can weigh as little as half a pound. High-quality models are made out of lightweight, yet sturdy carbon fiber. The shell of the helmet is usually lined with a plush liner and comes complete with a couple of D-rings that are used to secure the chinstrap. These helmets are now designed to offer the best combination of safety and comfort.
There are many styles to choose from, including the basic chinstraps and shell. There are also retro models available that come complete with a large leather patch over where the ears fit in the chinstrap in order to provide warmth to the rider who enjoys riding in colder weather. The shorty style is probably the most popular, which is basically a bowl design complete with simple straps.
Drop Down Shields
If you're looking for a model that provides a little protection from the elements, it is possible to find half helmets that come equipped with dropdown shields, however, these shields often don't provide the type of protection that they do on a full-face helmet. Typically, the visor will only cover a portion of the face, from the forehead to the nose. However, this shorter visor design will still help to keep the sun and wind out of your eyes, allowing you to see in a variety of light conditions.
Accessories
These helmets are more versatile than ever before. If you're looking for a way to improve your comfort when you ride, you can purchase a wide range of accessories such as the snap-on visors, earmuffs, scarves, and more. If you want to transport an extra helmet for a date or riding buddy, then click here to read my article on how to secure your helmet to your motorcycle helmet with a holder.
Most models are also compatible with a bike lock, which will come in handy if you want to lock up your helmet while you stop off for a bite to eat or run errands. To learn more, check out my article on how to lock your helmet to your motorcycle.
Is A Half Helmet Right for Me?
Usually, it's often the old school riders that prefer the half helmet, since they're experienced and already know how to handle different types of road conditions, how to avoid hazards in the road, and how to safely split lanes. It's more common for the new rider to be indecisive concerning which helmet is the right choice, but there are times when the avid rider will need to use both styles, which is why most riders have more than one helmet. If you're not sure whether or not this helmet is right for you, ask yourself the following questions:
How often do you ride?
How many years have you been riding?
Do you have experience riding in inclement weather?
How far do you plan on riding?
What's your budget like?
Often, the answers to these questions will give you a better idea of what type of helmet you need and which style will work the best for your experience level and general riding needs. If you're confident concerning your skills on the road, how you handle riding in the rain, and your ability to ride comfortably in colder weather without the type of protection that a full-face helmet provides, then give a half helmet a shot.
Keep in mind, there's no reason why you can't switch between helmet styles based on where you're riding, the weather, and the length of your trip. You can definitely benefit from using a variety of styles of helmets, but if you're looking for ultimate freedom, this is the only type of helmet that delivers.
Final Thoughts
Using the best half helmet for motorcycles just so you can look cool should not be a priority. Even if you're an experienced rider, you need to take into account your riding style and be honest with yourself concerning how safe a rider you really are.
If you're known to race or go well over the speed limit on the freeway, then sticking with a full-face helmet is the way to go. If you're a responsible rider and you're looking for a helmet that can provide the type of comfort you need for your next trip across the country, then a half helmet is the way to go. In the end, it will all be a matter of your riding skills, the type of weather you ride in, and what level of protection you're looking for.