Regardless of what type of bike you ride, where you ride, or your general riding style, you can find the best motorcycle jacket that will meet your needs and vibe with your style. The wide variety of jackets to choose from can make it difficult to find the right one. But if you know more about the true purpose of these jackets, how to find the right size, and what features to look for, then you should have no trouble finding a jacket that offers the perfect fit and ultimate protection.
I've made your job a little easier by creating a buyer's guide and including six product recommendations. I've checked out several of the leading models and took a closer look at the features each jacket has to offer including fit, pockets, design, and more.
My buyer's guide will help you learn more about the importance of these jackets, the role they play, and what to look for to ensure you find the perfect model and one that offers the highest level of protection and a more comfortable fit.
Below, you'll find a comparison chart that lists some of the most important features including size options, material type, and more.
Motorcycle Jackets Comparison Chart
Product
Size
Options
Material
Style
Rating
Tourmaster Advanced


12
Textile
Touring
Hot Leathers JKM1011


5
Leather
Cruiser
Viking Cycle Jacket


9
Leather
Street/Sport
MILWAUKEE LEATHER Men's


9
Leather
Cruiser
ILM Motorcycle Jackets


Shop On Amazon!

5
Carbon Fiber
Street/Sport
Men's Brotherhood Classic


Shop On Amazon!

3
Leather
Street/Sport
Tour Master Advanced Men's Textile Motorcycle Jacket
Our Rating: (5/5)
This touring textile jacket by Tour Master is made out of carbolex six hundred denier with reinforced high impact areas that are made out of 1680 denier. The extensive ventilation system on the shoulders will provide ultimate breathability, keeping you cool and dry in hot weather.
The rear back panel improves rider comfort. This jacket focuses primarily on rider protection but does include features that are designed to reduce rider fatigue and improve wearer comfort.
Pros
Excellent ventilation system
Two mesh-lined chest pockets act as vents
Shoulder vents
Reinforced high impact areas
Cons
Cannot provide as much protection as a leather riding jacket
Conclusion
Wearing this jacket will keep you nice and dry during warmer weather. The included waterproof liner will also prevent moisture from making contact with your skin and also adds to the versatility of the jacket. However, it cannot provide the same level of protection or insulation that a true leather jacket can. Instead, this jacket is a better option for rides during the warmer season.
Hot Leathers JKM1011 Motorcycle Jacket
Our Rating: (4.5/5)
This is a heavyweight, black leather cruiser jacket that's durable, comfortable, and has a nice soft texture. This model comes with double piping detail and a quilted liner that's removable. The stand up racing collar combined with the zippered cuffs will add more protection from the elements.
Since the jacket is made out of thick leather, it offers optimal protection against impact and helps to significantly reduce the chances of road rash, which is caused by the skin making contact with the road during an accident, as the rider slides.
The leather is weather-resistant, so it can be worn during inclement weather and will keep your skin dry. This is also a pocket-heavy model, so you can keep all of your important personal items highly accessible.
Pros
Plenty of pockets
Reduces chances of road rash
Durable
Ultimate protection during impact
Cons
Not breathable
Not recommended for riding in hot weather
Conclusion
This heavy-duty leather jacket can provide plenty of protection during the colder months of the year, but the lack of vents makes it a poor choice for year-round riding. Additionally, the heavier weight of the jacket can also increase wearer fatigue. But if you're looking for a thick, durable leather jacket that can offer ultimate protection during a slide, then you won't find a better jacket that's up to the task.
Viking Cycle Leather Motorcycle Jacket
Our Rating: (4.5/5)
This jacket is made out of one hundred percent buffalo leather and is wrinkle-free and weather repellant. It also comes equipped with heavy-duty armor that adds much-needed protection during a slide. The armor is found on the spine, shoulders, and the elbows.
If you're looking for a pocket-heavy model, then you'll love this jacket's design. It comes equipped with multiple pockets that will allow you to keep all of your personal items protected and highly accessible. The dual-layer zip-out mesh liner will keep you nice and warm during warm weather and in the event of rain.
The cuffs also come equipped with a zippered closure at the waist to prevent buffeting. The snap bottom adjustment at the waist allows you to achieve a custom fit for improved protection and comfort. Adjusting the waist correctly will prevent the jacket from riding up during a slide.
Pros
Highly adjustable
Built-in armor
Removable liner
Waterproof
Conclusion
This jacket comes loaded with plenty of features that are designed to keep you safe on the road including built-in armor, heavy-duty leather, and an adjustable waist that prevents the jacket from riding up. But the lack of vents makes this model a bad choice for rides in high temperatures. Of course, if you don't live in an area that has harsh winters and mild summers, then you'll find yourself wearing this jacket year-round.
MILWAUKEE LEATHER Men's Classic Side Lace Police Style Motorcycle Jacket
Our Rating: (4.5/5)
Milwaukee Leather is one of those companies that's been around for decades, and their known for their top of the line cruiser jackets, like this classic side lace police-style jacket. This model is not only aesthetically pleasing, but the lace-up design also allows you to achieve a custom, snug fit, which will prevent the jacket from riding up during a slide.
The two lower zippered pockets and the additional ticket book snap close storage pocket will allow you to keep all your personal items safe and close at hand. The built-in waist buckle and belt also allows you to adjust the fit of the jacket, providing ultimate protection. The thermal liner is perfect for riding during colder weather and can keep you nice and warm during inclement weather.
Pros
Thermal liner
Plenty of pockets
Adjustable design
Low price
Cons
No vents
Can promote rider fatigue
Not designed for riding in hot weather
Conclusion
This classic design lacks many of the advancements that you'll find in other leading models such as front and rear vents and a removable liner. This jacket should not be worn for riding in warm weather since it can cause excessive sweating, an issue that's made worse due to a lack of vents. However, if you love this classic style, it's still a great buy for mild and cold weather conditions.
ILM Motorcycle Jackets Carbon Fiber Armor Shoulder Moto Jacket
Our Rating: (4.5/5)
If you're looking for a relaxed street/sport motorcycle jacket, you'll love this highly breathable model by ILM. This jacket features a unique ventilation system that makes it perfect for riding in the summer. The outer shell is waterproof, while the removable internal liner is quilted and designed to keep you nice and warm during colder weather.
The spine and elbow armor is removable and can provide top of the line protection in the event of an accident. The external kidney, back, chest, and shoulder armor can prevent road rash, which can occur during a slide. The jacket also features reflective white tape, which will make you highly visible on the road.
Pros
Perfect for summer riding
Excellent ventilation system
Removable quilted liner
Removable armor
Waterproof shell
Reflective tape
Cons
Not recommended for freezing temperatures
Conclusion
This lightweight jacket is made out of carbon fiber material, which can provide excellent protection during an accident, as can the removable armor that's found throughout the jacket's design. While the jacket's shell is waterproof and there's a removable quilted liner, this jacket cannot provide the same level of insulation that you'll find on leather motorcycle jackets, so it's not recommended for use in freezing temperatures.
Men's Brotherhood Classic Leather Motorcycle Distress CE Armor Biker Jacket
Our Rating: (4/5)
This leather street jacket features a vintage distressed style and is made out of 1.3-millimeter thick cowhide leather. You'll find removable armor on the back, shoulders, and elbows for full protection during an accident.
The zippered pockets will come in handy for storing personal items while the removable liner offers an extra level of protection during harsh temperatures. The ventilation panels make this jacket moderately breathable, although it can't quite compare to models that come with dedicated front and rear vents.
Pros
Removable armor
Heavy-duty zippers
Decent ventilation
Distressed leather design
Cons
Not breathable enough for high temperatures
Only available in three sizes
Fit is not adjustable
Conclusion
This model offers better than average protection against road rash, but its ventilation system is lacking. This jacket will work well for mild and cold weather, but its lack of breathability makes it a bad choice for summer use. The removable armor combined with the thicker than average cowhide leather makes this jacket a great option if you're looking for a jacket that can provide ultimate protection in the event of an accident.
Motorcycle Jacket Buyer's Guide
Finding a jacket that works for your riding style, where you ride, and one that meets your riding needs will be important. Just like researching motorcycle helmet sizing options, buying a jacket that fits correctly will be crucial and can provide a higher level of protection compared to wearing an ill-fitting jacket that's loose in all the wrong places. There are also dozens of different styles of jackets to choose from, ranging from your standard riding jacket to models that are designed specifically for the serious everyday rider or long-distance rider.
Types of Motorcycle Jackets
Most of these jackets will fit into one of four categories:
Cruiser
Racing
Adventure touring
Street/sport
The jackets in each of these categories are designed to fit the needs of each type of riding style. There are both textile and leather options for each style, which will give the buyer the choice of the preferred material that will best suit their riding needs.
While there are many models that are designed for a specific style, there is a huge number of jackets on the market that blur the lines between these styles in order to accommodate the motorcyclist who wants the best of both worlds. Below, you'll find more information on each type of style available.
Cruiser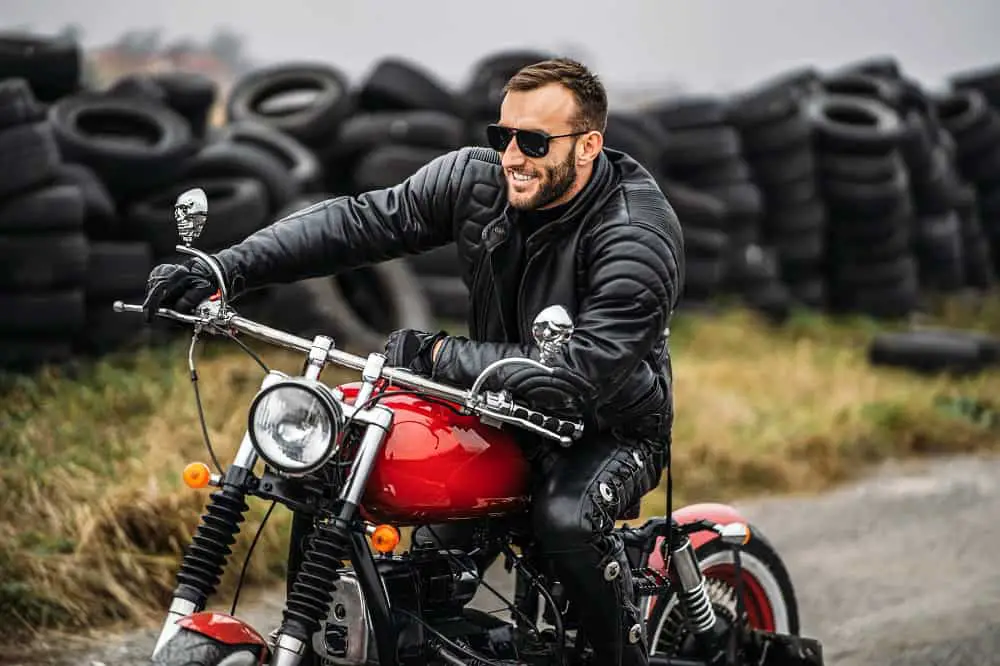 This is the classic style of jacket that most people will associate with motorcycle riders. The most common material used for this style is leather. However, there are cotton and textile options available.
Comfort and fashion are the biggest driving factors behind this style. In terms of fit, it's typically on the looser side since it offers a more relaxed design. There is usually little to no armor, yet you'll notice that some of the major manufacturers also offer a few models in their product line that have incorporated armor in the design, although it's not quite as intrusive as the amount and bulk of the armor that you'll come across with other styles.
Street/Sport
These street jackets are usually viewed as a more relaxed or casual version of a standard racing jacket, with more features. The cut of the jacket is very similar and designed to meet the needs of the sport bike riding style, however, the fit is more relaxed and a bit loose.
Unlike a jacket designed for racing, a street jacket is made with textiles. You'll also find several leather options available and some models that feature a combination of the two types of materials. For more variety, manufacturers also incorporate removable liners and venting options. There will be a minimal number of pockets, however, there are usually more pockets found on a standard sport jacket compared to a racing jacket. Most sport jackets will also commonly incorporate armor.
Racing
Racing jackets are made out of abrasion-resistant materials due to the high risk of crashes. Many of the best helmet brands also produce jackets that are designed specifically with the racing enthusiast in mind. The most common material used for this style is a thick cowhide, which is typically what the main chassis is made out of because of its reputation for abrasion resistance.
In order to aid in mobility, you'll find synthetic stretch panels placed in key areas. External TPU sliders and internal armor are also common and designed to provide protection against slides and high-speed impacts.
For improved aerodynamics, these jackets often have a very tight fit. The sleeves are designed to fit the tucked riding position, which is why they have a pre-curved design. This will help to minimize rider fatigue. On the bottom hem of the jacket a durable zipper is often found and used to attach to a pair of racing pants. This design prevents the jacket from riding up during a slide.
Adventure Touring
Adventure touring jackets are designed to accommodate a wide variety of different riding situations. These jackets are commonly made out of highly durable textiles that are breathable and waterproof. You'll also commonly find armor or armor options.
These jackets come with an insulated liner and plenty of venting, which will prepare the rider for a variety of temperatures. They also usually have several pockets, which will allow you to keep important personal items highly accessible, which is a must for longer rides.
The jacket's cut comes below the waist and offers the best coverage for the user who rides standing or in an upright position. For complete neck coverage, the collar is often very tall.
Textile or Leather?
When motorcycle jacket protection is discussed, there's often a debate concerning what type of material is the better option and which one can offer ultimate protection. Both types of materials have their pros and cons.
It's important to consider those pros and cons based on your riding style and personal preference, in order to determine which type of material will suit your needs. Ultimately, it will be a matter of personal preference since there is no real cut and dry answer to this question.
The biggest advantage of wearing a jacket made out of leather is the abrasion resistance. Models made out of high-quality leather will be the best option for protection against road rash. Because of this, many riding jackets have a main chassis that's made out of leather.
Most people will commonly choose leather for aesthetic reasons as well. Leather jackets always tend to look amazing and they have an extensive history of being the material of choice for most riding jackets.
But when it's hot or raining, leather jackets cannot perform quite as well as a textile jacket. Of course, leather can be treated to make it water resistant, however, it will give way to moisture eventually.
Perforated surfaces can help to make it more bearable to wear a leather jacket when it's hot out, yet it cannot compare to the type of breathability that a textile jacket can offer. Leather also tends to cause rider fatigue since it's significantly heavier compared to models made out of textile materials.
The textile jacket is considered more versatile since the fabrics are much easier to work with. Because of this, you'll commonly find more features in jackets made out of textile material.
These jackets are waterproof, highly breathable and often come with excellent ventilation, which is what makes them the best choice for riding around in high temperatures. They're also much lighter than a leather jacket and considered more comfortable and flexible.
Due to the advancements made in textiles, they're more durable than ever before, but they still cannot provide the same level of protection that a leather jacket can. A textile jacket, especially one that's mesh doesn't offer the same abrasion resistance qualities that leather models do.
Jackets that are made out of textiles must be constructed strategically, in layers, in order to improve their abrasion resistance. These jackets also have a reputation for wearing out much faster than leather models.
Armor
The addition of padding and armor is one of the biggest advancements in motorcycle gear over the last few years. Back in the day, these jackets didn't come with armor and were not able to provide much protection in the event of an accident.
Later on, padding and armor were added to high impact areas. In the beginning, these additions made the jacket very rigid and bulky. Earlier models would negatively impact the rider's comfort and restricted their mobility to the point where the rider would prefer to ride without wearing one.
These days, armor and padding technology has evolved to the point where you won't even notice it. Now, the armor is very lightweight and thin and flexible. The beauty behind this new type of armor is the fact that it has the ability to become very rigid upon impact, so it can provide the rider with a higher level of protection.
After an impact, the armor will once again become pliable. If you're shopping for a jacket with armor, look for a model that offers suitable protection and C.E. rated armor. If the armor is removable, you'll also have the option of upgrading the armor, for a higher level of protection.
Some models of touring jackets will come with hard armor that's referred to as sliders. This armor is located on the outside of the jacket and is usually made out of a type of durable, hard plastic called TPU.
The sliders are placed on the shoulders, elbows, and other high impact areas. This type of armor is designed to allow those high impact areas to slide, minimizing the chances of tumbling.
Not every jacket will come equipped with armor, but many that do will come with elbow and shoulder protection. You can also find back protectors on some jackets, or you can find a jacket that allows you to add this type of slider. If you don't need to wear armor all the time, then a jacket that allows you to remove the armor is a huge plus.
Visibility
Being highly visible when you're riding will help to improve your safety on the road. At times, other motorists can fail to see motorcycles, which can result in an accident. Riding gear that makes you highly visible will have a huge impact on your safety since it will draw more attention to your presence on the road. In order to accomplish this, many manufacturers are now producing jackets with Hi-Viz colorways or another type of reflective material.
But being bright and highly visible isn't for everyone. For riders who are not looking for a bright, high visibility jacket, the latest advancements in reflective wear will be a big deal. These jackets are stylish and come with inconspicuous small reflective piping that's placed on the majority of the highly visible areas.
This type of piping is not noticeable during the day. Once headlights hit the jacket, the piping lights up, working to significantly improve your visibility on the road.
Ventilation
A jacket that comes with proper ventilation can help to prevent excessive sweating or the heat exhaustion that can be a direct result of wearing a heavy-duty riding jacket. Not all ventilation on these jackets is created equal. Some models will feature straight through venting, but others will use mesh or perforated material.
The mesh material will work to keep you dry and cool, keeping moisture off you if it begins to rain. Look for vents located on the back of the jacket, in addition to intake vents located on the front of the jacket, if you want a model that offers better than average ventilation. These exhaust vents will work by drawing out any excess moisture and heat.
Lining
Lining that's removable makes a jacket more versatile. Insulated lining can make it warm enough that you can ride your bike during the colder months of the year. The lining can be left in for cold weather conditions or removed once the temperature rises.
The best liners for cold weather riding should come with full-length sleeves, however, some may only come in a vest design. Pay close attention to the type of liner that comes with your jacket, especially if you're looking for a warmer option.
You can also find jackets that come with lining that's waterproof. This type of removable lining is usually found on water-resistant jackets and is designed to prevent water from seeping through from the outside. A waterproof liner will provide some warmth since it's extra material, but it cannot provide the same time of warmth that an insulated liner can.
How to Pick the Right Motorcycle Jacket Size
Finding a jacket that fits you as best as possible is important. Wearing a jacket that's too big can mean that the jacket will slide up during an accident, leaving your skin fully exposed. A jacket with armor that's too big can cause the armor to move out of position. Jackets that are too small will make it difficult for you to move and can cause user fatigue.
Because a good fit is so important, many jackets will come equipped with fitment adjusters that are located on the sleeves, sides, and at the waist. These fitments are very useful, allowing you to enjoy a custom fit. They will also help to prevent any extra material from flapping around in the wind, an issue that can cause accelerated wear to the jacket and buffeting.
You will also want to pay close attention to each manufacturer's size chart. Carefully take your measurements and view the size chart, choosing the right fit based on the measurements for each size. Avoid choosing a jacket based on the size alone since a large made by one company can be much smaller or larger compared to another company's jacket in the same size category.
5 Reasons to Wear a Motorcycle Jacket
Below, you'll find the five top reasons why you need to wear a motorcycle jacket, each and every time you ride.
Safety-When it comes to staying safe on the road, a motorcycle jacket will play an important role since it can help to protect you in a crash. Some studies have shown that certain features can make a jacket more effective during an accident, so pay more attention to safety features than aesthetics when you're shopping for a new jacket. Instead, focus on the type of material it's made out of, whether it comes with protective armor and how well it fits.
Comfort-The right jacket will increase your comfort on the road, in addition to providing more protection. You can choose from a variety of fits and sizes and find a model that will fit you like a glove.
Protection from the elements-If you're a die-hard rider and you love riding your bike year-round, then you'll want a model that comes with a waterproof liner or an insulating liner. Insulated liners will keep you nice and warm, while the waterproof liners will keep your skin nice and dry, preventing skin irritation.
Show off your style-The right jacket can help to pull your look together and make you stand out from the crowd. Since there are so many styles, types, models, patterns, and colors to choose from, you should have an easy time finding a jacket that helps to express your style and showcases the look you're going for.
Improves your visibility at night-If you love riding your bike at night, but want to remain highly visible to other riders and vehicles on the road, then jackets that come equipped with reflective material can significantly improve your safety at night.
Final Thoughts
The best motorcycle jacket won't just make you look cool, but it will also protect you from rain, freezing temperatures, and provides much-needed protection on high impact areas, in the event of an accident. Basically, these jackets will protect you, can make you more visible if you love riding at night, and will keep you warm and dry.
Remember, finding the right fit will be important, especially if you want a jacket that comes with armor or a liner. Many jackets that are highly adjustable will allow you to upgrade the armor or liner, so you can wear a jacket that feels like it was made just for you.