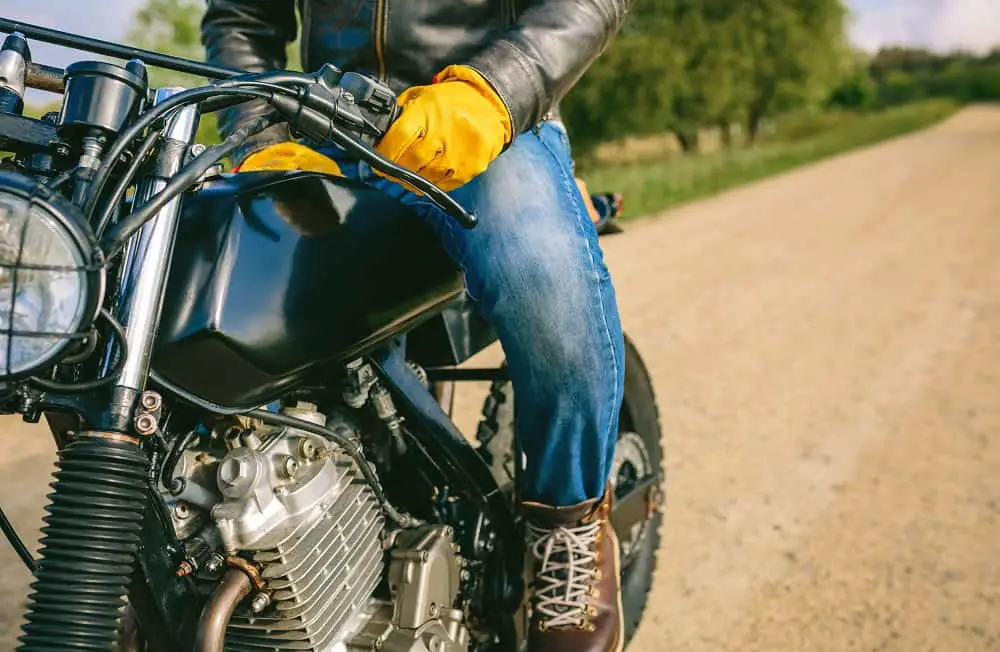 With rides moving further and further away from race bikes, traditional riding jeans become increasingly popular. While a decade or so back that meant riding in a thicker pair of jeans, nowadays you have reinforced and armored models that use materials such as aramid and kevlar in their structure to increase safety and durability.
The best motorcycle jeans, however, often need to check a lot more boxes other than just safety and durability. That's why I've compiled this lift of top models for 2021 where we'll compare the most notable features about each pair and showcase the best ones in their respected categories.
Best Overall – Takuey Motorcycle Riding Jeans
Takuey is a well-known brand that manufactures all sorts of motorcycle protective gear. Not only are their products decent looking and quite protective but they are also one of the cheapest options you can have out there, making them ideal for people on a tighter budget.
The material here is mostly 12oz stretch denim cloth mixed with cotton and spandex. That mixture allows for good amounts of breathability while maintaining structural rigidity and relative windproofing, although the claimed windproofing isn't as good as advertised.
They also lack waterproofing making them less-than-ideal for riding in adverse weather. Above the knees and on your waist you have multiple folds that allow your legs and body to stay in a bent position for long periods without reducing blood flow to your legs.
With the jeans, you also get 2 knee pads and 2 hip protection pads, The knee pads are inserted in their outside pockets at the front of the knees, while the hip pads attach to the inside of the jeans.
They come in 5 different sizes with an inseam ranging from 28 to 38. They also come in both blue and black colors. As a whole, for that price, there are few models that offer the same amount of features, so if you're in a hurry this is definitely something you should shortlist.
Pros
Budget-friendly
Flexible knee and waist foldings
Come with 4 protection pads
Anti-tearing and breathable
Ideal for beginners
They come in 5 sizes and 2 colors
Cons
Not a ton of protection against road rash
Not waterproof
Windproofing isn't stellar
Best Budget Jeans – Takuey Motorcycle Jeans with Protector Pads
Just like the previous Takuey model, these motorcycle armor jeans feature one important aspect – they are cheap. Not only are they budget-oriented, though, but they are also extremely well protected with their solid knee and hip pads and durable denim cloth.
Apart from the subtle design changes, such as color, and form, these jeans are a bit more stretched in their fit and are suitable for a wider range of people thanks to that. You can easily order your size and have the jeans be true to it.
On top of that, the wide design also appeals to people that like to wear a separate kevlar or waterproof layer underneath their riding jeans. You will need that since this pair doesn't have any sort of waterproofing. In fact, it is fairly mediocre in that aspect but has decent wear-resistance and breathable anti-tear fabric. It is made out of 12 oz denim, just like other models made by this company.
The knees and waist again feature a folding fabric design that allows for an easier bike stance. As I mentioned, at the knees and at both sides of your waist you have two external pockets for the knee pads and hip protector pads.
That makes these jeans excellent for daily driving as taking these pads in and out is extremely easy. They are also quite stylish and come in a lot of size options, so overall, apart from being super cheap, they tend to check a lot of other additional boxes. The only downsides I can mention here are the lack of waterproofing and the lack of reinforced fabrics.
Pros
Very cheap
Good protection
Easy to put pads in and out
Hip pads are solid
Stylish design
Waist and knee folds
Breathable
Cons
Lack of reinforced fabrics in the denim
No waterproofing
Windproofing isn't great
Best Women's Jeans – Juicy Trendz Women's Motorcycle Riding Jeans
Finding a good pair of motorcycle jeans for women isn't going to be easy as the market is oversaturated with men's models. Still, there are a few great models here and there which tend to be cheaper but still offer quite a lot of protection to their wearer.
The Juicy Trendz Women's Motorcycle Riding Jeans are an excellent choice for anyone that doesn't want to spend a small fortune on an armored pair that won't necessarily be very easy to wear and take on or off. They are stylish, have a slim fit, and are properly reinforced all-around while maintaining a sleek profile.
In terms of materials, these jeans fare quite well. Unlike the cheaper models from Takuey, the denim used here is 14 oz, making it more durable and less prone to tearing. The outer denim layer is also mixed with 320 GSM aramid lining which covers all the vulnerable areas such as the knees, hips, and thighs.
Aramid is known for being great against road rash and is excellent to have as a base layer of protection in any riding jeans. Additionally, in those same areas, you have an internal lining of Kevlar that provides an extra layer of protection still. It is amazing to see both of these materials put in a fairly budget-oriented pair of jeans as that will make them almost indestructible against erosion. Technically, that classifies these jeans as both reinforced and Kevlar, or in other words – hybrid.
Another good thing about these jeans is that they come in a wide variety of size combinations. They range from 28W to 32 W and from 29W to 31W all mixed in different pairs.
That is great as it will easily cater to most women within those size ranges. Unfortunately, there are no small or very large sizes, making their size range a bit narrow. The fit is also quite slim, so make sure you check a size above if you like to put additional layers below your riding jeans.
As a whole, at this price range, there aren't usually a lot of protective materials integrated into jeans, especially higher-quality denim mixed with aramid and kevlar fibers. That's why these are some of the top models for a woman if some of those sizes are going to work for you.
Pros
Fairly well-priced
Come in a handful of size combinations
Kevlar and Aramid lining
Large belt loops
14 oz denim
Comfortable and stylish
Cons
Don't have large sizes
No protection pad options
No color options
Best Premium – Maxler Jean Biker Jeans for Men
Quality and protection are often associated with a more expensive price tag. Still, jeans like the Maxler Jean Biker Jeans offer both of these qualities at a reasonable price. They are still going to look expensive compared to some of the budget models but they offer plenty of features that justify the bigger price tag.
They used better denim, have a great design, and come in a variety of color and size options. If you're after slim straight fit jeans that can also accommodate protection pads, these are the way to go.
The protection on these jeans consists of two parts – the durable materials as well as the pockets for the protectors. There are solid protection pads for the knees which are inserted from the zippered pocket at the side of the thighs. The hip protectors are inserted via Velcro straps.
One thing I don't like about the design is that there are no folds above the knees and the waist. Typically, motorcycle jeans have these to make sitting on a bike easier. Still, there are plenty of features that redeem that.
For instance, the calf zippers are a nice touch and are used to maximize the stabilization of the knee pads when you're riding. They can also be unzipped when you're just wearing the jeans outdoors and want a bit of extra comfort. The 14 oz denim used in the outer layer combined with spandex makes the jeans a bit stretchable but also durable and fairly windproof.
Something great about these jeans, apart from the materials used is that they come in a wide variety of sizes ranging from size 28 to 42. This makes them a good option for a wider range of people unlike some other models like the Takuey jeans that only have a few size options and no color options.
The Maxler Jeans have 9 different color combinations which is actually the most variety a pair of jeans has out of all the models on my list. As a whole, if you're willing to pay a few extra bucks, these jeans offer a great fit, a wide range of choices, and a decent amount of protection.
Pros
Flexible spandex outer shell
14 oz denim
9 color and 8 size options
Knee and hip pads
Can be worn without the pads
Velcro pockets for the hip protectors
Cons
A bit expensive
They run long and you should get a size up on the waist
No folds at the knees or waist for easier riding
Washing them isn't an easy process
Best Kevlar Bike Jeans – Jet Motorcycle Motorbike Riding Jeans
Kevlar is essential if you want your jeans to be abrasion-resistant and remain whole after a long fall on the road. This is why more and more motorcycle jeans start adding Kevlar and Aramid fibers to certain impact areas such as the knees and hip ones.
The Jet Motorcycle Motorbike Riding jeans are both reinforced and armored as they come with Kevlar lining and solid protection pads. Mix that with a great straight fit design and you have the recipe for success, making them highly desirable among bikers.
The outer shell of these jeans is made out of 100% cotton which is then mixed with Kevlar and denim in the deeper layers. There is special abrasion-resistant Dupont Kevlar over the knees and hip area which makes them extremely durable and supports the otherwise durable knee and hip protector pads.
These pads are removable through the inside of the jeans in order to make the exterior design as stylish and clean as possible. This makes the jeans easily wearable even if you're not taking your bike for a ride.
Thanks to the cotton construction they are also fairly easy to wash. In total, there are also 5 pockets that add to everyday usability. Lastly, the denim used here is selvage denim which looks better as it ages and becomes more and more comfortable the more you wear and wash it.
There are quite a lot of size options here, even some big ones like 44 and 46. Still, there are no color options available, meaning you will have to do with only one style. The price of these jeans is another big selling point.
They are reinforced, armored, and quite stylish, and easy to wear for everyday occasions. This, combined with their relatively cheap price, makes them an ideal pair for everyone looking for low-profile riding jeans.
Pros
Reinforced and armored
Removable knee and hip protectors
5 pockets
Selvedge denim
Dupont Kevlar reinforced areas
Easy to wash
Relatively cheap
Cons
No color options
No small size options
Not waterproof
Waterproof Motorcycle Jeans – Takuey Waterproof Motorcycle Racing Jeans
Waterproofing is very important if you frequently used your jeans to ride in adverse weather. As most jeans out there focus on armoring or reinforcing their outer or inner shells, few models actually add a waterproof layer that will keep water away while remaining fairly breathable.
The Takuey Riding Pants have 14 oz denim on the outside which is a step up in quality from other cheaper models from the brand. The denim here is impregnated and mixed with waterproof substances and waterproof fabrics.
Additionally, the jeans feature the familiar to the brand folds above the knees and the waist. Those make riding much easier, especially when you're with knee and hip pads. Speaking of those, the pads here are inserted in the pockets above the knees and on the inside of the hips. There are no zippers, though, which can be a downside.
Just like other models from the brand, this pair of jeans comes in 6 different inseam sizes ranging from 28 to 38. These particular jeans also come in both the color blue and black. As a whole, they have a stylish appearance and offer a decent amount of protection combined with waterproofing. At this price, these are a great option if you frequently ride your motorcycle in wet or humid areas.
Pros
Waterproof
14 oz denim
Stylish design
Fairly cheap
Removable hip and knee protection pads
Come in 6 size and 2 color options
Cons
The protection pad pockets aren't zippered
Not reinforced
No road rash protection
Motorcycle Jeans Buyer's Guide
When choosing a new pair of riding jeans you will be faced with one major issue – they all look the same. Since most brands will try to imitate the look of normal jeans, motorcycle models won't be much different, and choosing any model suddenly becomes much trickier.
Moreover, they all vary a lot in their price tags so how do you choose the ones that are the best bang for your buck and how do you tell the good ones from the bad? Well, this is what we're about to find out in this buyer's guide section!
Motorcycle Jeans vs Normal Jeans
Before we move forward with the nitty-gritty buyer's facts about these jeans, it is important to make a clear distinction between them and the regular jeans you see people wearing on the streets, some of which even come ripped from the factory.
It is extremely important to remember that normal jeans offer no protection whatsoever against crashes, road rash, or any type of impact at speeds above 5mph. There are certain types of heavy-duty working jeans that will keep you relatively safe from road rash at speeds of up to 25-35 mph but those still won't keep you protected against impacts around your knees and hip.
That is why motorcycle jeans are much harder to rip even than normal heavy-duty jeans and come with armor on the common impact zones from your waist down.
Types of Motorcycle Jeans
To make things easier for the first-time buyer, I've categorized motorcycle jeans into four individual categories. Those are often interconnected as one pair can have the best of two (or three) worlds but it is important to make the distinction before moving forward. These types are:
Reinforced Jeans – These jeans look very similar to normal jeans and are arguably the easiest on the eyes. They offer denim fabric mixed (or reinforced) with different types of fibers. Those can be Kevlar fibers or more commonly aramid fibers. And while Kevlar jeans exercise their protective properties by adding an additional layer on the inside of the jeans, reinforced jeans have most of their protective fibers on the outside. This provides a lot of protection from abrasion. Other materials that are used in the outer layer of reinforced jeans are Cordura (a durable version of nylon), special polyester and polyethylene blends, and other types of polymers (Armalith, Pekev, etc).
Armored Jeans – Armored jeans aren't always reinforced nor do they come with a Kevlar layer underneath (in most cases). They do, however, provide the most amount of impact protection since they have special impact-absorption pads on your knees and sometimes on the hip. They are also the most stylish out of the bunch and, in most cases, you won't even be able to tell the difference between them and real jeans.
Kevlar Jeans – Kevlar jeans, as their name suggests, use a layer of real Kevlar to protect you from abrasion (and somewhat from impacts). Unlike the reinforced jeans, the Kevlar layer here actually sits underneath the denim shell. That's why in most road rash occurrences, you will see the jeans ripped and the internal Kevlar layer sticking out basically unfazed. Most Kevlar layers have yellow to greenish coloring and are sometimes detachable from the outer denim shell.
Waterproof Jeans – While most Kevlar and reinforced jeans will often have the option of an inner waterproof shell that can be detached from them, they will still get absolutely drenched in water in case of heavy rain. However, there are certain jeans out there that have waterproof fabrics incorporated in their outer layer. These are waterproof jeans and are often combined with armored pads to create the perfect all-weather alternative for avid riders.
As logic suggests, the jeans that will offer the most amount of protection will be the ones that mix a combination of any of these types. That's why there are more and more models offering reinforced fabrics combined with armor around the common impact areas. Kevlar jeans also sometimes come with armored pads on your knees.
Learn how to better prepare for a long motorcycle trip by reading my detailed article on the topic! Now, let's take a look at some of the most important features that you need to keep your eyes open for when buying your first pair!
Features to Look For
Materials
Durability
Fitment
Protection
Budget
Materials
As I already mentioned, the materials in a pair of jeans will pretty much determine whether they are reinforced, Kevlar, waterproof, or basic jeans with added impact-protection pads. Still, it is always a good idea to pay a few extra bucks for that higher-quality denim mixed with certain types of protective and waterproof fibers.
As a rule of thumb denim and Cordura mixes always work great. Add a top waterproof layer to that abrasion-resistant shell and you got yourself a pretty good overall pair. If these jeans have impact-protection pads on the knees and hip, they are pretty much a 10 out of 10 for any beginner out there and will work in almost all types of climates.
If you really want that extra layer of heavy-duty protection, I suggest looking for Kevlar jeans that have a waterproof rating and maybe protective pads. Those will guard you against both impacts and road rash.
Durability
The durability of a pair of jeans is tightly connected to its materials and will primarily depend on what type of denim or other fabrics have been used in the jeans. It is always a good idea to check the wear and tear of a certain model by looking at what riders who have worn it for years have to say about it.
Fitment
The fitment, while important, is a hard thing to compare or judge when browsing for jeans online. The only thing you can do in order to ensure they will be comfortable or will fit as a whole is to choose between different types of fit – straight fit, slim fit, etc.
My best advice here would be to try out different pairs in your local shop (if possible) and then looking for the best deals online for similar sizes and fitments. Never go for a size below yours and be vigilant for sizes around yours as those can be good for walking but not ideal for riding where your legs will be bent on an angle the whole time. That can lead to a restricted blood flow which in turn can lead to other types of issues down the road.
Protection
The level of protection modern motorcycle jeans have is great compared to models from a few decades ago. Differences between certain models have become harder and harder to quantify and that's why shopping for motorcycle jeans has become more of a personal choice rather than an educated comparison.
Still, I always recommend beginners look for armored models that have durable pads for the knees and hip. Some pads can be inserted on the outside of the jeans while others are attached on the inside. Internal pads are generally easier to work with and are less prone to moving around or even falling.
Protection against the elements is also important. That is why more and more jeans offer waterproof and windproof models that are also armored underneath.
Budget
Motorcycle jeans won't be as cheap as regular ones thanks to the different types of features they have over their normal versions. That's why you should always avoid models that are suspiciously cheap, even if they seem too good to be true. An average pair of jeans should set you back around 50-100 bucks while some good or even great models can push the 150-200 bucks limit.
If you're also trying to find a great jacket, I highly recommend checking out my guide on some of the best motorcycle jackets for this season!
Frequently Asked Questions
Can you wash your motorcycle jeans?
Washing these jeans is as simple as it would be washing any other type of clothing. How often you do it also depends on how often they are being used. The only exception to that is waterproof models which are a bit trickier to wash and often require re-application of a specific water repellent, mostly manufactured by the brand that made the jeans.
Are Kevlar jeans as good as they made them out to be?
Even if Kevlar isn't as good as most companies claim it is, it still is priced quite well within the clothing sector and it doesn't cost you that much more to get Kevlar jeans. If your choice boils down to Kevlar vs a traditional pair of thicker jeans, then the Kevlar will be absolutely worth it when it comes to protection.
Is Kevlar as good as leather in terms of protection?
When it comes to abrasion protection, leather is still king and it does provide better protection than Kevlar. However, Kevlar can be used in a variety of combinations, typically woven into other material blends, providing better breathability, comfort, and ultimately – almost as good of protection.
Final Words
Finding the best motorcycle jeans is going to not only improve your ride comfort but also provide an extra layer of safety against crashes and other types of road accidents. Gone are the days in which motorcycle pants and jeans were big and looked funny, as most modern models are cool and have a ton of material innovations behind them. When choosing your first pair, look for reinforced and armored jeans that combined the best of both worlds – improved fabrics against abrasion and impact protection.