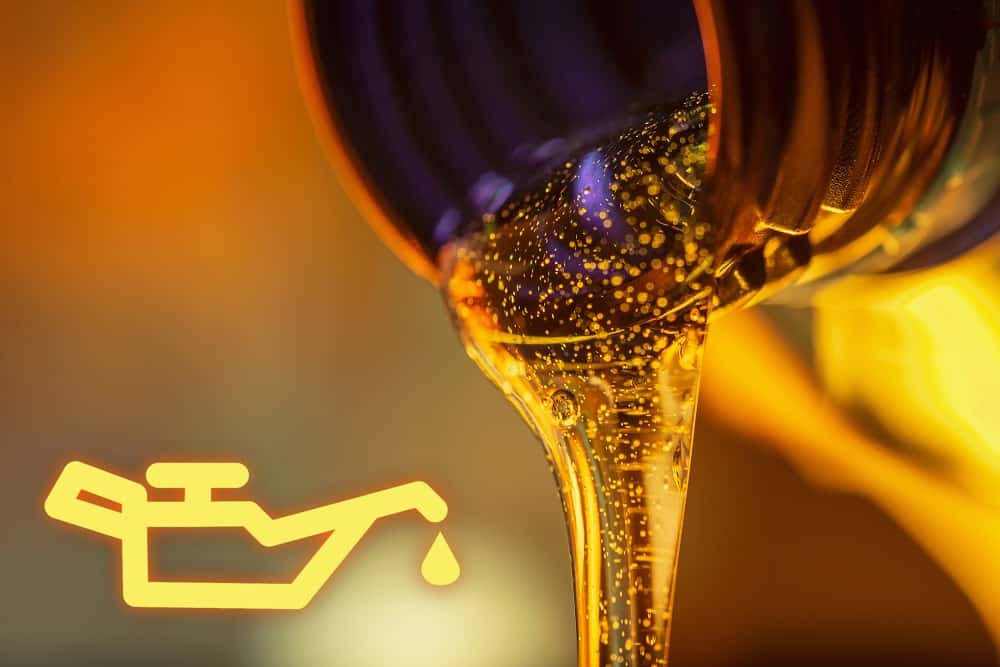 With more and more Americans opting for a motorcycle to drive on the weekends or every day to work, bike care has become an essential part of the motorcycle learning curve. Changing your oil is both essential to your bike's health and is also a good way to prolong the service life of the engine and its surrounding components.
Knowing which are the best motorcycle oils on the market, however, is a bit tricky since most oils look and sound very similar at first. To help you with that, I decided to pick and rank what are, in my opinion, some of the top brands and options out there for semi- and fully-synthetic motorcycle oils.
Below, you will see my top picks with all of their distinctive features, followed by a detailed look at each one of them…
Motorcycle Oils Comparison Chart
Product
Viscosity
Type
Rating
Castrol V-Twin 4T


Shop On Amazon!

10W-50
20W-50
5W-40
Fully-Synthetic
Mobil 1 V-Twin


Shop On Amazon!

20W-50
Fully-Synthetic
Motul 104092


Shop On Amazon!

10W-40
Fully-Synthetic
Liqui Moly Motorbike 4T


Shop On Amazon!

5W-40
Fully-Synthetic
Valvoline High Mileage


Shop On Amazon!

10W-30
10W-40
20W-50
5W-30
5W-20
Fully-Synthetic
Royal Purple Max Cycle


Shop On Amazon!

10W-40
Fully-Synthetic
Yamalube All Purpose


Shop On Amazon!

10W-40
Mineral
Amazon Basics Oil


Shop On Amazon!

0W-20
0W-40
5W-20
5W-30
5W-40
10W-30
10W-40
Synthetic Blend
Castrol V-Twin 4T 20W-50 Synthetic Motorcycle Oil
One of the best all-round motorcycle oils for this year and perhaps the last few years is the Castrol Power1 V-twin. It comes in a few variations that are suitable both for bikes that are used on a daily basis as well as for high-performance models that are used on the track.
It is one of the most expensive fully-synthetic oils out there and it is geared towards acceleration and high-temperature use. The oil comes in 3 different variations:
All of these variations come in a 6-pack of 6 bottles each 1 Quart in volume (roughly 950ml). Out of these three, only the 5W-40 can be used in colder climates and has a wider range of temperatures that it can handle, assuming you don't push your bike to its limits.
The 10W-50 and 20W-50 are both high-performance oils geared more towards hotter climates and racing or motocross bikes. It has all the latest specifications and certifications including JASO MA2 which is good for bikes with catalytic converters in their exhaust systems.
It is also an API SL oil meaning it a multi-grade high-quality oil that is rated for high-performance bikes. The API SL also ensures good shear stability which prevents potential breakdowns in the oil's viscosity in high temperatures. That combination of features also translates to proper chaincase and transmission lubrication if you decide to use it there as well (can be shared between the different parts of the engine bay).
The V-Twin by Castrol is also specially tested and used on all Harley-Davidson 4-stroke V-twin models. Still, make sure you check with your manufacturer about the specific oil that your bike needs and comes with from the factory.
Pros
One of the best synthetic motorcycle oils
Excellent for high-performance bikes
Superb in hot weather
Exceeds industry's standards
Tested on Harley-Davidson motorcycles
Built for accelaration and longevity
Cons
Quite expensive
Doesn't come in a 5W-30 variation
Only comes in smaller bottles (1 quart each)
Mobil 1 V-Twin Synthetic Motorcycle Motor Oil
Mobil is yet another brand that is constantly battling for the top position with the rest of the giants like Valvoline, Motul, Shell, and Castrol. The Mobil-1 95936, in particular, is a high-performance fully-synthetic oil designed for hot climates.
It is recommended for 4-cylinder motorcycles that are specifically designed to use 20W-50 motorcycle oil. More specifically, it performs best on bikes that have their engine and transmission lubrication systems separated from one another.
While it can be used in both, make sure that you follow your manufacturer's recommendations for the transmission oil. The 95936 can be used both in bikes used on a daily basis and in performance models used for track days.
It is also suitable for bigger motocross bikes and ATVs. The synthetic formula also allows for the oil to be changed in longer internals than the typical 4000-6000 miles.
Unfortunately, you can get this Mobil 1 oil only in 20W-50, since it is clearly geared towards hotter climates. If you're planning a trip along the southern parts of the country, this oil is going to behave perfectly even on 100-degree days without losing its viscosity.
You can either buy 1 Quart bottles or a pack of 6. The 6-pack saves you a bit of money but this remains a very expensive oil, if not the most expensive synthetic oil currently probably only behind some Motul oils. As a whole, if you are willing to pay the money, this is one of your best bets for a high-performance oil with long service life and excellent thermal properties.
Pros
Suitable for high-performance bikes
Ideal for bigger motorcycle engines
Can be used for the primary chaincase and transmission
Handles heat perfectly
Comes from a trusted manufacturer
All the latest certifications
Cons
Very expensive
Doesn't come in more than 1 viscosity
Doesn't come in bigger bottles
Motul Synthetic Engine Oil
The Motul 104092 Fully-synthetic motorcycle oil is a definite user favorite despite its steep price tag. The oil's formula is geared primarily towards bigger 4-stroke bikes with catalytic converters thanks to its low-sulfur and low-phosphorus formula.
While you can get it in a few different viscosities, the best seller is definitely their 10W40 oil. It is fairly suitable for colder regions but is primarily geared for all-round usage by everyday and sports bikes in warmer climates.
It is also rich in other additives that make it perform better under stress and heavy friction. Another thing that makes it more reliable in high-performance conditions is its high sheer stability formula.
From all the motorcycle oils on this list, this oil meets the most amount of industry standards, including API SL, SH, SG, and JASO MA2. All that means that it is truly high-grade and has been submitted to the latest tests for high-performance oils and synthetic formulas.
It is also a highly recommended oil for 4-stroke motorcycles with catalytic converters. Another cool feature of this synthetic oil is that, due to the patented Ester technology used by Motul, you have an improved engine response throughout the service life of the oil.
Speaking of that service life, this oil can easily be changed at distances beyond 6000 miles if you travel more than that within a single season. Lastly, the oil also does a great job of keeping your gearbox safe, cooled, and lubricated thanks to its high-pressure formula.
Pros
Great all-rounder
Full of useful additives
Has all the modern specifications
Good for warmer climates as well as colder regions
High service life
Protects the gearbox
Good for bikes with a catalytic converter
Cons
One of the most expensive oils out there
Doesn't come in a lot of size and viscosity variations
Has a lot of counterfeit products
Liqui Moly Motorbike 4T Synthetic 5W-40 Race Engine Oil
From all the famous and highly sought-after brands, the German Liqui Moly brand is perhaps the youngest. Still, it has been a true pioneer in the synthetic oil market with its innovative additives and technologies, alongside other pioneering German brands such as Addinol.
The sheer list of rewards their Motorbike 4T synthetic oil has received for 2019 and 2020 is already good enough of a reason to opt for it, knowing that most of the major motorbike leagues, brands, and magazines have rated this as their definite winner.
As I mentioned, the main difference between Liqui Moly and other brands like Shell, Castrol, and Mobil, is that they use more progressive and innovative additives that really set them apart. While they aren't very famous in the US, they completely dominate the oil and additives market on the old continent.
With the slightly higher price tag, you also get a ton of specifications such as ACEA A3, API SM, JASO MA2. Those are truly a testament to the high-grade quality of the synthetic formula that Liqui Moly uses for their oils. It also means that you can trust this oil in high-performance situations.
This oil here comes in a 5W-40 variation which is one of the most common oils for street and race uses in moderate climates as it handles cold starts excellently as well as heated high-performance days. The price you pay is for a 4-liter bottle which is slightly more than 4 quarts (4.2 to be exact).
Pros
Comes in a bigger bottle
Good both for cold starts and warm weather
Excellent choice of additives
Exceeds all specifications
Cares for engine's components, gearbox, and transmission
Long service life
Cons
High price tag just like the rest of the big brands
Not as easy to find compared to some US brands
Doesn't come in 1 quart bottles
Valvoline High Mileage Synthetic Blend Motor Oil
You might be noticing a running theme already with all the high-grade oils here. They are all pretty similar in their performance and are all considered expensive compared to the mid-tier oils. Well, Valvoline is one of the last examples of a premium oil that costs a lot and also delivers big time.
Their High-mileage synthetic blend oil is equipped with their patented Maxlife technology which is geared towards older motorcycles to prolong their engines' service life and seal any potential leaks. The two main additives in this oil that help it handle old engine issues are the extra detergents added as well as the additional anti-oxidants.
The detergents help keep the engine bay clean by bonding and removing deposits and sludge. The anti-oxidants work by preventing any potential oil particles from breaking down. That additionally helps with the prevention of sludge. All that helps keep older engines in good shape even with less frequent oil changes.
This synthetic blend oil comes in 4 different viscosity grades:
5W-20
5W-30
10W-30
10W-40
20W-50
This range is the perfect range of viscosities for people that use their bikes for more than just the summer. As I already mentioned, this oil is primarily made to work on older engines and keep them smooth and clean, so it would be normal to assume that there is no need for a high-performance oil but Valvoline went ahead and included their 20W-50 version which is primarily geared towards older race bikes.
This oil from Valvoline actually even takes things a step further with its unique design. Typically, brands don't emphasize a lot on the bottle's design but in a world of small margins, Valvoline decided to go a step further with the user experience. At the top of the bottle, you have an easy pull tab, precision pour spout, and an anti-glug tube to prevent spills and making pouring the oil as rewarding as actually having it in your engine. As a whole, this is hands-down one of the top oils if you want to go for a US-based product that comes in a variety of sizes and viscosities. In fact, if you drive your motorcycle during the colder months of the year, you can choose the 5W-20 for the spring and fall and 10W-40s for the hotter summer.
Pros
Comes in a variety of viscosities
Has anti-oxidants to prevent oil breakdown
Maximized service life
Helps with aging engine seals
Prevents oil leaks
Comes in a variety of packages
Trusted USA-based brand
Royal Purple Max Cycle 10W-40 Motorcycle Oil
Just like Liqui Moly, Royal Purple is a relatively new brand that is trying to make a new for itself in the last few decades. Typically, younger brands would want to go a little below the market price for a bottle or gallon but Royal Purple are confident that their Max Cycle motorcycle oil is one of the best out there, hence the insanely high priced compared to Mobil-1, Motul, Valvoline, and Castrol.
According to them, however, it is all justified. Is it, though? Well, the short answer is no, and the long answer is a bit more complicated.
The oil is designed for high-performance motorcycles, as well as race bikes and motocross bikes. Still, for track days 15W-40 and 20W-50 are still better oils, and Royal Purple doesn't offer them in their Max Cycle line. The oil, however, provides excellent wear and tear protection and also has good additives that work well against corrosion and rust. The Max Cycle oils also exceed JASO and API requirements and are one of the longer-lasting fully-synthetic oils on the market.
As a whole, if you want to go for a high-grade oil, any oil from the top companies will suffice. Choosing this one over Castrol, Motul, or the rest won't bring you an extra bit of performance but will just as easily keep your engine clean, safe, and well-taken care for.
In my opinion, the price isn't justified, which is the main reason I've put it so far down my list. On top of all that, it is hard to find it in other variations, and some people aren't looking for 10W-40 which isn't even a good oil for the colder states.
The company also offers an Extreme oil change kit that comes with all the necessary tools, oils, and filters, for you to change your motorcycle's engine and transmission oils. For the standard 10W-40 oil you can also choose between 1 bottle (1 quart), 6 bottles, and a set of 12 1-quart bottles. All of the packages are still coming mroe expensive compared to other brands, though.
Pros
A good combination of additives
Rust protection and prevention
Good for high-performance motorcycles
Good for a wider range of weather conditions
Cons
Extremely expensive
Not a lot of variations
No 20W-50 viscosity
Yamalube All Purpose Four Stroke Oil 10W-40
In a list full of synthetic oils, I wanted to include a mineral oil for contrast just because mineral oils often get overlooked but are actually quite good for smaller motorcycles, ATVs, and other motorized vehicles with engines below 200cc.
The kicker with this particular Yamalube All-purpose oil is that it also works great for 4-stroke engines, especially Yamaha's since they work in collaboration with the brand. The particular blend here is used in motorcycles, scooters, ATVs, and others.
The upside of this mineral oil blend is that it provides a good clutch performance and keeps new engines clean and healthy. It also passes most specifications like JASO MA. Unfortunately, it doesn't cover the MA2 specification, which means that it simply isn't on the quality level as some other brands like Valvoline, Motul, and others.
Mineral oils also have one more major downside – they have to be changed more often. While a typical synthetic blend has to be changed every 4000-6000 miles, mineral oils should be changed around 2000 miles.
This makes them more expensive in the long run, even if they are slightly cheaper at first. So, even if this oil is going to be half the price of a gallon of Motul or Castrol, it will have to be changed twice as often or even more often.
As a whole, if you have a Yamaha motorcycle, this is a good option to keep the engine running smoothly from day one. If the motorcycle is older, however, I recommend sticking with a good synthetic blend that has special additives in it to prevent old engine's problems.
Pros
Great for new engines
Designed for Yamaha engines
Works for both small and big motorized vehicles
Excellent lubrication
Relatively cheap
Suitable for ATVs and Scooters
JASO MA specification
Cons
Doesn't pass JASO MA2 specification
Not very easy to find
Doesn't come in a ton of variations
Has to be changed more often
Not great for older motorcycles
Amazon Basics 10W-40 High Mileage Synthetic Motor Oil
Last on this list and maybe deservedly so, is the AmazonBasics High Mileage Motor oil. It is a semi-synthetic blend that is gaining more and more popularity not because of its quality in particular but because it has one of the best price-to-value ratios out there. While there aren't a lot of additives here, you do have a ton of options for the size you're getting, the viscosity, and even the type of oil.
Amazon's oil comes in 4 variations – Fully-synthetic, conventional (mineral oil), Fully synthetic high-mileage blend, and a semi-synthetic high-mileage blend. All of these have their pros and cons. As I've already discussed, synthetic oils have the advantage of having a longer service life and they also handle high-pressure conditions better.
Mineral and semi-synthetic oils, on the other hand, are great for newer engines and manage to keep the engine compartment extremely clean. The high-mileage versions of these oils also have certain additives that prevent leaks and repair older engine seals.
The oil itself also comes in 8 different configurations – 0W-20, 0W-40, 5W-20, 5W-30, 5W-40, 10W-30, and 10W-40. All of these are great and I like that there is a clear emphasis on oils that are good for colder climates.
Still, what this range lacks is a true high-performance oil which is often one of the telltale signs of a budget brand. You can get any of these configurations in 1-gallon or 1-quart bottles either single bottles or in packs of 5 or 6 bottles.
One of the main issues I have with these oils is that their bottles are literally rebranded Walmart Super Tech oil sold with another label. While it is still one of the best budget oils out there, you should be aware of what you're getting. Still, if you're on a tight budget, this is the right way to go. Just figure out the right viscosity for your motor by either contacting the manufacturer or consult your user's manual.
Pros
Good high-mileage formula
Comes as all types of motor oil
Can be bought in different bottles
Has cold-weather configurations
The 10W-40 configuration is universally good
Very good price for what you get
Cons
No high-performance configuration
Bottles are rebranded Wallmart oil
Not a lot of additives
Motorcycle Oils Buyer's Guide
When buying a motorcycle oil, you need to first know what type of engine oil does your motorcycle requires. Apart from the general type, oils are further divided based on their viscosity. They also differ according to the additives different companies are using. Let's first start with the various types of oils and see their most important advantages and disadvantages compared to the rest.
Types of Motorcycle Oils
There are three main types of motorcycle oils that you should be aware of:
Synthetic (or Fully-synthetic)
Semi-Synthetic
Mineral Oils
Synthetic Motorcycle Oils
Synthetic oils, also called fully-synthetic oils, are the most well-rounded engine oils for the widest range of motorcycles. They are also the newest option out there and have been slowly becoming your best option thanks to modern-day chemical and industrial advancements.
They have more additives and are completely artificial compared to Mineral oils. That makes them more viscous which, in turn, protects the engine's parts by lubricating everything better. That lower wear and tear also translates into a longer service life.
Performance bikes such as racing and motocross motorcycles benefit the most from these oils. The only major downside is that synthetic oils are also the most expensive ones out there. Still, if you want to preserve your engine in the best possible way, this is your best bet.
Semi-Synthetic Motorcycle Oils
Semi-synthetic oils are a mix of mineral and synthetic oils, again made in lab-controlled conditions. They are ideal for medium-sized motorcycle engines (100-200cc) and have the ideal mix between longevity and lubrication. They are also priced between mineral oils and synthetic oils, making them a popular choice among bikers.
Mineral Oils Motorcycle Oils
Mineral oils are the "original" type of motorcycle oil that has been around for quite a lot of time now and are also the most basic type out of the three here. Mineral oils are good for small-capacity engines that aren't pushed to the extreme often and are used as a daily driver in a city. They are also a good option for brand new engines, which is why new bike owners use them.
However, their service life is significantly shorter than synthetic and semi-synthetic oils, meaning you will have to change your bike's oil more often. That is considered one of the biggest disadvantages of mineral oils, despite them being cheaper than synthetics.
Now that we've covered all the types of oils, let's take a look at what you should be looking for in a specific oil that you've chosen for your bike.
What To Look For
At first, it might seem like there are a ton of factors that you need to consider before buying the first oil for your motorcycle. So, let's try to boil it down to only the most important features that you should consider. These are:
Type
Viscosity
Engine compatibility
Additives
Certificates
Price
Type
The type of oil refers to whether it is synthetic, semi-synthetic, or mineral. We already discussed which are the strong and weak points of each of those kinds. As a whole, normal bikes that aren't pushed to the extreme and are used in normal climates benefit the most from semi-synthetic or fully synthetic oils.
Viscosity
The viscosity of the oil is its most important metric and is also the thing that confuses people a lot, so in this section, we will go through all the possible scenarios and options. The typical structure of an oil's viscosity is the following – two numbers followed by the letter "W" and then two more numbers like that – XXW-XX.
Let's work with a specific example: 05W-40. The 05W signifies the viscosity of the oil in 0 degrees Fahrenheit. Viscosity basically means how thin the oil is and how easy it runs through the engine's parts. So, a 05W oil will have a viscosity of 5 when the temperature around the engine is 0 degrees Fahrenheit.
The low viscosity means that the oil will be thicker, making it easier for the engine to be lubricated at these temperatures. Thicker oils, however, have a major downside of not being very good in the warm.
This is where the second part of the oil's number comes into play. The "40" part of the example we used is the viscosity of the oil in warm weather. The higher this number, the more performance you will be able to get out of your engine, clutch, and transmission.
This is why performance bikes typically run oils with a viscosity of 20W50. This only works if the climate is warm during the season in which you ride your motorcycle.
Small and mid-sized engines don't need a high viscosity number in the summer the same way they don't need a fully synthetic oil – they simply aren't pushed as hard as racing and motocross bikes. This is why one of the most common options out there you will see is 10W40 or 15W50.
Bikes that are used year-round typically benefit the most from oils that are 5W40 or 5W30 if the summers don't get too warm. If you drive your bike in the winter, you might want to choose an oil that has a low winter viscosity such as 0W30 or 0W40.
Engine compatibility
The engine compatibility is really brand and make-specific, meaning you will have to consult with the bike's user manual before going forward with a specific type. Older bikes will say that they work the best with mineral oils but that is because synthetic oils weren't even that advanced back then.
These bikes will benefit from synthetic options way more than they will from mineral oils. That will require fewer oil changes as well and better long-term performance. Still, bigger 4-cylinder engines require vastly different oil types than smaller cc engines.
A lot of motorcycle oils on Amazon actually have a "Fit calculator" which lets you enter the year, make, and model of your bike and it will automatically pull information from its database to let you know whether the oil is compatible or not.
This is a very handy feature and a lot of big sites that sell motorcycle oils do that nowadays. If you aren't sure about compatibility, you can even go to the site of your motorcycle brand or check with the user manual.
Additives
The engine bay is a dirty area and lots of debris and gunk accumulate there over time. This is why modern oils have different sets and mixtures of additives in them. That helps them remove anything that can accumulate on the inside of the engine's cylinders.
These additives also help with friction and cooling down. As a whole, all the top brands like Motul, Mobil, Valvoline, and others have an excellent set of additives in them and don't differ much from each other in terms of their oil quality. Just be careful with some cheaper oils that rarely have additives in them and are pretty barebones in terms of their chemical compound.
Certificates
There are certain certificates and standards that make an oil better and actually legitimize it in the eyes of the customer. Some of those compliance standards are SAE, API, or JASO. All of them will have a mark somewhere on the oil bottle if they've tested and certified the oil.
Look for these marks on cheaper oils if you're set on saving a few bucks. The more certifications, the better. The most typical location for certification stamps is on the cap of the oil.
Price
Motorcycle oils are typically in the range of 20-40 dollars per gallon or around 5-10 dollars for a quart (or around there for a liter). Typically they come in packs of 4 quarts or 1 gallon within 4 bottles. Some brands have prices per quart of above 10 dollars which is typically for their high-performance synthetic oils.
There are also brands like AmazonBasics that sell oil for a much lower price per quart at around 3 dollars per quart. While this price is tempting, I suggest checking with other users if they're satisfied and have had any issues with the oil. Checking if it has any certifications or additives is also a good idea.
Benefits of changing your oil regularly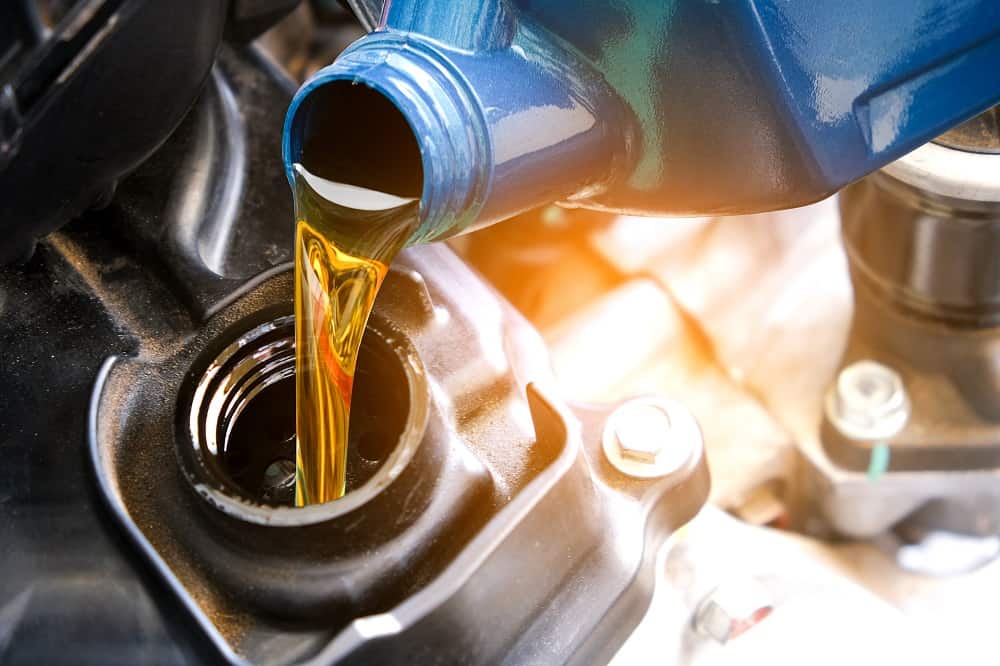 The benefits of regular oil changes are extensive. Using a good motorcycle oil also adds to those benefits. Those are:
Your engine, clutch, and transmission all benefit from frequent oil changes and have less wear and tear
Your engine runs smoother
Your motorcycle is quieter
You save on fuel by having an engine that works more efficiently
The engine won't require often work on it if serviced with new oil often
Better and newer oil cools down your engine bay better
Good oils clean your engine better
Changing your oil on a regular basis prolongs the life of your bike
Changing the oil is something that you can on your own if you have the right tools and a garage to do it into. If you want to learn how to change your motorcycle oil, I have the right article for you. Click here to check out the step-by-step process behind servicing your bike's oil.
Top Brands To Consider
No matter where you go to buy your motorcycle oil, you will most likely encounter the following brands at the front shelves:
Motul
Shell
Mobil
Castrol
Valvoline
These are the 5 big manufacturers that dominate the worldwide market when it comes to engine oils and other engine additives. Most bike owners will tell you that buying any of these is already a good option but there are still some minor differences that might make you a fan of one and not the rest.
There also are other brands that are slowly taking over with their oils. Such brands are Liqui Moly, Royal Purple, and Addinol, with Liqui Moly and Addinol both being German-based.
Motul is the only French company on this list and is actually considered the best oil manufacturer on this list. They have been operational since 1853 with their first company being founded in New York.
That made them one of the first international engine oil companies in the world. Since then, they have been pushing the boundaries of modern chemistry by innovating semi-synthetic and synthetic oils.
Shell is an American company with Dutch origins and is one of the biggest oil companies in the world with a little less than 100,000 people working for them in the US alone. They sell a wide range of oils and are also known for their progressive additives.
Mobil is another petroleum company that merged with Exxon in 1999 to form the Exxon Mobil Corporation. 20 years later, Mobil is still a household name for engine oils and additives with large yearly oil production. Their Mobil 1 line of synthetic motorcycle oils is one of the highest-selling oil products on the market.
Across the pond, Castrol is the British answer to all of the German, French, and American oil brands. They produce all sorts of lubricants and are one of the few oil companies found in the 19th century along with Motul and Valvoline. Their synthetic oils are the highest-selling models for cars and one of the best-sellers for motorcycle owners.
Last but definitely not least is Valvoline. It is yet another old 19th-century American oil company that specializes in making oils, lubricants, and additives. They also have a separate branch for car and motorcycle repair services, which is one of their vectors to spread their market share across the US and the world. Their synthetic and semi-synthetic oils are also among some of the best selling models out there.
Frequently Asked Questions
How much oil does a motorcycle need typically?
On average, most motorcycles need around 3 quarts of oil. This is why most motorcycle oils are sold in packages of 4-6 bottles with each being around 1 quart. That will give you enough oil for your engine. If you end up not using a bottle, keep it for re-filling later if the engine is burning oil but don't use it for the next oil change as it might lose some of its quality over time.
How often should you change your motorcycle oil?
Typically, different motorcycle motors have different needs, which is the main reason you should always consult your owner's manual. Still, changing your engine's oil every 2000 miles is a good way to keep your bike healthy.
Synthetic and semi-synthetic oils provide a longer service life, allowing you to change them every 5000 miles or so. If you don't go through that many miles, you should change your motorcycle oil at least twice a year.
What type of oil should you use on your motorcycle?
Regarding the type of oil, you can use mineral oil for new smaller bikes. If you have an older bike with low to medium performance, you can use semi-synthetic to help its engine run smoothly. Performance bikes, on the other hand, benefit the most from synthetic oils with low viscosity.
The other thing that you should consider is the viscosity of the oil. Opt for thicker oils like 15W40 or 20W50 if you have a performance bike and you ride it primarily in hot climates. If you ride your bike in a variety of climates, you should get a 5W40 oil that is good for both cold starts and warm-weather driving.
Are expensive oils worth it?
Expensive oils are typically the ones meant for racing bikes. Those have a much lower viscosity and are designed primarily for peak performance, power, and efficiency of the engine. They are also not suitable for smaller bikes. So, in other words, you will be far better off with a mid-priced synthetic oil rather than an expensive one, especially if you don't have a racing bike.
Can you use car oils for your motorcycle?
The main difference between cars and motorcycle engines is that the car engine is submitted to emission standards. To comply to those, car oils have friction modifiers that are meant to help the engine run smoother when idling.
Since your motorcycle doesn't fall under the same emissions regulations, this isn't valid for its engine, hence it doesn't need the same oil and more importantly – it can actually get damaged if you use car oil. Car oils used in motorcycles can lead to transmission and clutch issues such as slipping and long-term damage.
Can you use old oil on your motorcycle?
If you've bought your oil but decided to keep it in your garage for the winter or a whole year, it might be a better choice to buy a new one even if you haven't yet opened the older oil. Oils with higher complexity and more additives tend to degrade over time, even when not in use.
Final Words
Choosing between the best motorcycle oils is rather easy if you know exactly what you're looking for. If you ride your bike in colder climates, opt for a 5W oil with a warm-weather viscosity of either 30 or 40. That would look like this – 5W30 or 5W40. If you aren't sure, your bike's manufacturer has given you the exact oil that you need to use both in terms of oil type and its viscosity.