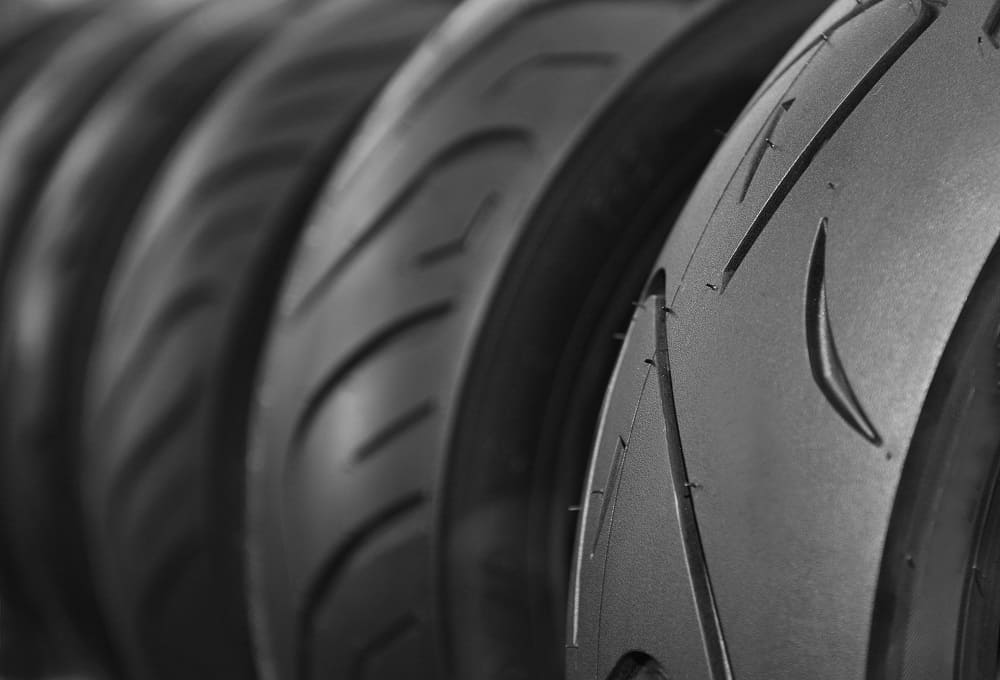 If you're new to riding a motorcycle and don't know much about bike repair and maintenance, then you may be learning as you go. Eventually, you'll need to learn how to change your tires and how to choose the best motorcycle tires for your specific ride, once the stock tires wear out. Most new riders are unsure about when to replace them and which tires to replace them with.
Of course, you don't want to wait until the tires on your bike are completely bald. That can lead to a serious injury or even a fatal accident. While you can also just decide to replace the tires on your bike with the stock tires it came with, if you want tires that can provide a smoother ride, then you'll need to learn more about the different types available, and how to choose the right set for your bike.
That's where I come in. I've tested out many of the leading motorcycle tires, and I've narrowed it down to six that check all the boxes in terms of stability, durability, and excellent traction. I've also put together a buyer's guide below that. It will include important information regarding the different types of tires available and how to choose a set that will bring out the best performance in your bike.
Below, you'll find a comparison chart that includes each model that landed on my list, important spec information, and how each tire rated.
Motorcycle Tires Buyer's Comparison Chart
Product
Type
Speed
Rating
Front or
Rear
Rating
Michelin Pilot Power 5


Shop On Amazon!

Sport
ZR
Rear
Pirelli Angel ST Touring


Shop On Amazon!

Touring
W
Both
Michelin Commander II


Shop On Amazon!

Cruiser
H
Rear
Continental Motion


Shop On Amazon!

Cruiser
W
Both
Shinko 777


Shop On Amazon!

Cruiser
H
Rear
DUNLOP D606


Shop On Amazon!

Sport
R
Rear
Michelin Pilot Power 5 Radial Sport Bike Motorcycle Tire
This rear Pilot Power 5 radial tire by Michelin offers increased wet surface grip compared to competing tires. This model provides a smoother ride, easier cornering, and improved handling. The tire also features a sidewall design that is a brand-new style for sport bikes. These new, powerful tires can take your riding experience to a whole new level.
Pros
Extra gripping power
Easier cornering
Works well in wet environments
Patented sidewall design
Provides a smoother ride
Designed with sport bikes in mind
Conclusion
These latest tires by Michelin can provide a totally new riding experience for sportbike riders. They're designed to easily handle cornering like a champ and will be invaluable to the rider who lives in a climate that experiences heavy rainfall during the winter. The price may be a little steep, but if you're looking for tires that can bring out the best in your bike, these tires definitely deliver.
Pirelli Angel ST Touring Motorcycle Tires
This set is a steal for the price. This front and rear tire set by Pirelli is made with environmentally friendly compounds and comes equipped with a functional tread design, in addition to the patented 0-degree steel belt radial design.
The radial design improves balance on both dry and wet terrain. The manufacturer also guarantees a date code of 2018 or newer, so buyers will have peace of mind knowing they're purchasing tires that have not sat on the shelf for several years.
Pros
W rated for speed of 168 miles per hour or more
Works well on wet and dry terrain
2018 date code or higher
Set includes front and rear tires
Functional tread design
0-degree steel belt radial design
Cons
Difficult to set the bead
Some tires are sold with a 2012 date code
Conclusion
This set of front and rear tires by Pirelli offers both speed and functionality. These tires are designed to last and can handle cornering, speed, and more. They're a great choice for the daily rider or the motorcyclist looking for a new set of tires that can take them the distance on their next motorcycle trip.
Michelin Commander II Cruiser Bias Tire
This tire by Michelin is designed for all types of cruiser bikes. They're designed to last and offer better handling and improved stability. These tires have been third-party tested, with results that show they can last almost twice as long as competing tires.
The high-density, stiffer frame of the tires offers premium responsiveness and handling. The top layers are made out of aramid fibers. These fibers combine a lightweight feel with resistance, resulting in better handling and stability at high speeds.
Pros
Third-party tested
Excellent handling and responsiveness
Top layers are made out of aramid fibers
Perfect for wet and dry surfaces
Low price
Designed for all types of cruiser bikes
Cons
Difficult to install
Tire is wider than the average 130 tire
Conclusion
These tires offer an excellent grip on wet surfaces. They also come equipped with new longitudinal treads that are designed to provide better than average water evacuation, which will improve the tire's grip on wet surfaces. Offering a longer lifespan, compared to competing models, this tire can offer the type of stability and responsiveness that all riders are looking for, and will give you more bang for your buck.
CONTINENTAL MOTION Tire Set
These long-lasting front and rear tires by Continental are designed with a polymer compound with a force-oriented tread pattern. The rear tire features a steel belt construction that provides improved comfort and stability. According to the manufacturer, these tires are designed for use on both dry and wet terrain and provide excellent gripping and cornering power.
Pros
Works for both wet and dry terrain
Durable
Force-oriented tread pattern
Offers excellent gripping and cornering power
Low price
Made from a new formulated polymer compound
Cons
Recommended for heavier bikes only
Cross wind significantly impacts speed
Conclusion
The tire's longer lifespan is due to their newly formulated polymer compound, in addition to the steel belt construction that improves durability and mileage. These tires are categorized as all-season, so they're perfect for your commuter bike, or if you need tires for your next cross-country adventure. They're also a great choice for the motorcyclist on a tight budget and feature the type of versatility you need if you enjoy riding in a variety of weather conditions or over different types of terrain.
Shinko 777 Rear Motorcycle Tire
This rear tire by Shinko is designed specifically for cruiser bikes and is available in a variety of sizes that will work with most metric and V-twin models. The tires also offer a higher load capacity and mileage, so you'll get more out of your tires.
This model's tread compound provides the perfect combination of increased mileage and improved traction. The directional tread pattern also provides improved stability on a wide range of surfaces.
Pros
Directional tread pattern improves stability
Higher load and mileage capacity
Available in a variety of sizes
Low price
Specifically designed for cruiser bikes
Provides better than average traction
Cons
Tires tend to slow down after 4500 miles
Price
Conclusion
These tires are easy to install, feature the type of traction you need to take on a variety of terrain types, and offer a design that's specifically meant for cruiser bikes. These high-performance tires will last longer and are more versatile compared to competing models in this price bracket.
Built tough and perfect for your cruiser, these tires are a great buy for the commuter, casual rider, or the serious rider in search of wheels that can ensure they stay safe on their next cross-country trip.
DUNLOP D606 Rear Tire
These tires are designed for some aggressive off-road riding, but they're also street legal. This model features a full-depth tread pattern that's designed for serious off-road use, offering excellent traction on a wide range of terrain types including soft single track trails and hard-packed fire roads. While the tire is perfect for off-road use, it features a tread compound that's designed for excellent grip and highway wear.
Pros
Can be used for highway and off-road riding
Full-depth tread pattern
Offers excellent traction
Can handle smooth, dry, and wet terrain
Low price
Easy to install
Cons
Tire may feel too loose for some riders
Tire sounds loud on paved terrain
Conclusion
This rear tire by Dunlop is versatile and perfect for both on and off-road use. It's a great buy if you're looking for a serious upgrade for your sportbike and features the type of innovative tread design that will help you travel longer distances, without significant wear. The tread also provides excellent gripability, so it can handle smooth, rocky, and wet terrain like a champ.
Motorcycle Tires Buyer's Guide
Choosing to upgrade your tires or purchasing a new set after your old tires have worn down can be a total game-changer when it comes to how your bike rides, where it can go, and how smooth the ride is. If you've never purchased tires for your ride before, then this guide is exactly what you need to help you find the perfect new set for your bike. Before I get started on the different features to look for, first, let's kick off this guide by discussing the different types of tires to choose from.
Types of Motorcycle Tires
Advancements in technology have resulted in a wide selection of tire types and styles over the years. This means that you'll enjoy a larger variety to choose from, some of which, can better suit your riding style. However, since there are so many options available, it can make shopping around for new tires a confusing process.
A motorcyclist should start off their search by first learning about the different styles available to determine which type of tire will fit their style of motorcycle.
Touring and Cruiser Styles
Heavyweight touring and cruiser motorcycles usually require a tire that has a load rating that can handle the weight of the rider, bike, and any luggage. For these bikes, mileage will also be a huge factor since they're usually ridden many miles each year.
These tires are usually made with a hard rubber compound that takes longer to wear down, compared to other types of tires.
A cruiser tire is designed for cruising at highway speeds. They're not designed to be run at higher speeds, and they're not capable of hugging corners aggressively. Instead, they're designed to give a consistently smooth ride, mainly in a straight line.
The tread patterns on this type of tire are designed to provide excellent grip on a wide variety of paved roads and terrain conditions. Rain snipes are designed to help channel any water away from tires in wet conditions and they're a common feature you'll find on tires that are designed for touring or cruiser bikes.
ADV and Dual Sport
Adventure touring riding and dual sport riding is a segment of riding that offers a variety of possibilities. Choosing the right tires for this type of riding can be critical to a bike's performance. The tread can range from heavy to street-legal knobby tires. The motorcyclist should know what types of terrain they ride over the most often, which will help them make an educated decision for this type of tire.
A dual-sport tire must be able to perform both off-road and on paved surfaces. A motorcyclist will often come across tires that are labeled as 80/20 off-road, 50/50, 80/20 street, or other ratios in between. Tires that are labeled as 80/20 street are designed for motorcyclists who spend approximately 80% of their time riding on paved streets, and 20% of their time off-roading.
Sport
These tires should be designed so that they provide the best grip, without sacrificing mileage and high-speed performance. Since tires for sport bikes are used on a variety of surfaces in many different types of riding conditions, they should be very versatile. The materials and compounds that are used to make this type of tire are usually much softer than what's used for cruiser-style tires, with the goal of providing a better grip on the road.
Because the tires on a sportbike will encounter a variety of conditions, they need more tread than what you'll find on a race tire. However, they have quite a bit less tread compared to a normal street bike or cruiser bike's tires.
This lower amount of tread will allow the tire to have more of a contact patch on smoother surfaces. There are also rain tires for this type of bike available for motorcyclists who plan to ride in rainy weather or wet conditions.
Racing
Racing tires are very similar to sport tires, however, they're more specialized to provide high-speed capabilities and better grip. On a sportbike race tire, there's very little, if any, tread. These tires are usually referred to as racing slicks. This type of tire provides the most amount of contact between the tire and riding surface.
These tires aren't the best choice for riding in conditions where there may be moisture on the road or debris. A racing tire has a more triangular profile, which helps the motorcycle during extreme lean angle cornering. Before riding them aggressively, these tires must be warmed up properly, so that they're able to grip well.
Off-Road
These tires are available in a variety of compounds, tread patterns, and sizes. Depending on what type of terrain you ride over often, you'll want to pay close attention to the distinct differences in these types of tires. Additionally, choosing the wrong size can impact speed or can make a motorcycle unstable when cornering.
The key to choosing the correct tire for some serious off-roading is focusing on the type of compounds the tires are made out of. Consider the most common type of surface you ride on. You want tires that are soft if you often ride on hard or intermediate terrain. This helps to optimize the tire's traction and can improve your riding performance. Make sure you maintain the motorcycle's correct tire pressure to improve its lifespan.
Motorcycle Tire Anatomy
Motorcycle tires consist of four parts:
Tread
Bead
Carcass
Sidewall
Tread
The tread is the portion of the tire that makes contact with the road. Tread that's smoother will work much better on dry, smooth surfaces, while a chunkier tire will do a better job of handling off-road conditions. Some types of street tread patterns will do better in wet conditions than off-road tires.
Bead
This section of the tire mates to the wheel. It's usually a steel wire that's thickly coated in rubber. It has a snug fit to the wheel, which prevents the wheel from slipping.
Carcass
The carcass of a tire is basically the body under the tread. Most types of motorcycle tires are usually radial or bias-ply, which refers to their construction.
Sidewall
This area of the tire bridges the bead and the tread. This is a very small part of the tire and it's very important. The sidewall is what gives the tire much of its load transferring and handling characteristics.
Sidewalls that are shorter are often very stiff, offering very little flex. To a motorcyclist, this means better cornering and handling, more difficult mounting, and worse bump absorption. This part of the tire is what also significantly contributes to the tire's role in the suspension.
Signs You Need to Replace Your Bike Tires
Tires with some serious wear and tear are unsafe. But for some riders, knowing when their tires have reached this point can be tricky. Worn-out tires are just one of the many reasons you may decide to swap out your old stock tires. In addition to tread type and depth, you may decide you just need an upgrade, or you want to try out a different size, model, brand, or style of tire.
Tread Depth
Tread that's worn past its safe level of depth is the most obvious sign that your tires need to be replaced. Tread that's worn down can be a major safety issue and can lead to accidents including blowouts. It will also impact the tire's grip on the road. Checking on the depth of tread periodically can help prevent a motorcycle accident and it should be part of your regular motorcycle maintenance routine.
While checking on this issue may sound difficult, it can easily be done with the use of a penny.
One millimeter is the least amount of acceptable tread left on a tire. If you have reached this depth, then you need to start shopping around for some new tires. To determine the depth of tread on your tires, use a penny as a measuring device.
Find the most worn-down part of the tread, which is often in the center of the tire. Take the penny and stick it into the tread, with Lincoln going in headfirst. If the tread hits any part of Lincoln's head, you should have approximately 2/32" left.
Damaged Tires
tires that are damaged are unsafe. If you notice any type of major imperfection in the tire, your bike is no longer safe to ride. Periodically inspecting your tires is important to ensure there's no damage. Make sure you check for uneven wear, broken cords, bumps, imperfections, and missing lugs. If you find any of these issues, seriously consider replacing your tires.
Age
Even if the tires you have on your bike haven't traveled that far, they can still age and break down. There's really no specific age limit for a tire and all will deteriorate over time. A big indication that your tires have passed their prime is if they have become weather checked. Many tire manufacturers will add antioxidants to their tires to help prevent breakdown that's caused by exposure to air.
However, the tire's integrity can be compromised with increased age. Because of this, try to purchase tires that come with the newest manufacturing date. This date will be clearly printed on the tire's sidewall.
Trying Out a New Style
The tires that are currently on your motorcycle may not offer the type of performance you're looking for. You may want tires that grip better or tires that offer a higher mileage capability. You may simply just want to try out a new model or brand.
Whatever the reason may be, it's important to learn about the different types of tires that are compatible with your bike and riding style. It can take a little trial and error here, to find the right type that will work the best for you, however, you can narrow down your choices when you learn more about the different styles available, what they do, and how they perform.
Other Important Features
Aside from knowing which type of tire you need for your bike, there are many other features you should consider before you buy a new set. This can include:
Construction
Tire size
Compounds
Construction
In terms of tire construction, you'll have your choice between bias-ply and radial tires.
Bias-Ply
The plies that are used to build these tires are laid on a bias from bead to bead. The next ply is placed over the top of the previous one, laid in the opposite direction. This creates a type of crisscross pattern. These tires usually carry a strength of 2-6 ply or more. Back in the day, these ratings correlated directly with the number of plies that were used during the construction.
These days, due to the advancement in the materials that are used, a manufacturer no longer needs to use as many plies so the rating is based on strength. The design of the bias-ply tires causes the sidewalls to become very stiff. This makes them an excellent choice for heavier bikes or motorcycles that carry heavier loads.
These stiffer sidewalls can also prevent the tires from wiping out when cornering. The tires have a reputation for their high mileage capabilities. These are the only tires that can be used with a tube, which is needed for off-road riding or spoked rims.
The biggest drawback of these tires is that they don't dissipate heat efficiently. Because of this, they're not the best choice for racing bikes since they can deteriorate and overheat quickly. The fact that the sidewalls are very stiff with minimal flex in the corners will limit the amount of contact patch between the road and tires.
Radial
These tires have plies that are laid down perpendicularly from bead to bead. The plies run down the sidewall and over the face of the tires, creating a wrapping effect. Many types of these tires are belted with steel that helps to reduce wear and improves stability.
The sidewalls are much thinner than bias-ply style tires, which reduces their strength. To make them stronger, some manufacturers will use reinforcement material, such as Kevlar.
The soft sidewalls help provide a smoother ride by absorbing the bumps, acting as a spring. The tires will flex more in corners. This will help improve traction and keep more tread on the tire's surface. The tire's biggest benefit is their ability to dissipate heat more efficiently.
To accomplish this, the weight of the bike is evenly distributed throughout the tread. This will allow the bike to go faster since the heat will not build up to a critical point. The biggest drawback of these tires is the thinner sidewalls, which are vulnerable to punctures. These tires also should not be used with a tube.
Using Radial and Bias-Ply
With some bikes, you may be able to ride with one radial and one bias-ply tire. When this happens the bias-ply tire is installed in the front of the bike. Radial tires should always be placed on the bike's rear. This tire combo is often seen on bikes such as choppers.
Compounds
The ability to create tires that feature several rubber compounds has significantly changed how a tire performs and what they're capable of. With a single compound, tires must sacrifice either grip or mileage.
The use of dual compounds allows a motorcyclist to get more mileage out of their tires without sacrificing the tire's ability to grip corners. High wear compounds are used in the center or the wheel to increase straight-line mileage. Softer compounds are used on the tire's shoulders for improved corner gripping.
Tire Size
Knowing the correct tire size for your bike will be crucial. The next time you do a little motorcycle maintenance, take a look at the size printed right on the sidewall. The numbers on tires can be somewhat deceiving if you're not sure what they mean.
When selecting the correct tire size, there are several things to consider, such as dimensions, size options, and other factors that can impact the safety and performance of your bike. While there are many aspects that will come into play that can help you choose the right tires, finding the perfect tires for your bike doesn't have to be complicated.
When it comes to determining the right tire size for your bike, there are five main aspects you'll need to consider:
Rim diameter
Tire construction
Speed rating
Aspect ratio
Width
Width
The second letter or the first number in a tire size represents its nominal width. The width is measured in a straight line, beginning from the furthest point on a side wall, over the tread, and across to the opposite sidewall.
Aspect Ratio
The aspect ratio is used to indicate the tire's cross-sectional profile. Smaller numbers equal a lower profile. The height to width ratio will be display as a percentage.
For example, if a tire's aspect ratio is ninety, this means that the tire's cross-sectional height is 90% of the tire's width. If the tire has a low profile, alpha, or metric inch numbering system, then the aspect ratio will be displayed immediately following the width.
Speed Rating
A tire's speed rating will provide the max speed that a tire can be used based on inflation pressure and max load. To determine inflation pressure and max load, you will need to check out the tire's sidewall. Its speed rating will have a letter code, which is listed right after the size. Z-rated tires do not have a max speed. These tires are easily capable of going over 149 miles per hour.
Construction
In terms of tire construction, you'll have a couple of options: radial or belted. The term belted means aramid fiber belts, Kevlar, or fiberglass, which adds load capacity and strength. If the tire doesn't have a radial speed rating, then it's a bias-ply.
This means that it has several overlapping rubber plies. These plies work together to form a thick layer that's less flexible and sensitive to overheating.
The way a tire is constructed can majorly impact the way it acts while being ridden. Each type of construction has its pros and cons. A motorcyclist can match the type of construction that best suits their motorcycle and riding style.
Diameter
The rim diameter refers to the diameter of the wheel/rim on which the tire can be mounted.
Price
How much do you want to invest in a new single or set of tires? Your budget can significantly impact the type of tire quality you'll get. Low-priced tires often have a reputation for lasting around seven thousand miles or less, while higher-priced tires offer better mileage, handling, and stability. Bottom line, if you're looking for a top-of-the-line tire, you need to plan on paying more.
You can find tires ranging in price starting at $50 and ending at around $300. You'll find that you can get more bang for your buck if you purchase a set, rather than buy a tire individually. Even if you don't need the rear or front tire in the set at the time, you can hang onto it until you do. Paying more for high-quality tires will be worth every penny. In terms of safety and a more stable, comfortable ride, tires should be considered an important investment.
Other Tire Buying Tips
For the avid rider, tires present the biggest ongoing expense of riding. While the tires on your vehicle may last you 50,000 miles, the tires on your bike will only go a fraction of the distance. This makes purchasing the right tires and correctly maintaining them one of the best ways you can get more bang for your buck.
Touring and cruiser tires are designed to deliver stability and high mileage while being durable enough to handle heavier loads.
Custom bike owners and power cruiser owners may choose a tire that offers a more aggressive performance. More aggressive tires offer better stability and handling.
The tires you purchase will be determined mainly by the size of the tires your bike came with. There's no real reason to install fatter tires on a rim that's designed for narrower tires since it can negatively impact handling, rub the chain or swingarm, or throw off the bike's speedometer. However, in some cases, the rider may need to fit a slightly wider tire to get the brand the rider wants to try on their bike. Before you use tires that are wider than the stock models, make sure you contact the manufacturer to determine if that particular tire fits.
Touring and sport tires are designed to deliver impressive handling and better mileage. Choose a tire with a tread pattern that's designed to grip on both dry and wet surfaces, a set that comes equipped with a dual compound that can provide longer life and cornering power.
The type of riding you do will have more bearing on the type of compounds you choose more so than the type of bike you ride. The right tires can make all the difference when riding in the rain.
Don't choose new tires based on your budget. If you have to, save up for the right tires you need. Choosing the right set for your bike can make all the difference in terms of safety, where you can ride, and the time of year you can ride. Always go with a set that offers the type of performance you need, whether you ride year-round, you're planning a motorcycle trip across the country, or you need tires that can go the distance, in terms of mileage.
Frequently Asked Questions
What is the Average Life of Motorcycle Tires?
In most cases, manufacturers recommend getting new tires after five years of use. Some experts believe that tires are totally worthless after this length of use, however, with minimal riding, other pros believe it's possible to get up to ten years of use out of a set of tires.
Why are Motorcycle Tires so Expensive?
Motorcycle tires are more expensive than your average car tire because of the law of supply and demand. There are not as many motorcycle tires as there are car tires, so because they make fewer tires for bikes, the price is hiked up. Additionally, you'll find that bike tire installation is more expensive because more work is required.
Why do Motorcycle Tires Wear Out So Fast?
These tires require more grip than car tires. They're designed to grip the terrain more than a car tire and are often made out of softer compounds that significantly improve a bike tire's gripability. These softer compounds will cause the tires to wear down quickly.
Final Thoughts
The best motorcycle tires can be a total game-changer on the road, whether you're looking for tires that can provide a smoother ride, better cornering ability, or tire's that you can get more mileage out of. The models that landed on my best of the best list all have what it takes to take you that extra mile.
However, the tires you choose should heavily depend on your riding style, bike type, and where you commonly ride. With this buyer's guide and my list of the six leading tires on the market, you can find the perfect set for your ride, at a price that's affordable.