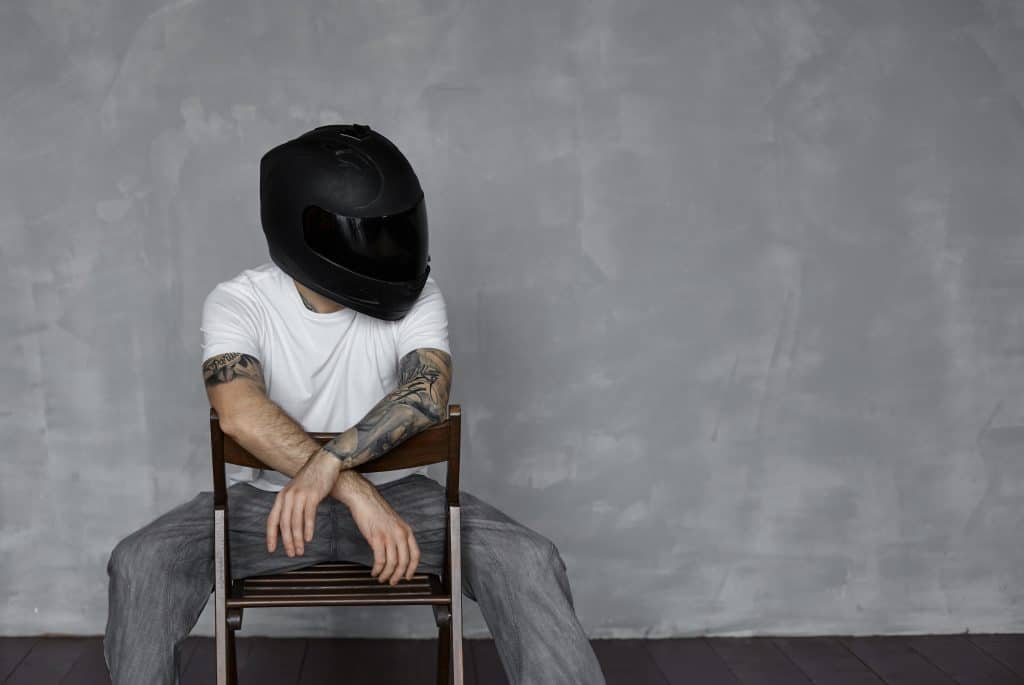 What makes a motorcycle helmet cool? We all know that the whole purpose of wearing a helmet is to protect your skull against deadly injuries upon impact, but that doesn't mean you can't look cool wearing one. A good motorcycle helmet will keep you protected on the road, in style.
These days, helmet use isn't shunned the way it was in the 1980s and 1990s. In the past, helmets were bulky, heavy, and awkward to wear for several hours on the road. Modern safety features and technology, combined with a lightweight design and impressive graphics, have made it cool to wear a helmet.
But don't just take my word for it. I've reviewed some of the most popular models on the market, so you can have a peek at what type of vintage, modern, and futuristic designs are available and choose one, based on your style, riding needs, and your budget.
We have something for everyone here on this blog…whether you want a full face motorcycle helmet, a half helmet, composite material, the latest cafe racer look or a modular helmet, we have you covered. And with their unique design elements, they will almost seem like a work of art to boot 🙂
Below is a comparison chart, which will give you a brief look at the different style options available. Find the best motorcycle helmet for you today!
Comparison Chart
Product
Style
Design
Cost
Rating
AUTOPDR Vintage


Shop On Amazon!

Open-face
Vintage
$
1Storm Helmet


Shop On Amazon!

Full-face
Racing
$
NENKI 'Iron Man' Helmet


Shop On Amazon!

Full-face
Iron Man
$
LS2 Helmet


Shop On Amazon!

Full-face
Racing
$
Scorpion Street Helmet


Shop On Amazon!

Full-face
Street Racing
$
Predator Helmet


Shop On Amazon!

Full-face
Predator
$$$
Vega Open Face Helmet


Shop On Amazon!

open face
Vintage
$
ScorpionExo EXO-GT3000


Shop On Amazon!

Full-face
Futuristic
$$$$
TORC Route 66 Helmet


Shop On Amazon!




Open-face
Vintage
$
1Storm Full-Face Helmet


Shop On Amazon!

Full-face
Futuristic
$
Now, here is the list of the coolest motorcycle helmets in 2019…
AUTOPDR Vintage Helmet
This is a unique helmet with built in accessories! The AUTOPDR looks and sounds like a helmet for the soldier of the future, or an alternate Star Wars trooper!! It looks like it's designed to take heavy fire. There are UV-protected goggles that are built into the ABS shell.
The shell itself is lightweight at just 2.8 pounds. Despite the fact that this is a helmet designed for heavy-duty road use, it's also meant to fit comfortably on your head. The design is simple with a black theme and blue-tinted goggles. It even features a badge at the top. It's one of the coolest motorcycle helmets in 2019.
Pros
UV-protected goggles protect your eyes from the elements and flying debris
Adjustable chinstrap for the best fit
Lightweight design
Low price
Cons
The helmet may feel a bit restricting
1Storm Helmet
If you've never seen a helmet designed for high-speed enthusiasts, this is it. The color scheme itself shows that this helmet is for the hardcore racer. Not only is it lightweight, but it's also extremely tough. The quick-release button keeps the helmet in place and makes it easy to take off.
The visor also features a glossy, UV-protected finish and keeps the sun out of your eyes. The thermoplastic alloy shell promotes stability at high speeds.
The included visor shouldn't be used during the night since it can impact visibility. To learn more about helmet visors and how to upgrade, click here to read my article on how to select the right visor for your motorcycle helmet.
Pros
Eight vent ventilation system for great airflow
Quick-release design for easy removal
Thick inner lining
Lightweight design
NENKI 'Iron Man' Helmet
The NENKI Iron Man helmet caters to a very specific demographic: Marvel fans. Since the rise of Marvel movies, Iron Man products are flying off the shelves, and there is no shortage of fans who also love to ride. This helmet features a dual visor system and is laced with iridium which reflects sunlight. It also has multiple vents for great airflow.
The red and gold color scheme is incredibly flashy, but when you buy a helmet like this, you want to show it off. To prevent damage when you're transporting this model, click here to read my article on How to Secure your Helmet to Your Motorcycle with a Holder.
Pros
The great design makes you stand out in a crowd
The dual visor system helps protect against the sun
The inner liner can be removed and washed
A very light helmet at 1.0 pounds
Cons
May wobble at high speeds
Visor does not have an anti-fog coating
LS2 Helmet
Sometimes you just want a no-nonsense helmet that can look good and get the job done. You don't want flashy colors or a groundbreaking design, but something that will remain securely in place and look awesome.
The LS2 is just what you're looking for. The face shield alone is worth the money. It's scratch-resistant and is also equipped with an anti-fog coating. So, if you're used to riding in humid conditions, then this visor is a must-have. The sun shield also comes with a quick-release button. The chin strap is also easy to secure, highly adjustable, and easy to take off, using a quick-release button.
Pros
The lining is removable for washing
Visor has an anti-fog coating
Low price
Highly adjustable
Cons
Pretty heavy helmet at 4 pounds
Scorpion Street Helmet
The Scorpion Street is a helmet that does more with less. Its great paint job mixed with its minimalist design is a perfect combination. The face shield is jet black from the outside, shielding your eyes from the sun and protecting against harmful UV rays (I like the carbon fiber styled side hinges personally!).
The visor also features the patented EverClear coating, which prevents it from fogging up. The interior includes the KwikWick liner fabric which prevents moisture build-up and bacterial build-up. It's also comfortable to wear.
Pros
Very comfortable to wear because of the cheek pads and thick liner
The black and blue color scheme is incredibly stylish
Visor has an anti-fog coating
Visor provides UV protection
Cons
Helmet weighs 4.8 pounds
The Price
Predator Helmet
You don't have to be a fan of the movie Predator to appreciate this sick looking helmet. The hand-painted, custom-made helmet is a limited edition. Once you get past the flashy design, you'll find that the helmet features a tough fiberglass shell and a retractable visor with a tinted finish, for safe riding in bright light conditions.
The helmet also comes with a laser that has a toggle switch.  Since this helmet is one of the most popular models on the market, I recommend learning how to lock your helmet to your motorcycle.
Pros
One of the lightest helmets out there at 1.0 pounds
Very comfortable
DOT approved
Great design for fans of the Predator franchise
Cons
Impractical design for day-to-day use
Not a very practical helmet for racing
Vega Open Face Helmet
This is for the open-face design enthusiasts. The retro design and the 1960s look are just the icing on the cake. The pinup girl graphics give the helmet a little rockabilly flavor, while the open face design will keep the rider nice and cool while improving visibility.
There are a total of five designs you can choose from, including a glossy black look. The ABS thermoplastic alloy shell keeps your head cushioned and well-protected, out on the road.
Pros
The anti-microbial lining prevents odors
The fit of the helmet rests low on the head, giving you plenty of cushioning
Lightweight design
Beautiful graphics
Low price
Cons
The helmet's open-face design leaves you exposed to the elements and increased wind noise
ScorpionExo EXO-GT3000 Helmet
Aside from the gorgeous, eye-catching pearl white shell and aerodynamic design that makes this helmet look very futuristic, it features a five-layer blend of specially formulated fibers that have been incorporated into the resin material, to create a durable, lightweight shell that can handle plenty of use and abuse on the road.
The patented Scorpian design promotes a proper seal for minimal wind noise, even when you're riding at high speeds. The retractable sun visor improves visibility, allowing you to ride in bright light conditions.
Pros
Retractable sun visor
Everclear anti-fog coating on visor
Removable, washable liner
TCT-ultra prepreg shell
Cons
Cost
Does not come with a clear shield for nighttime riding
TORC Route 66 Helmet with Rebel Star Emblem
This model by Torc is the helmet that racing enthusiasts and screen legend Steve McQueen would've worn if he were alive today. It's an all American design and has a retro feel to it. It reminds you of the good old days of the 60s and 70s.
More than that, it reminds you of the daredevils of old that used to risk it all. While it features a vintage design, it comes loaded with all of the modern safety features every rider needs.  It passes modern DOT standards and is a very practical helmet for racing. It comes equipped with a retractable visor, moisture-wicking liner, and a suede lining, for ultimate comfort.
Pros
Moisture absorbent suede lining
Shock absorbent design
Retro look
DOT approved
Cons
Leaves face exposed to the elements
Not the lightest helmet at 3 pounds
1Storm Full-Face Motorcycle Helmet
This is a futuristic, feature-packed full-face helmet from 1Storm that features a three-level ventilation system, an aerodynamic design, and a heavily cushioned interior. The matte black shell, combined with the mirrored visor give this model a sleek look.
The helmet's liner is breathable, moisture-wicking, and can be removed and tossed in the wash. The ventilation system is highly adjustable and does an excellent job of keeping the rider cool and dry.
Pros
Lightweight
Three-level ventilation system
Low price
Thermoplastic alloy shell
Mirrored visor with UV protection
Cons
Visor does not have an anti-fog coating
Visor cannot be used for night riding
The Legends and Their Helmets
Over the decades, many motorcycle legends contributed to the riding community in one way or another. Many were responsible for boosting the popularity of wearing helmets, during a time when riders would forego wearing one in favor of feeling the wind in their hair and a whole new sense of freedom.
Dick Mann and Steve McQueen
One of these legends was a rider named Dick Mann, a professional motorcycle racer. Dick was known to exclusively wear Bell Star brand helmets. Stars such as Steve McQueen and his stuntman also wore Bell Stars helmets, which caused a significant increase in helmet sales all over the country.
McQueen was such a fan of Bell Star helmets that he had his own personal collection. He even wore them in some films. While you can't exactly get those models now, there are plenty of cool motorcycle helmets on the market today that try to capture the same style.
Peter Fonda
Peter Fonda starred in the cult classic Easy Rider and proudly wore the stars and stripes helmet made by Davida. This is just another example of how star power can provide a positive influence. The classic Davida stars and stripes helmet is still a big seller and it's a model that changed how we ride.
Aside from its comfortable fit and reinforced polycarbonate shell, the helmet just has a cool, patriotic look to it, and it's still a big seller for Davida.
Derek Nobby Clark
Derek Nobby Clark was a famous motorcycle racer who took home seventeen world titles, with a career that started in the 1960s, until his retirement in 1980. He was known for his signature Bell Star helmet.
Evel Knievel
Evel Knievel wore his famous full-face Bell Star 120 helmet throughout his career. This specific model provides one hundred and twenty-degree peripheral vision and full-face protection. It featured a one-piece fiberglass shell design and a lightweight design, complete with an impact-absorbing foam liner and a snap-on visor.
The graphics were simple but highly recognizable to all his fans. The bright white of the helmet, with the band of white stars in a background of blue, and his tagline, "color me lucky" with Evel written on top of the helmet, makes the helmet one of the most widely recognizable helmets in the world.
Final Thoughts
Not only are these ten models the coolest motorcycle helmets around, but each has also earned a high safety rating and is DOT approved. While fashion is important, nothing trumps safety. I hope this guide will help you find the right type of helmet, one that suits your style and one that can keep you safe out on the road.