Taking a cross country trip on your bike can be an exciting experience. You'll have the open road ahead of you, peace and quiet, and a type of freeing solo adventure that every rider should experience at least once in their lifetime.
If you've decided to head out for your first long-distance ride, then read this guide on how to prepare for a motorcycle trip to learn helpful tips and tricks that will ensure you have everything you need, how to prepare your bike for the trip, what supplies and gear you should have on hand, and how to stay safe.
Properly preparing for your trip will ensure you enjoy a hassle-free, comfortable, safe journey that you'll never forget. Here are the steps that you have to go through in order to ensure the best preparation possible:
How to Pack
What to Pack
Other important gear
Route planning
Eating locations and hours
Daily riding hours
Fueling
If you're looking for a great motorcycle trunk for your bike, click here! Now, let's take a look at each of those steps closer and learn more about the details of being fully prepared!
How to Pack
Packing the right gear will be just as important as giving your bike some routine maintenance before you head out. Choose a safe and comfortable helmet. If you're a new rider, then a good full-face helmet should suffice.
These helmets are often the best choice for every rider since they provide the most protection in the event of an accident, and can also help provide protection from the elements, including wind, rain, and bright sunlight.
Weight Distribution
When packing, make sure that you arrange your gear so that it's low and toward the front of the bike. This is where you'll find the bike's center of gravity. Evenly dispersing your gear in this area can ensure a smooth ride, even if you're carrying a lot of weight. It can also make it easier to take twists and turns and handle your bike on the road.
You should always avoid hanging saddlebags around exhaust pipes or drive chains. Additionally, you also don't want to strap items to the front fender since this can block the airflow to the engine. You can use extra straps to keep your items and bags secure.
You should arrange the gear on your bike based on how often you'll need it. Those bikers who are right-handed will be able to easily access their right side saddlebag, will be much safer than reaching over toward the left. Make sure that you keep items you may need during a ride on your right and the items you won't use often on the left.
Load Limit
Check out your bike's owner's manual which should list its vehicle weight rating. This refers to the total max weight limit your bike is able to carry at one time. Make sure you keep it under this limit.
Adjust Suspension
Make adjustments to the suspension and tighten it is needed. When you stiffen the suspension, it can be a good countermeasure as your luggage and other items have an impact on how your bike handles.
What to Pack
These days, you can find a variety of luggage carriers for your bike. Saddlebags are often the best choice since they can easily be fixed on the back seat or sides of the bike. Tail or tank bags are also good choices. Tank bags are a great option for shorter trips and include magnets that are designed to hug the tank, keeping the bags securely in place.
Aside from the right bag, you'll also need to decide what clothing and supplies to bring along. Always pack light, since a heavier bike is more difficult to control. Avoid carrying too many changes of clothes and bottles of water, both of which will add a lot of weight to your bike.
Clothing
On a bike, dressing appropriately is important and can keep you cool or warm depending on the weather. Your clothing will also protect you from the sun, rain, hail, insect bites, and road rash. Always ride wearing a full-face helmet, ankle boots, comfortable tops, and long pants.
If you're doing a little off-roading, then add knee and elbow guards to the list. When you're packing clothes, make sure that your roll up each piece of clothing.
This will allow you to fit more in your bag then you'd be able to if you folded your clothing the usual way. I also recommend packing synthetic clothing instead of cotton since synthetic materials can dry much faster after being rained on or washed by hand.
Other Important Gear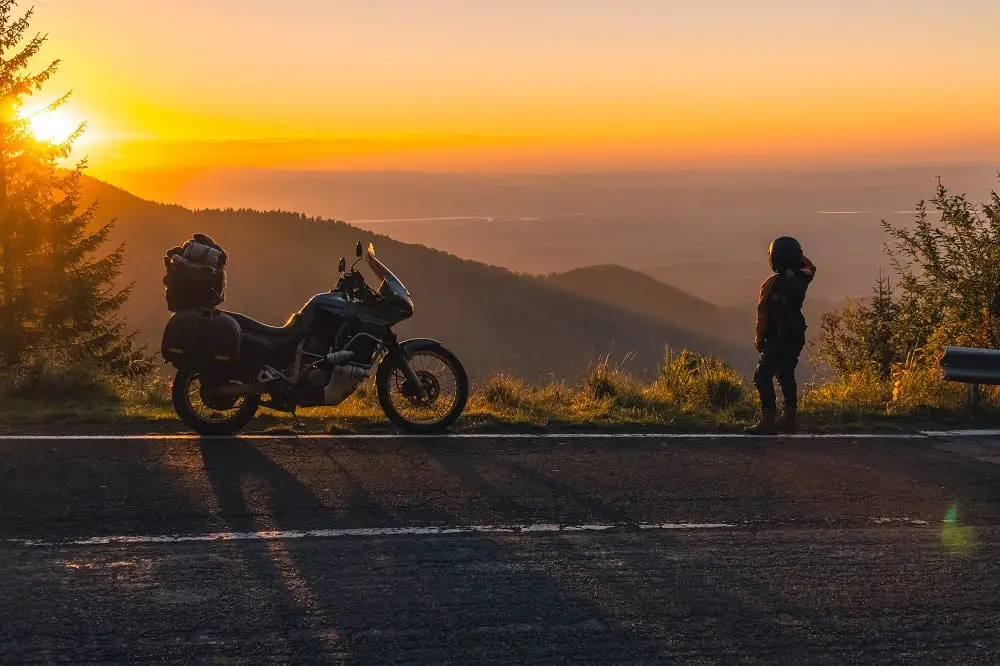 Riding your bike is all about traveling light, however, there are some personal items that you can't go without such as earplugs, medications, and toiletries. you should also include a first aid kit, and other emergency supplies such as an extra phone charger, flashlight, energy bars, emergency blanket, and waterproof matches.
Make sure to pack maintenance supplies such as:
Motor oil
Bike cover
Jumper cables
Tool kit
Tire inflation kit
Clutch cable
Spark plugs
Replacement fuses
Windshield cleaner for those bug splashes
Find out some of the best motorcycle back protectors for this year by clicking here!
Bring Identification and Proper Documents
Do you plan on crossing the border during your journey? Then make sure you have all the necessary documents including a driver's license and your passport. Bringing along local currency will also come in handy and will save you the hassle of exchanging currency once you cross the border.
Plan Your Route
If you're planning on taking a road trip, if it's your first one, it should definitely be a comfortable one. So, plan ahead. You can also change or modify your route when you're on the road, but for now, having a mapped out route will give you a clear idea of where you're headed, how far your journey will take you, and it also allows you to do a little research in terms of stops along the way, the type of weather and hazards you can expect, and how much the trip is going to cost you.
If you're not sure where to go first or how to find bike-friendly routes that offer the type of experience you're looking for, click here to read my guide on the Best Motorcycle Roads in the USA.
Below, you'll find other important tips you should follow, in preparation for your riding adventure:
Getting Your Bike Ready for the Road
If you're planning a cross-country trip, make sure your adventure is going to be a comfortable one. No one wants to be stuck on an uncomfortable bike for several days. If you're inexperienced and don't know much about bikes, how to maintain them, then before you buy a bike, do your research and find a bike that's low maintenance and easy to handle.
The bike should have guards, sharp headlights, a comfortable handlebar, and a soft seat. Go for comfort over aesthetics. Yes, a bike with some ape-hanger handlebars looks cool, but can you imagine holding onto them for hundreds of miles without a break?
If you already have a bike, if necessary, make some upgrades to your bike before your trip, whether it's swapping out the saddle, changing the handlebars, or replacing the motorcycle tires. Aside from making any upgrades that can improve how comfortable you are on the road you also need to make sure your bike can handle a long trip.
Now is the time for some routine bike maintenance.
The first thing you should do is check the tire pressure. You may need to adjust your tire pressure since you'll be carrying more weight on your journey. The tire pressure usually maintained for rides around town may not be high enough for a long-distance trip with a bunch of gear. Consult your owner's manual and check the instructions to adjust the tire pressure level as needed.
Next, you'll want to give your bike a good once-over. Check the chain or belt for weak spots. Should you find any you'll need to change the motorcycle chain prior to your journey.
You will also need to do the following:
Check the spark plugs
In every battery cell look at the fluid levels.
Replace or clean dirty air filters
Make sure you fill-up low fluids
Test all the lights
Lubricate the clutch and brake cables
If you don't have much experience working on a bike, then take it to a local garage for a tune-up, or have a friend come over and give your bike a once over. If your bike needs any serious repairs, make sure you get it taken care of before your trip.
Click here if you want to check out some of the best motorcycle batteries on the market today!
Navigation
If you're not good at remembering directions, then now is the time to take advantage of your phone's GPS and use it to guide you along on your journey. You can also invest in a motorcycle Bluetooth headset, which can feed directions straight into your headset, so you won't have to keep pulling out your phone to check if you're headed in the right direction, or what exit to take.
There will also be times when your reception is spotty or your phone's battery dies. Because of this, it's also important to bring along a hardcopy of a map. If you don't know how to read a map, practice before your trip.
Prepare for Inclement Weather
Even in the summer, there are some places that are prone to thunderstorms and high wind conditions. Both types of weather can be difficult to ride through, especially if you're caught in this type of weather unprepared. Make sure you bring along protective covers for your gear and carry a waterproof jacket that will keep you and your personal items, such as your phone, nice and dry.
Protect Your Hearing
On the highway, it can get extremely loud. Once you're on the main road you can put some earplugs in to avoid intense pressure on your ears. You can also use headphones as an alternative and play your favorite music to keep you awake and alert on your solo journey.
Off-Hour Meals
When you're traveling on the highway, eating during off-hours is your best bet. People usually stop for noon or evening meals at restaurants along the way, which means you'll have to deal with crowds and waiting for seating.
If you switch up your eating hours to odd times such as 10 a.m. for breakfast instead of 9 a.m., 1 p.m. for lunch instead of noon, and 6 p.m. for dinner instead of 5 p.m, you can avoid the crowds and the hassle. When you eat, you'll want to eat until you're full, but you also want to avoid overdoing it since riding around with a full stomach can be uncomfortable for some people.
Know When to Take a Break
Sitting on a bike for several hours can really take a toll. If you don't take regular breaks, then you'll end up with saddle sores, leg cramps, and an aching back. It's important to recognize the signs that your body needs a break before sitting on your bike becomes painful.
Try to take a break every two to three hours. A break should be fifteen to thirty minutes long, which should be more than enough time to rest, stretch your legs, check if your bike is still in good condition, or grab a bite to eat.
Daily Riding Limit: Staying on Track
Enjoying the feel of the open road is probably one of the most exciting parts about riding your bike. The scenic beauty combined with the fresh air, empty streets, and the stretch of road ahead of you can all leave you feeling fulfilled and peaceful.
But at the end of the day, frustration and exhaustion can have a negative impact on your experience. When you're traveling through really scenic areas 100 to 200 miles can make a very full day. On back roads never assume that you can achieve freeway mileage.
Once you've reached your riding limit for the day, try not to push yourself since this can lead to overdoing it on your bike, causing you to feel sore and tired the next day. Try to stay motivated as you ride regardless of the circumstances and take those frequent breaks that can help to keep your spirits up.
Take pictures along the way of your journey, contact friends, and enjoy the moment. Having a daily riding goal can help keep you motivated to push on until you've reached your destination for the day.
Some people will stop several times a day whether to take in the sights, explore local shops, check out some great trails, appreciate nature, or take a rest. But if you're someone who has mileage in mind and you want to make it to a certain destination, then make sure you stay on track and plan your breaks accordingly.
Having a daily riding limit will prevent you from overdoing it and will ensure you manage your time wisely. If you're new to riding, then one to two hundred miles a day may be your limit, while experienced riders can travel several hundreds of miles a day, no sweat.
Overnight Arrangements
Now is the time to figure out which towns along your route offer places that you can stop and rest for the night. Do you plan on camping out? If so, make sure you notate any campgrounds along your route on your map so you can plan on when it's time to stop riding for the day and check-in.
If you're planning on renting a motel or hotel room, make arrangements ahead of time so that all you need to do is stop by the hotel's office and check-in to get your room key. Trust me, this will save you a lot of time and hassle especially after a long day on the road.
Fueling Up
When it comes to scenic back roads, you'll find that gas stations can be few and far between. Bring along a touring map on your trip that will list where you can find filling stations or scout your path before you leave. If you're on a tight budget, you may also want to check out gas prices in different areas and search for filling stations that offer a lower price.
Final Thoughts
Preparing for a major trip on your bike can be exciting, but it can also be tricky if you plan on being on the road for several days or weeks. This can make packing light almost impossible. You may also not know how to properly balance your pack weight in a manner that won't have an impact on how your bike handles, or you might not know what type of gear you really need and which stuff you can just pick up while you're on the road.
These are many issues that new riders tend to have. Learning how to prepare for a motorcycle trip will ensure you don't end up lost on a backroad somewhere, miles away from home. By planning ahead, bringing along the right supplies, wearing the proper riding gear, and inspecting your bike before the big day, you'll guarantee that you enjoy a memorable riding experience that you'll want to relive year after year.