There are a few major components that fall into your motorcycle spring maintenance checklist and the engine's air and oil filters are among the most important. With an ever-growing number of affordable parts, the choice between OEM and aftermarket options is becoming increasingly difficult.
Finding the best motorcycle air filters can therefore be quite hard due to that same abundance. This is why, in this guide, we will go through some of the top air filter models for 2020 and we will compare all of their good features, as well as point out the bad ones.
Before we dive deeper into the features that define a good air filter, let's first compare some of the top-selling motorcycle air filters on the market currently…
Best Overall – K&N Universal Clamp-on Air Filter
K&N is one of the leading brands when it comes to vehicle air filters and there are a few very good reasons for that. First and foremost, they have superb build quality compared to other brands in the mid-price tier.
On top of that, they have higher performance numbers, especially in their more advanced lines of filters. Their Universal Clamp-on air filter is also one of their best-sellers thanks to the long service life it promises and its fit-all nature.
This particular engine air filter is suitable for both cars and motorcycles with a flange diameter of 1.9375 inches and a length of 0.625 inches. The filter is 3 inches high and has a round tapered shape in case you are dealing with dimension restrictions. It comes pre-oiled from the factory and is ready to be installed straight out of the box.
Unlike disposable filters, these K&N filters can be taken out, cleaned, re-oiled, and put back onto your engine. With this particular model, this can be safely done up to 10 times, saving you a lot of money from buying disposable paper air filters.
The filter is rated to last 50,000 miles before it will first need cleaning, but I suggest cleaning it every 20,000 miles or so if you want to keep your engine's air flow clean. This is especially valid if you're using your bike mostly for commuting in a polluted area. While manufactured in the USA, this filter isn't going to cost you an arm and a leg like some other made on home soil.
Pros
Decently priced
Can be washed and reused
High-performance airflow
Very easy to install
Comes pre-oiled
Suitable for all types of bikes
Cons
Should be washed more often than the recommended 50k miles
There are sizing issues sometimes, so make sure you order the correct size
Spectre High-Performance Clamp-on Air Filter
Another brand that has recently made a lot of waves in the high-performance air filter market is Spectre. Their universal clamp-on air filter is arguably just as good as the K&N ones and is even cheaper, making it a great choice for a lot of bikers out there.
The filter uses non-woven synthetic filter media which is superior to normal disposable paper filters and can be used a few times before swapped for a new one. Additionally, this filter allows for better airflow to the engine, increasing performance and fuel economy.
The design of this particular Spectre universal filter is round tapered and it has a 3-inch flange. It is 6.5 inches long and has a 6-inch wide base, so make sure this fits your motorcycle's requirements before buying it. Additionally, it comes in 4 different colors – black, white, blue, and red, for those who like to color-match their gear,
The process of cleaning this filter is actually quite easy. You just have to rinse it under lukewarm water for at least a few minutes so that all the dirt and debris goes out of it.
After that, you will need to apply filter oil again. Make sure you apply a good even layer of the filter oil so that the filter works just as well until the next cleaning. As a whole, the filter can be cleaned at least 5 times before it is time to buy a new one. I recommend cleaning it every 15-20k miles.
Pros
Budget-friendly
Can be re-used a lot of times
Lasts at least 15,000 miles before needing a change
Comes in 4 colors
Increases engine performance
Easy to clean
Cons
Isn't universally fitting, so double-check specifications
Doesn't filter better than K&N filters
Cartman Clamp-on Engine Air Filter
Cartman is another brand that is known for making decent filters at a bargain price. Their universal clamp-on filter doesn't deliver the same high-performance promises as the ones of Spectre and K&N filters but it is still washable and also much cheaper.
The filter media here is a mix of cotton gauze and steel mesh wrapped around it. The top and bottom parts of the filter are made out of alloy steel and the base is made out of rubber.
The shape of this filter is the typical round tapered we are used to seeing in the more famous motorcycle air filters. It comes in 3 different flange sizes – 3, 3.5, and 4 inches. The height is 5.1 inches and the base is 6.1 inches wide.
In terms of coloring, it only comes in red with a contrasting alloy steel ring on top of it. For classic bikes, this does complement the looks quite a lot but doesn't look as good on performance and off-road bikes.
Just like other reusable filters, this one can be washed and reused a few times before you have to buy a new one. This saves a ton of money and keeps your engine clean. If you're commuting with your bike and are riding through more polluted areas, I recommend cleaning those filters more often (even 10-15k miles).
Pros
Very cheap
Can be reused
Traditional-looking design
Alloy steel construction
Easy to clean
Cons
Installation is tricky
Doesn't come in more than one color
Isn't a high-performance air filter
Best for Off-Road Bikes – Maxima Racing Oils AFR-2004-00 ProFilter
Off-road motorcycles often need an extra amount of protection for their engine's air intake while maintaining a steady flow of air towards the cylinders. This can be achieved with a new synthetic filter but foam filters are simply created with this task in mind and the Maxima Racing ProFilter is one of the best ones on the market for this specific task. It is a pre-oiled ready-to-use air filter that is very easy to install and costs half the price of high-performance filters from brands like K&N.
The filter media is a special dual-stage foam matrix that has two layers – an outer 6mm one and a thicker 10mm inner layer. Combined, those two layers provide very good protection against bigger and also finer dirt particles which are often found on off-road courses. As I mentioned, the filter comes pre-oiled with Maxima's FFT filter oil which is superior to other normal filter oils out there.
As a whole, apart from the price, these type of foam filters are really enticing, especially since they can be washed, re-oiled, and ultimately re-used for at least a couple of times. If you have an off-road bike, this is a must have!
Pros
Perfect for off-road motorcycles
Can be re-used
Comes pre-oiled
Easy to install
Good filtration properties
Very good price
Cons
The foam layer links are prone to tearing
Washing the filter tends to damage it
HiFlo Filtro HFF4016 Dual-Stage Racing Foam Air Filter
Another great off-road motorcycle filter comes from a well-known brand in the air filter world – HifloFiltro. These guys make some of the best mid-to-high tier filters out there and they are a great bang for your buck.
The HFF4016 dual-stage racing foam air filter is made out of a coarse open-pore foam that will catch any dirt that is flying in the air. It also allows for more airflow into the engine. While these types of filters are often great for off-roaders, they tend to struggle with long-term use in very polluted areas.
Price-wise this isn't the cheapest foam filter out there but there are a few bundle options that do bring the price down a bit, which is helpful if you want to order filters for more than just one bike. All of the filters are washable, so you will be able to use them over and over again without any significant loss of performance, assuming you clean them well and oil them again before putting them back.
Pros
Good for off-roading
Easy to install
Can be cleaned and re-used
Quality foam
Durable seams
Cons
Expensive
Not great for very polluted urban areas
Best for Cruisers – K&N Premium Powersport Air Filter
Cruisers often require bigger filters shaped in a different way, since they most commonly have V-twin engines. For that reason, I recommend the K&N Engine Air Filter for 2014-2017 Harley Davidsons.
Even though it is technically a paper air filter, the HD-1614 is still just as good as the rest of the K&N filters and will provide a ton more airflow for your engine compared to cheaper disposable filters. It also boasts a superb build quality and can be washed as many as 10 times before you get a new one. The installation process is as simple as putting a few screws on it and aligning it with your air intake, the rest is up to the filter and your bike's engine!
In terms of compatibility, this K&N filter is good for Softail Slim, Heritage, Softail Classics, Fat Boys, Deluxe, Breakout, and other special Models. You need to check with your user manual before you try the K&N HD-1614 air filter.
Pros
Great for newer Harleys
Superb Build Quality
High-performance filter media
Can be cleaned
Relatively easy to install
Cons
Quite expensive
Not suitable for a lot of other models
Best for Mopeds and Scooters – MUYI Motorcycle Air Filters
Mopeds often require small air filters that aren't very easy to find but are almost always a great bargain! The MUYI motorcycle air filters are great for those same reasons. They are 2.05 inches (55mm) and come in a pack of 4 making them a great deal.
Size-wise, you can choose between 1.54in, 1.97in, 2.05 in, 2.13in, and 2.36 inches for the inlet diameter opening. They are all approximately 3.5 inches high and have a base of around 3 inches in diameter. The filter media here is a synthetic fiber one with a steel mesh around it.
The caps and base are made out of stainless steel. The connection is made out of a strong rubber flange which will withstand vibrations well although it might be prone to breaking after continuous usage.
As a whole, the compact size of these filters combined with their good filtering capabilities and alloy steel caps make them a great bargain if you're looking for a good air filter for a moped, ATV, pit bike, or scooter. One notable downside is that they aren't washable like many other new filters on the market.
Pros
Very cheap
Come in a pack of 4
Come in a variety of inlet diameters
Good filtering capabilities
Alloy steel caps
Cons
Not washable
The rubber isn't very long-lasting
MOTL Motorcycle Air Filters
The MOTL motorcycle air filters are another good option for mopeds, small bikes, ATVs, and scooters since they are compact, cheap, and come in packs of 4. Just like the MUYI filters, these come in 4 size options when it comes to their intake diameter – 39, 50, 52, and 54 mm.
Their shape is conical and they have a height of approximately 3 inches. The caps and base are made out of stainless steel and the rubber connection ring is of decent quality, resembling a lot the one on the MUYI filters.
The installation process here is easy thanks to the adjustable clamp and the fact that they come pre-oiled from the factory. Just like most other filters in this price class, though, they aren't washable and can't be re-used. Still, for this price, getting 4 of these filters is more than worth it, especially since each of them can easily last you 15,000 miles.
Pros
Very cheap
Come in a pack of 4
Good filtration properties
Stainless steel caps
Compact sizing
Cons
Not reusable
The rubber connection isn't of the best quality
Make sure your fit is the same as one of the filters'
Motorcycle Air Filters Buyer's Guide
When getting into the DIY world, choosing the ideal air filter for your motorcycle can prove a bit tricky a first. Part of the reason for that is the large number of seemingly similar models out there that all claim to do the same thing but cost different prices.
So which filter will fit your bike best and how to choose the right one? Well, in this guide section, we will try to answer all of these questions and see which are the features that define a truly good motorcycle air filter.
Types of Air Filters
There are two main types of air filters out there. Those are:
Paper air filters
Foam Air filters
There is also a third and fourth type – cotton and liquid bath air filters. Still, they aren't as common in motorcycles even though the technology they use is quite unique when it comes to filtering particles from the air. Still, let's take a closer look at each of the two main types and see what their differences are, as well as their advantages and disadvantages over the others…
Paper air filters
Paper air filters are by far the most common filters for motorcycles. Even though their name suggests it, paper air filters don't actually use real paper for their filter media. In fact, they use a thick cellulose layer that is mixed with other materials and has enough pores in it to remain breathable even under high intake needs from the engine.
The thickness of the filter allows it to be durable and relatively long-lasting while maintaining its filter properties over its life cycle. Speaking of life expectancy, these filters tend to last the least out of the bunch and often have to be replaced more than once inside a single year/season.
And while most people clean then, I advise against that. Despite that disadvantage, these air filters are very cheap and are often a good solution for a DIY project on a budget.
Foam Air filters
On the opposite side of the price spectrum, you have foam air filters. Their main appeal to customers is that they are better at filtering the air.
They are also arguably better performers under heavy stress which is thanks to their elasticity, hence their use in almost all racing bikes. Apart from their foam actively filtering the air, foam filters are also oil-bathed in order to provide an additional sticky media that will trap most heavy particles, while the porous part takes care of the rest.
How to Choose a Good Air Filter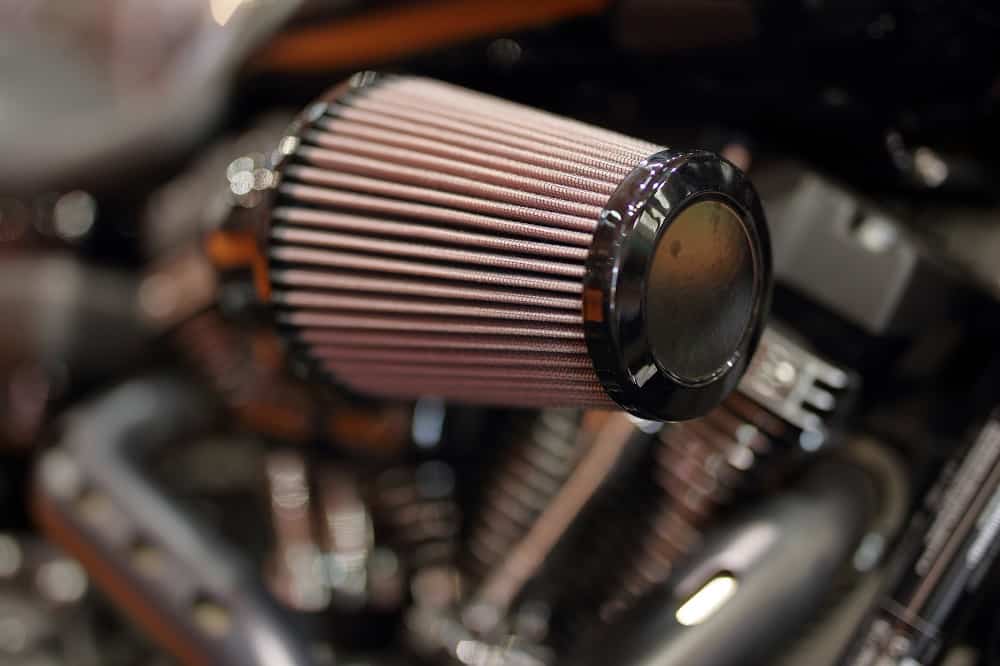 As I already mentioned, choosing the right air filter won't be an easy task. There are numerous features that you need to consider before making your final choice. Luckily for you, I made a list in order to make this whole process much easier! Here are all the things that you need to consider before buying any motorcycle air filter:
Filter media
Shape & Dimensions
Performance
Durability
Compatibility
Ease of installation
Coloring
Price
Filter media
We already discussed the different materials that can be used in a motorcycle air filter. In summary, look for paper air filters if you're on a tighter budget and want something that will keep your bike safe from dust and other debris in the air for a good 6 months.
Foam air filters, on the other hand, are much more expensive but can often be used over and over again if you clean and maintain them properly. They are also arguably better at filtering fine particles and allowing smoother airflow into the motorcycle's engine.
If you have a racing bike or one that you love pushing to its limits, then opt for a foam air filter. If you use your bike for your daily commute or mostly for cruising, look for paper air filters.
Shape & Dimensions
While the shape isn't always important, as air filters stay on the outside of most motorcycle engines, the dimensions are absolutely crucial for the fitment to be good. You should be looking at the flange (usually varies around 3 inches), the Height, and the width of the base. All these dimensions will serve you well enough to know whether the filter will fit and whether it will stick out. Additionally, if your bike comes with an OEM round tapered filter, it would be best if you replace it with a similar aftermarket option.
Performance
Keep an eye out for the performance claims of the filters. Most companies out there don't show direct third-party test results for their performance benefit claims but some brands like K&N do. The filters that allow the most airflow nowadays are the oiled foam filters.
This is why they are used for performance bikes such as racing motorcycles and off-roaders. Some cellulose filters also claim to provide a lot better airflow than a normal OEM option but you should always take that with a grain of salt. Whether these filters increase your engine's acceleration or not can only be tested on a dynamometer.
Durability
While durability is now almost a non-issue with most brands out there, there are still some cheaper filters that are prone to tearing. This is especially common with cheap filters that people try to clean and re-use. The moral of this story is that the few bucks you will save with a cheaper filter will end up costing you money, as it risks a serious engine issue if the filter cracks or tears while the engine is running and you don't notice.
Compatibility
The compatibility of the filter with your motorcycle is actually another part of the discussion of the dimensions. The biggest compatibility issue is the flange diameter so make sure you double-check with your bike's instruction manual before buying a new non-OEM filter.
Ease of installation
The installation of an air filter is one of the easiest DIY tasks you can do for any vehicle. Still, there are some filters that don't come pre-oiled which makes the whole process messier and harder. Look for pre-oiled filters that use a clamp-on design. These take barely a few minutes to be taken out of the box and onto your motorcycle air intake.
Another part of the ease of ownership is how often the filter has to be replaced and/or cleaner. Most new aftermarket filters offer you the option to wash them after a certain mileage. Cleaning, however, isn't that easy and should be done at a specific mileage following the specific instructions from the manufacturer.
Most people make the mistake of not oiling the filter before putting it back in, essentially worsening its performance by a lot. And while many filter companies claim that their filter can last up to 50,000 miles or more, you should never let your filter run that long without a change or at least a clean-up. This is especially valid if you use your motorcycle for commuting or live in a polluted area.
Coloring
This is one of the least important features of an air filter but some people really do love color-matching their engine bays. This is why there are red, yellow, black, and more types of colors for motorcycle air filters, allowing enthusiasts to pick an air filter color that will really suit their bike!
Price
Last but never least, don't overlook the price. As I mentioned, cheap filters almost never save you money, so it is wise to invest a little more into a well-made durable filter that will last you at least throughout one season.
If you want to learn more about changing your motorcycle air filters, head over to my special article on that topic! Now, let's check out which are the top aftermarket brands on today's market…
Brands to Look For
While brand loyalty often clouds people's judgment when it comes to a good price-to-value ratio for a product, it is important to note that there are some brands out there that are often seen as a staple of good quality. Those are:
K&N
BMC
HiFlo
Arlen Ness
Maxima
Sprint and more
While some of these might cost you a pretty penny, they will deliver the performance and oftentimes their metrics are measured independently by a large group of people online, so you can see and compare results from graphs, videos, and more.
Benefits of Changing Your Air Filters Regularly
While it is a well-known fact that air filters are part of the regular maintenance of any motorcycle, few people know that changing or cleaning your filter more often increases your bike's performance and maintains a healthier engine. Let's try to sum up some of the most important benefits of changing your filters regularly.
Changing your filters regularly or at least maintaining them clean keeps your fuel efficiency where you want it. Clogged air filters are one of the major reasons for decreased fuel efficiency
New or clean air filters add to your engine's capabilities, allowing it to accelerate faster
An engine with a clean and consistent good airflow will run smoothly and be quieter
Good air filters also reduce the harmful emissions of your bike, making it easier to pass yearly tests
As a whole, a well-serviced engine will always thank you by serving for a longer period before needing major work. This includes a timely change of the air and oil filters, as well as the oil itself.
Of course, if you have a foam air filter you can clean it once or twice before thinking about changing it. Still, make sure you are cleaning it properly and you are oiling it up afterward. To learn more about how to clean your air filters, click here to visit my detailed article on the topic!
Frequently Asked Questions
Do air filters improve your bike's performance?
Performance air filters have a clear advantage over regular ones when it comes to how much air goes into the engine. To actually feel any noticeable difference, however, you will need far more than just that. An upgraded motor, and modified fuelling system and exhaust will do far more for the feel and power of the motorcycle that just swapping the old filter with a new high-performance one.
How often should you change your motorcycle's air filters?
A bad air filter can cause all sorts of trouble for your bike's engine. Once the filter is partially or fully clogged up it will severely limit the air that goes into your bike's engine. Not only will this result in a loss of power but will also drastically worsen your gas mileage.
This is why it is recommended to change your air filter every 15,000 to 20,000 miles. For people riding mostly in dense urban areas, I recommend changing it every 10,000 to 15,000 miles.
Are OEM air filters better than aftermarket ones?
The main difference between the OEM air filters and the aftermarket ones is that OEM models have more surface area and are, therefore, capable of trapping more substances from the air.
Aftermarket filters tend to have shallower pockets that trap fewer pollutants, resulting in worse performance and poor longevity. This is why you need to opt for the premium aftermarket options if you want to find a decent alternative to your bike's OEM air filter.
Are K&N air filters any good?
While they are typically one of the better aftermarket air filters, K&N models have one major weak spot – the end user. People typically take these out after a few thousand miles and try to clean and re-oil them.
The issue with that is that you can never clean nor oil the filter as good as it was when it came from the factory. This can result in poor performance or in worse cases – MAF fouling errors and issues.
What are the main symptoms of a bad air filter?
Some of the main things you will notice when your air filter has turned bad or was bad from the get-go are:
A fuel smell in your bike's exhaust
Worsened gas mileage
Weird engine noises
Sudden loss of performance
The potential appearance of the check engine light
Without a doubt, however, the most obvious sign of an air filter that is due for a change is its appearance. If it appears darkened or coated with dust and pollutants, it is time for a new one. This is the idea behind most filters out there being white.
Final Words
Finding the best motorcycle air filters will depend on a few key features such as it filter media, how easy it is to install, and whether or not it improves your bike's overall performance. While it may seem like a hard choice at first, if you stick to the tried and tested aftermarket options, there is little to no chance of picking a bad filter.