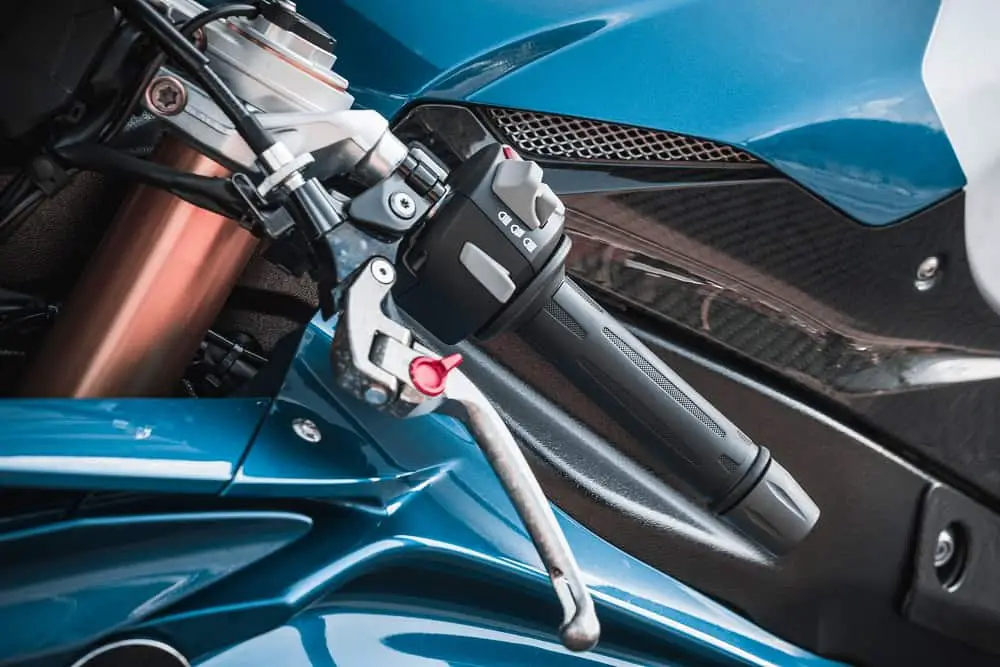 There are a lot of components on your motorcycle that need frequent maintenance. Your grips, however, aren't often at the top of that list even though they might be quite worn out.
While you can always go for an OEM part and replace them with the brand's original grips, there are some pretty great aftermarket options you can check out. Some of them are heated, others have cruise control assistance and special contours to help with grip.
Finding the best motorcycle grips for your bike should be based on all of those features plus how easy they are to install, how grippy they are in the wet, and how well they are priced. Below, we will compare all of this year's top motorcycle grips and then review them individually to see how they stack up against each other and what their strong sides are. After that, we will dive into the different types of grips and the features that define a good model…
Comparison Chart
Product
Materials
Fitment
Length
Our Rating
SuprassMe Motorcycle Grips


Shop On Amazon!

Rubber
7/8" left
1" right
4.85 inches
Oury Black OSCROG10


Shop On Amazon!

Rubber
7/8" left
1" right
5 inches
StarkNightMT Vintage


Shop On Amazon!

Rubber
7/8" left
1" right
4.88 inches
HTTMT ET006


Shop On Amazon!

Foam polymer
1 inch
3.5 inches
BikeMaster Heated Grips


Shop On Amazon!

Rubber
7/8" left
1" right
4.5 inches
Kuryakyn 6342


Shop On Amazon!

Chrome
Rubber
7/8" left
1" right
5 inches
Krator TRBHB114CB


Shop On Amazon!

Aluminum
Rubber
2 x 1"
5.35 inch
Best Overall – SuprassMe Motorcycle Grips
The SurpassMe Motorcycle Grips are one of the best all-rounders out there currently thanks to a large variety of factors. First and foremost, they are one of the cheapest options on this list, and despite their low price tag, they are actually quite well-built and very solid in the long run.
They have a vintage old diamond design that has a few advantages to it – it is very comfortable on the hand even on long journeys, it stays grippy in wet conditions and it channels the water down the grip. The rubber anti-slip surface is easy on the hands while making sure that you don't slip off the throttle or clutch at a tight corner.
Thanks to the rubber's softness, the grips also do a fairly good job of absorbing the vibrations from the engine and from bumps on the road. The grips come in a pack of two – one is 7/8 inches (22mm) for the left handlebar and the other is slightly bigger at 1 inch (24mm) for the right handlebar. The grips are good for all types of motorcycles with these handlebar dimensions, including ATVs and other motorized vehicles.
In terms of installation, they are a bit tricky since they are quite soft but if you do the installation during a warm day they will be much easier to wrap around your handlebars. As a whole, despite the abundant competition in the budget class, these grips are a great bang for your buck and are a solid option for people on a tighter budget.
Pros
Non-slip coating
The diamond design is comfortable on long journeys
Extremely cheap
Fairly durable in the long run
Soft and easy to grip
Come in four original colors
Cons
No flanges
No cruise control clamps
A bit tricky to install
Best Budget Grips – Oury Black OSCROG10 Street Motorcycle Grip
The Oury Black OSCROG10 Street Motorcycle grips are another budget-friendly option but, unlike the SurpassMe grips, these are much better contoured and are far better for wet conditions and more sporty type of driving. These are also geared more towards off-roading and ATVs.
The standout feature here is the large padded surface of both grips. Not only they are quite thick, but they have segmented pads that do an excellent job at shock-absorption and water channeling.
They are also extremely grippy even in hot weather. Something else that these grips do right is the flanges at their sides. While not big, they are noticeably bigger than some other flat grips.
The left grip here is 7/8 of an inch while the throttle hand grip is 1 inch in its center. They both have a 4/5 inch circumference making them fairly thick, and they are both exactly 5 inches in length.
Both grips are made with standard rubber without any two-layer technologies like some more expensive rubber options. They also lack cruise speed assistance and are relatively hard to install.
Pros
Well-priced
Very grippy
Good at channelling water away
Great shock-absorption
Have decently sized flanges
Cons
No cruise speed assistance
Relatively hard to install
Best Non-Slip – StarkNightMT Vintage Motorcycle Handlebar Grips
The StarkNightMT Vintage motorcycle handlebar grips feature a very familiar design shared across most of the budget brands nowadays. This diamond-shaped contour is extremely popular thanks to its ergonomic nature and cool look. Price-wise, these grips are a little more expensive than the SurpassMe ones but share most of their specs making them a less ideal option.
In terms of their size, they are both 4.88 inches long and have the typical 7/8 inch left and 1-inch right inner diameters to fit the throttle and clutch of most motorcycles. The rubber is of surprisingly high quality and is soft both in warm and cold weather making it comfortable on the hands.
That makes it harder to put on your handlebars, though, so make sure you clean them well before installation and use isopropyl alcohol or hairspray for lubrication and to prevent slippage after you install them. As I mentioned, the contour is pyramid or diamond-shaped which helps reduce fatigue from long journeys and is fairly non-slippery.
One thing that I particularly like here is that there is a 30-day money-back guarantee which is quite rare for a budget pair of motorcycle grips. Moreover, these come with a 2-year full production warranty that covers any damage or wear and tear that these grips endure during that period.
Pros
Very soft
Good price-to-value ratio
Comfortable on longer journeys
Relatively non-slippery
2-year warranty
30-day money-back guarantee
Cons
Sizing varyies from model to model
No flanges
Hard to install
Best Anti-Vibration Grips – HTTMT ET006 Anti-Vibration Motorcycle Foam Grip Covers
The HTTMT ET006 motorcycle foam grip covers are actually really close in terms of their materials and consistency to the famous Grip Puppies, with the main difference being that these are almost half the price, making them quite the good alternative.
The main appeal to these kinds of grip covers is that they are extremely easy to install and you actually don't have to remove your factory covers. If you have flanges on your handlebars you will need to remove those beforehand.
The other downside is that some bigger cruisers simply won't fit these due to a variety of reasons. Other than that, these are great for comfort thanks to their foam-like consistency. The material is also very gentle on the hands and does a great job of isolating and removing motor vibrations.
All that makes traveling on longer distances with these covers quite pleasant. The best part is that they are far more durable than one would assume and even if something happens to them, you can get a replacement set for half the price of other similar grip covers.
The fabric is also UV resistant so you can easily leave them on your bike even under the hot summer sun without risking them cracking or becoming stiff. While the installation process is typically easy, some wider handlebars will need some persuation. For that reason, you can use isopropyl alcohol or soapy water to slide them on easily.
Pros
Very cheap
Comfortable
UV resistant
Reduce vibrations
Very easy to install
Improve your grip
Cons
Don't fit some larger cruisers
Don't last long on average
Best Heated Motorcycle Grips – BikeMaster Heated Grips
In a world of vintage-looking grips made out of rubber, aluminum, and other foam-like materials, there is little room for competition. With heated grips, however, there aren't that many models that are shining through and the BikeMaster Heated Grips are definitely on top of the food chain in this sector. While a bit more expensive than usual, these grips give you a five-level temperature control that heats up your hands even in the colder days.
The grip itself features a nicely textured rubber compound that has a good amount of grip in it and is well-contoured for added comfort. It is open-ended meaning there is place for your bike's flanges. The rubber is UV-resistant and can last for quite some time, making these grips a good long-term investment.
You can imagine that the major downside to these handles is that installation isn't as simple as you'd want it to be and it rarely is a one-man job. Still, if you can find an electrically-savvy friend or technician that is willing to do it for cheap, these remain a must-have for anyone commuting through the chilly mornings of the Fall and Spring seasons. An important note here is that the grips work with 12V DC systems only.
Pros
5-levels of heating
Excellent for commuting on colder days
A good amount of grip on the rubber
Open-ended
Non-slip water draining contours
Work well with handlebar flanges
Cons
A bit expensive
Hard to install
Throttle Control Grips – Kuryakyn 6342 Premium ISO Handlebar Grips
It might be too far down this list for a Kuryakyn model but the 6342 Premium ISO handlebar grips by the brand are still one of my favorites for Dual-cable throttle control bikes. The Kuryakyn 6342 is a classic choice for people that don't mind spending a few extra bucks and want something good looking and comfortable for their Harley-Davidson motorcycle.
Their chrome and rubber combo has a specific design that dampens vibrations while remaining extremely sturdy onto your bike's handlebars. The specially positioned rubber rings are also ergonomically sound and help with long journeys and the fatigue those bring to your hands.
The polished chrome is of extremely high quality and one of the main reasons these cost a pretty penny. The rubber is also coated and treated to resist nature's elements. One of the major downside here besides the high price is the hard installation process.
Since those to on bikes with throttle control, it is a bit trickier to remove the old ones and put the new ones back in. Typically, the process starts with removing the end caps with a Torx/hex or combo wrenches. Then, you need to remove the grip and clean the handlebar surface with isopropyl alcohol and coarse sandpaper.
You can get these grips in four combinations depending on the throttle control on your bike and the rubberized parts you want. There are dual cable throttle grips and electronic throttle ones, and in terms of the rubber placement, you can get them with either standard rubber rings which are flatter, or contoured ones that are easier to grip and hold.
Pros
Unique chrome finish
Very durable and long-lasting
High-quality rubber
Dual-cable and electronic throttle control options
Classic Harley-Davidson look
Cons
Very expensve
Hard to install
Krator TRBHB114CB Black Motorcycle Hand Grips
The Krator TRHB114CB motorcycle handlebar grips are a relatively good value for your money if you look past some of their downsides. They have a good build quality, won't cost you an arm and a leg, and are actually quite durable and comfortable for longer journeys.
They are perfect for older motorcycles not only because they have good shock absorption but because they have quite the authentic feel to them as well. The aluminum billet construction is padded with rubber bumps that are soft and act as protection for your hands on longer journeys.
There are reservoir caps at the end of the grip wit h4 small screws keeping them in place. There are, however, no flanges.
The only downside to these grips is that they are slightly more expensive than some other fully-rubberized motorcycle grips. Still, you get a much more rigid construction and longer potential lifespan with an added bump in grip and feel.
Although a lot of Harley owners get these, it is important to note that these grips won't fit any Harley Davidson model produces after the year 2008. This is because these Harleys come with an electronic throttle. While installation is fairly simple, it can still cause some issues compared to simple rubber grips.
Pros
Premium quality
Authentic look and feel
Good shock absorption
Long-lasting
Black aluminum finish
Cons
Not suitable with newer Harley Davidson motorcycles
Not particularly easy to install
More expensive than normal rubber grips
No Flanges
Grip Puppies Comfort Grips
Grip Puppies have been gaining more and more popularity in the US, despite their UK origin. The reason these are so famous is that they require little to no work to install them over your old handlebars.
They are also fairly cheap and last quite a long time. The fabric used in all grip puppies is a soft polymer that is incredibly grippy and allows no room for slipping no matter the weather conditions. The grips channel water well and tend to keep their shape and constitution in both hot and cold weather.
That thick polymer also does a great job of removing some of the vibrations from your motorcycle and the road. As a whole, if you don't want to go through the whole grip changing process, this is one of your best options out there.
In terms of their durability, the grips are ozone and UV resistant with further resistance against oxidation if your older grips have metal parts on them. The puppies are also fairly porous making them work well with heated grips on colder days and they also keep moisture away during the warmer rides.
The downside for all grip puppies is that they aren't meant to go over the handlebars of heavy cruisers like Harley Davidson, Indian, and others. They work perfectly with brands like Polaris, BMW, Honda, Vespa, and other scooters and quads.
They all work with 7/8 inch bar grips with variations in the outside diameter. The standard grip puppies can stretch between 1.25 and 1.45 inches depending on your base grip. The "Big Paw" puppies can go from 1.45 to 1.65 inches in terms of their outer diameter.
Pros
Work with almost all motorcycles
No need for complex installation
Waterproof
Work with heated grips
Very comfortable in both hot and cold weather
Fairly priced
Cons
No contours
Don't work with heavy cruisers
Motorcycle Grips Buyer's Guide
Whether your motorcycle is brand new or a 20-year old used one, one thing is for sure – if your grips aren't by your taste it will make the ride much less comfortable. That is especially true if you use your bike for longer distances and/or commuting.
Softer, anti-vibration grips that are contoured are often great on the hands and let you travel for hundreds of miles at a time. They also work well in the rain. There are, in fact, quite a few details that set apart the good ones from the bad. This is why I created this Guide section that will go over all of these things.
Before we dive into the different features of a motorcycle grip, however, let's first discuss the different types of grips out on the market currently…
Types of Grips
There are quite a lot of ways that I can classify motorcycle grips. You can separate them based on their materials, based on whether they are heated or not, contoured or not, and whether they have throttle control assistance or not. All these differences can be summed up by classifying grips into these categories:
ISO motorcycle grips – ISO stands for "Isolation" meaning that these types of grips isolate your hands from the vibrations of your motorcycle. A lot of different grips can wear the ISO badge but not all are created equal. Some of the most famous ISO grips are the Kuryakin ones which use chrome and rubber mix to dampen the vibrations from the motor.
Heated motorcycle grips – Heated grips have been gaining popularity lately and they are becoming more and more comfortable (which they weren't in the beginning). Apart from the obvious benefits, they are quite expensive and are often hard to install depending on your motorcycle.
Throttle control grips – These grips allow for a type of "cruise control" by either electronically connecting to your throttle or manually clamping onto it holding it in one place. That allows your hands to rest on longer journeys. While some bikes come with this as standard, others don't, which is why these types of grips are becoming more popular nowadays.
Billet rubber grips – Billet rubber grips are similar to the ISO ones as they are also essentially made out of a metal/rubber mix. They often use anodized aluminum that is CNC machined and is painted in a wide variety of interesting colors.
Grip puppies – Grip puppies are soft and stretchable covers for your main grips. They improve comfort, add more grip, and reduce vibration. They are also quite easy to take on and off and are a decent bang for your buck if you want to improve your worn out stock grips.
1-inch and 7/8 inch grips – These cater to the different handlebar sizes of different motorcycles. It is important to know your bar size before going for a specific set of handles for exactly this reason.
Motorcycle Grip Features
There is a surprisingly large amount of features that you should consider when looking for a new set of grips. Those include:
Materials
Build quality
Compatibility
Grip traction & patterns
Ease of Installation
Additional Features
Price
Let's discuss these in a little more detail now and see what role do they play in the overall performance of your grips.
Materials
In terms of the materials of the grip, there is quite a wide range of options out there. The most common material used in the central part of a motorcycle grip is rubber. There is more than just one type of rubber, though.
The most common (and best) one is dual-compound rubber. These types of handles feature two layers of different types of rubber – a harder inner layer that holds the handlebar nicely and an outer softer layer that molds around your hand's grip better allowing for more grip traction.
Other materials include CNC aluminum, chrome, and other metals that are typically mixed in with the rubber.
Build quality
The build quality will greatly determine the longevity of the grip. You wouldn't want to have to swap out your grips in just one year, right? This is why you should look for grips that are well-built and have used premium materials only.
Those might cost you more but will actually cost less in the long run. Also, look for grips that come with extended warranty periods. That is often a pretty good indicator of the trust the brand has in its own product.
Compatibility
When it comes to compatibility, you should consider whether the grip is compatible with your bike's handlebars and whether that same grip fits well within your hand. Grips practically have two important metrics – inner diameter and outer diameter.
While inner tube diameters are fairly limited to 7/8 of an inch and 1 inch, all grips vary in terms of their outer thickness. People with larger hands will prefer bulkier grips that will allow them to wrap their fingers around the handlebar in more comfortable ways. Thicker grips are also better for cruising. Sports grips, on the other hand, are thinner and are much easier to control.
Grip traction & patterns
The grip's traction is directly linked to the materials used in it. Grips that have a mix of aluminum, chrome, or other metals are more likely to cause a slip. Fully-rubberized grips are far easier to hold onto, especially when they have different patterns on them.
Contouring is fairly important as it plays a major role not only in your ability to grip the handle but they also play a vital role in water absorption and channeling moisture away from your hands. Most contouring comes in patterns such as waffles or mixed grooves.
There are even some smooth handles for the people that prefer those. They are typically better for warmer days as they give your hand more surface area connecting it with the grip.
Ease of Installation
How easy it is to install and remove your new grip is something you shouldn't overlook. Millet rubber grips are, in general, harder to install since they are more rigid. Pure rubber grips are far easier to install on your bike's handlebars since they have a certain level of flex to them.
The best grips for installation are, without a doubt, the puppy grips. They are soft, squeezable wraps that are tube-shaped but are far more stretchable than normal base layer grips that go over directly the handlebar.
The grip puppies go over your original grip and bring all of the benefits with them. They help with vibrations, improve your grip in both wet and dry weather, and are easy to hold and control. Their biggest downside, however, is that they tend to wear out quickly and can slip out if you don't lock them into place with your end cap.
If you want to learn how to change your motorcycle's grips, head over to my full article on that topic by clicking here!
Additional Features
There are three additional features that I want to hit on. Those are:
Heating
Water absorption
Flanges
First off, heated motorcycle handles are one of the best new products on the market. Sure, there were some heated models before but they were typically hard to install and weren't as reliable. Newer heated grips, though, are much easier to install and are longer lasting with better grip and better overall comfort.
Their biggest downside is that they are a tad more expensive than the rest of the standard grips but if you use your bike to commute to work in the early morning, you know how indispensable heated grips can be in some days with less-than-ideal conditions.
Speaking of bad weather conditions, some grips come with specific materials and contours that allow them to seemingly absorb water. They don't, in fact, absorb it but rather channel it through to the bottom of the grip where the water drips down.
This is incredibly important to have in wet conditions and more and more brands are actively trying to design their grips around this feature. Water absorption primarily helps avoid accidental slip offs by your hand.
Lastly, let's talk about flanges. Flanges are the end pieces of your handlebars that prevent your hand from slipping off the grip when you are cornering or when the grip is wet. Most of them also come with torque bolts on them or screws that help the grip stay in place by tightening it up against the rest of the handlebar. Depending on your riding style, these can be mostly for style but in certain conditions, they are great to have.
Price
Lastly, make sure that you don't go overboard with the price. A typically good grip would set you back anywhere between 30 and 100 dollars with the heated, millet, or ISO options easily costing more than 60 bucks. Look for models with a good price-to-value ratio and don't always go after a certain brand name as these are unnecessarily expensive.
Frequently Asked Questions
Are all motorcycle grips the same size?
While the majority of the grips out there are 1 inch, there are motorcycles with 7/8 inch handlebars meaning that there have to be smaller grips as well. This is why the most common sizes out there are 7/8 inches and 1 inch.
What is the best glue to use on your motorcycle grips?
One fairly common glue that is used by the majority of motorcyclists is the Renthal grip glue. Still, if you don't want to buy a special glue for the occasion, you can also use hair spray which works fine at preventing slippage.
Are grip puppies good?
This really depends on your original grips. If you have grips that are already comfortable and grippy enough for your hands, grip puppies won't do much for your long-haul comfort and can, in fact, make things worse. If your grips are rough and hard, though, using grip puppies is a great (and cheap) way of improving the grip and softness of your handlebars.
How do I stop my grips from slipping?
As I mentioned, one of the best home solutions to a slipping grip is hair spray. Using isopropyl alcohol when installing the new grip is another good way of making sure that the handle surface will be clean against the rubber surface of the grip and that there won't be any slipping.
Final Words
Finding the best motorcycle grips for your bike depends on a few major factors. First, you need to check what is the size of your motorcycle's handlebars. Then, decide with which material you want to do and what is your budget as that will rule out most of the models out there. Lastly, look for additional features such as electric heating, cruise control assistance, and anti-vibration coatings that will all make longer journeys easier to bear.