RedHillMotorcycleWerx is supported by its readers. If you buy through our links we may earn an affiliate commision. Learn more.
When you ride a motorcycle, your everyday footwear just can't provide the same level of protection that the best motorcycle boots can and will. Many of the leading motorcycle apparel manufacturers have come out with some great options that combine style and functionality. These boots look great, but they're also built tough, so it's possible to find a pair of boots that will go with your look and provide the type of protection you need when you're on the road. I've tried out several of the leading pairs of boots, narrowing it down to six pairs that have what it takes to keep you safe and looking good. I've also put together this buyer's guide, which included all the information you need to choose a pair of motorcycle boots that can withstand heavy-duty use.
Below, you'll find a comparison chart that includes each pair that made it onto my top six list, how each model rated, and other important information that can help you choose the perfect pair for your next ride.
Motorcycle Boots Comparison Chart
Product
Material
Type
Sizes
Rating
Ad Tec Mans Harness Boots


Shop On Amazon!

Full Grain
Leather
Harness
13
O'Neal 0325-111 Boots


Shop On Amazon!

Synthetic
Leather
Cruiser
9
Joe Rocket Big Bang 2.0 Boots


Shop On Amazon!

Full Grain
Leather
Cruiser
8
HARLEY-DAVIDSON Boots


Shop On Amazon!

Leather
Cruiser/
Touring
12
Alpinestars SMX-1 R Boots


Shop On Amazon!

Microfiber/
Synthetic
Materials
Street
19
FLY Racing Maverik Boots


Shop On Amazon!

Leather
Racing
15
Ad Tec Men's Harness Boots
These harness boots by Ad Tec are made from heavy-duty full-grain leather that has been oiled for extra protection. The sole is made out of synthetic material that's designed to handle a wide range of conditions. The boots feature a split shaft design and an O-ring ankle harness strap that gives these boots a vintage look that every rider will love. These boots are perfect for daily riders, commuters, and can be worn both on and off the bike. They're basically the perfect blend of functionality and style and will definitely complement any look.
Pros
Made out of full grain leather
Leather has been oiled for extra protection
Thirteen sizes available
Perfect for on and off bike use
Low price
Comfortable
Cons
Can cause excessive sweating in hotter climates
Only one color available
Conclusion
These harness boots offer that classic look that many motorcyclists love, but they're also very durable and perfect for daily use. The biggest drawback for this type of boot is the lack of breathability. The thick leather material can cause the feet to sweat excessively in hotter climates, so keep this in mind if you're looking for a new pair of boots for your motorcycle trip. Overall, these boots are durable, are made out of high-quality materials, and feature a thick synthetic sole that's designed to lengthen the lifespan of the boots.
O'Neal 0325-111 Men's New Logo Rider Boot
These heavy-duty motorcycle boots come equipped with injection-molded plastic plates that are designed to withstand impacts. The boots also feature metal shank inserts that are designed to provide extra support while also reinforcing the shape of the boot. The fit is highly adjustable, using the four-buckle closure system for a tight snap and lock fit. Surprisingly, these boots are very breathable, thanks to the air mesh interior. This makes the boots suitable for use in a wide range of environments and weather conditions. The exterior of the boots is made out of synthetic leather, which is durable, thick, and designed to protect the feet from the elements and damage upon impact.
Pros
Four buckle system allows you to achieve a secure fit
Injection molded plastic plates for added protection
Breathable design
Made out of synthetic materials
Affordable
Versatile
Cons
Boots are only available in full sizes
Price
Conclusion
These synthetic leather riding boots are built tough, yet highly breathable. They also feature a custom fit design, using the buckle system to secure the boots and ensure a proper fit. These boots come with injection-molded plastic that protects the feet and ankles in the event of an accident. While the look isn't every low-key, which makes them a poor choice if you want boots you can wear on and off the bike, these boots are perfect for the serious rider in need of durable boots that can handle intense temperatures, challenging terrain, and longer trips.
Joe Rocket Big Bang 2.0 Men's Motorcycle Boots
If you're looking for a pair of motorcycle boots you can use daily, whether you're riding or at the office, then these boots by Joe Rocket deliver. They offer top-of-the-line ankle protection, thanks to the molded polymeric ankle design, complete with extra padding at the ankle for extra comfort. These durable riding boots also feature triple stitching in high-stress areas, with steel lace eyelets. The sole features a non-slip design, making the boots safer for wear in wet conditions. These boots are available in eight sizes and are made out of full-grain leather that has a beautiful matte finish.
Pros
Full grain leather with a matte finish
Triple stitching in high stress areas
Steel lace eyelets
Extra padding in ankle area
Buckle system
Non-slip sole
Cons
Not breathable
Low quality laces
Conclusion
These boots by Joe Rocket are built tough, made from two-millimeter full grain leather and a shifter zone that has added protection. If you're looking for riding boots that feature an adjustable fit for added protection and security, then you'll love the quick lock buckle system that provides a snug fit. These boots are comfortable, perfect for daily wear, and designed for casual and serious riders alike.
HARLEY-DAVIDSON Hagerman Motorcycle Boots
These Harley Davidson boots are made out of 100% leather and equipped with thick rubber soles. The mesh lining in the boots improves their breathability, so you can wear these boots in hotter climates. These boots are perfect for casual wear and riding. They're also incredibly comfortable, so they're perfect for your next riding adventure. They can also be quickly removed using the YKK locking inside zipper. The outsole is made out of ultra-light rubber for improved comfort and long-lasting wear.
Pros
YKK zipper style closure
Made out of 100% leather
Comfortable
Durable
Breathable
Perfect for riding and daily wear
Cons
Insoles are stiff
Not waterproof
Conclusion
Harley fans will appreciate the classic, casual look these boots offer, combined with their durable design that provides the type of comfort you need when you're on the road.
These boots are a perfect choice if you're looking for a streetwear-specific style of boots you can wear on and off your bike. The thick natural leather material is tough and works to protect your feet and ankles in the event of an accident.
Alpinestars Men's SMX-1 R Street Motorcycle Boot
These street motorcycle boots feature a main upper that's made out of advanced microfiber for improved durability and comfort. The material offers excellent abrasion resistance, so your boots will look great, even if you're a daily rider. For excellent ventilation, the boots feature perforated lateral and medial panels. The heel counter support system is designed with a soft TPR insert for ankle comfort and improved movement. The boot design works with a strap closure system for extra support and a more comfortable fit.
Pros
Rubber compound soles
TPR inserts
Breathable
Ergonomic design
Works for both narrow and wide feet
Made out of abrasion resistant materials
Conclusion
These motorcycle boots feature an ergonomic design and will work for both narrow and wide feet. The durable design makes the boots perfect for casual wear and daily riding use. The boots are breathable, so they can be worn in hotter weather, while the abrasion-resistant materials prove just how tough these boots are and allow them to handle plenty of wear and tear.
FLY Racing Maverik Boots
If you're looking for racing boots that offer ultimate protection, then take a closer look at these boots by Fly. These boots offer off-road protection, thanks to the articulated rear ankle design that provides improved flexibility, making the break-in period fast and comfortable. Despite the flexibility in the ankle, the boots remain very supportive. These boots are equipped with many safety features designed to protect the feet and ankles, which is exactly what you need when you're on your bike and taking on challenging terrain. These boots feature a gaiter that's equipped with elastic for ultimate flexibility, while the quick-lock buckle system makes it easy to put on or remove the boots. This pair also comes equipped with a rubber heat shield that will protect you from the exhaust and the engine. They also do a great job of gripping, which will make your bike easier to control.
Pros
Comfortable
Lightweight sole design
Elastic gaiter
Quick lock buckle system
Rubber heat shield
Plastic injected midsole
Cons
Not recommended for hot weather riding
Long breaking in process
Conclusion
These racing boots feature a modern molded sole, a one-piece plastic injected midsole, and a molded rubber outsole that's light and durable. It also offers an excellent grip. These boots may not be the best choice if you're looking for boots you can wear on the street, but for the serious motocross rider, these boots are an essential piece of safety gear that will provide ultimate protection to the toes, foot, and ankle.
Motorcycle Boots Buyer's Guide
When you buy a motorcycle, you do your homework and look for a bike that's well-built, loaded with power, and comes equipped with all the features you need, based on the type of riding you do. With motorcycle boots, you'll also need to do some careful research to ensure you end up with a pair of boots that can provide the type of protection you need to stay safe on the road.
Whether you're looking for a rugged pair of motocross boots or a pair of stylish streetwear touring boots, there's a pair of motorcycle boots out there designed to meet your riding needs. This buyer's guide will go over the different types of boots available, the specs to look for, and why it's so important to purchase riding-specific boots.
Every rider should always wear a good pair of boots when they're on their bike. These boots don't just look good, they're designed to protect your feet and ankles in the event of an accident.
Additionally, a good pair of riding boots can also protect your feet from the elements, especially if you're riding in freezing temperatures.
Types of Motorcycle Boots
These boots will vary widely in terms of wearability, utility, shape, and style. Like most types of outdoor gear, the best pair of boots will work for your specific riding needs and style. If you're looking for a versatile pair that's comfortable enough for everyday wear, then you'll want a more casual cut.
Depending on the type of bike you ride and where you ride, you should look for specific features in your next pair of motorcycle boots. Finding the right style will be especially important if you're planning a motorcycle trip or you're looking for boots that offer a higher level of protection for motocross or racing.
Below, you'll find a list of the different styles available and their key features.
Racing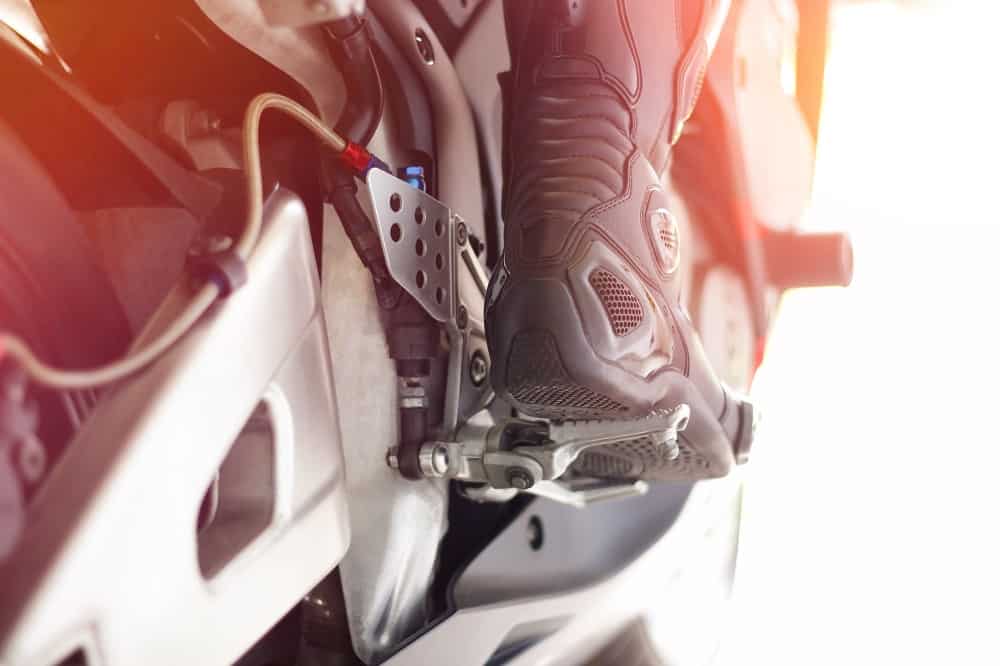 This type of riding footwear is all about protection and performance. In terms of performance, these boots are often stiffer and lighter compared to other styles of riding boots. This design will allow the rider to manage the foot controls with improved speed and precision. These boots also come equipped with smoother soles. The smoother soles increase touch sensitivity. While these boots are not designed for daily wear, they offer a uniform, solid platform that's perfect for the racing motorcyclist's riding stance.
This type of motorcycle boot will also come with a toe slider on the outside of each boot. This is designed for the riders who like to get horizontal. The calf of the boot should be form-fitting; however, it should also be large enough to cover the bottom of the rider's pants, seamlessly.
When it comes to protection, racing boots offer cutting-edge tech. The boots should offer top-of-the-line abrasion resistance, exoskeletal rigidity, and impact dissipation. High-quality boots will have armor panels that are replaceable. This will allow the motorcyclists to purchase a new set of armor plates after an accident, instead of purchasing a new pair of boots. Look for a pair that features screw heads on the exterior of the boots. These will indicate the boots have parts that are replaceable.
Cruiser
Rugged work boots or riding boots are very popular among the cruiser crowd. Cruiser boots offer both functionality and style. Some are more stylish than others and will offer better soles and leather quality, while others will focus more on protective and technical features.
The boots are usually very flexible and designed for forward-bias footpegs. These boots are perfect for riding and daily wear.
When you're shopping for cruiser boots that are made out of leather, you'll find that the boots are either top grain or full-grain leather. Full-grain leather will naturally develop a patina over time. Top grain leather is designed to maintain its original finish.
Keep in mind, riding in leather boots all day can cause the feet to sweat excessively. If you normally ride in hot weather, make sure you find a pair that features ventilated leather or a type of textile and leather combo.
A pair of cruiser boots may be full-length, mid-length, or short. Short boots are easier to walk in and more affordable, while longer boots will provide more protection. This type of footwear is designed to be worn under the cuff of chaps and jeans.
Touring
Most types of touring boots are full-length and offer plenty of protection. These boots are designed for a neutral footpeg position and designed with comfort in mind, so they're a great choice for the rider planning a cross-country trip. They are also functional in all types of weather. Most offer the type of insulation you need in colder temperatures, yet they also have a breathable design that will prevent excessive sweating. Additionally, many types of touring boots will also come equipped with a waterproof lining, so they'll be perfect in rainy or wet conditions.
Basically, these boots are very versatile. The drawback here is the weight of the boots and the higher price tag.
Boots for Commuting
Boots for commuting can make your ride more comfortable. If you use your bike to commute to and from work, you don't want to wear racing boots. You need something more casual. Some riders will choose cruiser or touring boots. However, for commuting purposes, many riders prefer riding shoes or short boots.
Short boots usually rise a little above the ankle. In many ways, these boots are just like other types of motorcycle boots. These shorter boots come equipped with a special sole, shorter panels and abrasion-resistant materials. Of course, these boots lack the type of coverage many riders need on the road.
Short boots come in a variety of sizes. They can be rugged, stylish, or sporty. The advantage of these boots is their more casual style and comfortable design, which makes them perfect for commuting, since you can wear them while you ride, and you won't have to change your footwear when you get to work.
Other Important Features
Motorcycle boots are designed with features that will keep a rider safe and protected. The right boots can also help prevent motorcycle accidents that are caused by rider error in wet weather conditions. Most motorcycle boots are designed with safety and durability in mind, but some boots offer a higher level of protection than others.
There are many factors you'll want to consider before you buy, such as boot height, material type, closure, construction, and more.
Height
For a boot to provide adequate protection, it should offer at least over the ankle coverage. High-top boots tend to be less comfortable and stiffer than other styles, but it can offer a whole new level of protection.
In an accident, one of the most common injuries involves the foot becoming trapped under a bike. This can result in a serious sprain or break if there's not enough support around the ankle. Because of this, a full-height boot is the best choice, since it offers ultimate ankle support and protection.
Material
Many types of traditional walking shoes are made out of soft leather or canvas, which won't offer much in terms of protection when you hit the asphalt. This is why most types of motorcycle boots are made out of thick materials, such as leather, because of their high abrasion resistance. However, many of the leading boot manufacturers are now offering a line of boots that are made out of textile materials that are more breathable as well as abrasion-resistant. Look for boots that come equipped with extra reinforcements in high-wear areas. This can include reinforcements such as plastic sliders, extra textile material, and double layers of leather.
Weather Protection
If you normally ride in inclement weather or use your bike for your daily commute, then you'll need a pair of boots that offer weather protection. If your boots are made out of leather, make sure the leather has been treated. Leather that hasn't been treated will absorb water instead of repelling it. This can make life miserable if your boots get soaked on your ride.
Closures
From Velcro to laces, how a pair of boots close and open can be a matter of personal preference. Laces are often a popular choice because they're highly adjustable and make it easy to put boots on and take them off. The drawback of laces is that they can come undone when you're riding. Additionally, the hooks located at the top of a lacing system can snag on a part of your bike when you're dismounting or mounting it. Some types of boots will come with a buckle that works to strap the laces down. This is a nice safety feature that, unfortunately, not all riding boots have.
Other types of closures, such as buckles, and Velcro can also be found on motorcycle boots. These closures will allow the motorcyclist to get a more secure fit compared to laces and are often found more commonly found on racing boots. These closures also do a better job of ensuring the boots remain on the feet, even in the event of a high-speed crash.
Construction
When you're shopping for a new pair of riding boots, pay attention to how they're constructed. Top-of-the-line boots will have double or triple stitching that ensures the boots stay together, even in a serious accident. How the sole connects to the boot will be a huge factor as well. Soles that are glued are not as durable as soles that have been sewn on.
Soles
Depending on the type of riding you do, you'll need soles that provide the right amount of grip. Softer soles tend to grip the footpeg better, however, they are also known to wear down pretty quickly. Soles that are harder offer better durability, but they don't have the best grip. Regardless of how soft or hard the soles are, make sure they're oil-resistant. This will be especially important if you're doing a little street riding. Oil buildup on the roads can lead to an accident. If you have soles that are oil-resistant, you'll have better traction on the streets.
Fit
When you're shopping for boots online make sure you check out the manufacturer's sizing chart. Each manufacturer will size their boots slightly differently. Many of the leading manufacturers are based in Europe, so you'll need to convert your US size to European size.
Keep in mind, the type of socks you'll be wearing can also impact how a pair of boots fit.
Protection & Armor
Extra padding and armor will always be a plus when it comes to protection. This is especially true for racing boots. Many types of sports boots or racing boots will come with built-in armor that's made out of plastic, carbon, or Kevlar. This extra protection is placed in fragile areas and high-impact areas.
When it comes to street boots, you will commonly find pairs that come with steel plates located around the toe area. This is designed to prevent the toes from getting crushed in an accident. Many riders worry that the steel plate can break free of the boot and possibly sever the feet, but this is almost impossible. Steel toe boots have been proven to provide the ultimate protection for the feet and should be seriously considered by any rider looking for a better level of protection when they ride.
Parts
Some types of boots, such as track boots, will come with a fitted bootie that provides the ultimate customized fit. The bootie can be removed for cleaning, or to air the boots out if the rider is very sweaty. Other types of racing boots will come with parts that are removable and replaceable. These parts can include toe sliders, which can get mangled pretty quickly. Replacing the part instead of the entire boots, will save you some serious cash.
Price
You'll come across boots that start at $40 while other boots designed for serious riders, racing, or motocross, can cost you around $150 to $200. Boots that are made out of high-quality materials, such as full-grain leather can impact the cost of the boots, as does the style of the boots since knee-high boots or mid-length boots require more material. If you're searching for boots that you can wear daily, then you can get by with a pair for under $100, but if you're looking for boots for a cross country trip or motocross, then you should consider this a serious investment and be prepared to pay a higher price for the best quality.
Frequently Asked Questions
What Kind of Boots Should You Wear on a Motorcycle?
There are many different types of motorcycle boots to choose from. Harness boots or engineer boots are commonly worn for both riding and daily wear. Tactical boots, racing boots, and touring boots are also available. The type of motorcycle boots you wear will depend on where you ride, the type of bike you have, weather conditions, and environment type.
What is Different About Motorcycle Boots?
Motorcycle boots come equipped with durable soles, and offer a higher level of protection, compared to boots that are designed solely with fashion in mind. Many riding boots feature oil-resistant soles, ankle and calf protection, and a breathable design that will keep riders comfortable and safe.
Why Do Bikers Wear Boots?
Motorcycle boots will protect the feet, ankles, and calves from road rash and other injuries, in the event of an accident. These boots can also protect the rider from intense heat or colder temperatures and wet conditions.
Are Steel Toe Boots Good for Motorcycle Riding?
They are. Steel toe boots offer better crush protection for the feet and ankle. Unfortunately, they are also heavier and in most cases more expensive.
Final Thoughts
The best motorcycle boots will provide the type of protection and functionality you need, whether you ride off-road, ride your bike across the country, or use your bike for commuting purposes. The type of boots you buy will heavily depend on the type of riding you do, where you ride, and the time of year. This buyer's guide and my list of the top six pairs of motorcycle boots on the market will help you choose a new pair that offers the type of fit, performance, and protection you need, wherever you ride.