If the bike's heart is its engine, then the blood that runs through its veins has to be the oil. In order for that blood to be clean and for the engine to run smoothly, you need a good oil filter to take care of all the contaminants in the oil flow.
Finding the best motorcycle oil filter, however, can be challenging especially with the countless aftermarket options that have swarmed the market in recent years. While most people still prefer going for the specific OEM filter for their exact bike model, some aftermarket filters offer some slight performance benefits and are actually cheaper.
So, is it worth checking them out? Well, in this guide, I will show you all the top oil filter models for different types of oils and bikes ranking them from best to worst. After that, we will dive a little bit deeper into the features that define a good oil filter and hopefully make it easier for you to choose one for your motorcycle's next oil change.
K&N KN-204 Motorcycle Oil Filter
K&N oil filters are the leading brand for aftermarket parts currently when it comes to air and oil filters. Their semi-synthetic nature outperforms traditional filters and also outlives them. The KN-204 is one of the most common of their oil filters out there and is designed to withstand heavy-duty use in a variety of vehicles, including motorcycles.
Its filter media is a resin-impregnated cellulose base that has a near 99% single-pass efficiency (SPE) thanks to its nanopores and mix of glass fibers. This allows the oil to maintain a clean and unobstructed flow.
The filter is primarily used in Japanese bikes such as Honda and Yamaha and, in most cases, it outperforms the OEM alternatives for these bikes. The only downside is that it does cost slightly more than most traditional oil filters out there.
Another useful feature here is the anti-drainback valve which retains some of the oil inside the engine bay without letting it drip into the oil pan once you turn off your bike. That prevents dry engine starts even if the bike hasn't been used for days. The top of the filter also has a 17mm exposed nut that makes installing it and removing it a one-tool job.
Pros
Excellent build quality
Better than some OEM filters
High PFE
17mm exposed nut for easy installations
Works on a variety of vehicles
Great for Japanese bikes
Anti-drainback valve
Cons
Quite expensive
Some people argue against K&N's high-performance claims
No pressure relief valve
Bosch 3300 Premium FILTECH Oil Filter
Another brand that is known for manufacturing premium aftermarket automotive parts is Bosch. In most cases, the company is even behind some OEM oil filters for brands like Harley-Davidson and BMW. The inside of this filter uses Bosch's new FILTECH technology that provides a synthetic filter media to obtain a high-PFE number.
The build quality of this filter is also fantastic with good longevity thanks to its steel base plates and housing. That type of construction is typically very resilient to leaks and warpage. The high-lubricity gasket also makes removing the filter easy while making sure the seal is tight and there are no leaks.
On the inside, there is also an anti-drainback valve made out of silicone that ensures a clean oil supply fo the engine when you crank it. There is also a pressure-relief valve that helps with starts during the colder months of the year.
The filter comes in almost all possible sizes varying from 3300 to 3974, making it suitable for all car and motorcycle makes. One thing that I don't like is that there is no bolt on top of the filter for easier installations and removals.
Still, the sides of the top are contoured and quite grippy. All that comes in a surprisingly affordable package, costing almost half of what some BMW and K&N filters ask for. The filter is also thoroughly tested with Castrol oils, making it highly compatible with their synthetic blends thanks to the partnership between the two brands.
Pros
Very affordable
Comes in a variety of sizes
Patented FILTECH filter media
Silicone anti-drainback valve
Works for almost all brands of vehicles
Solid construction quality
Pressure-relief valve
Cons
No exposed nut for installations
HIFLO Filtro HF204 Black Premium Oil Filter
Hiflo is a brand that is actually responsible for K&N's filter production. They manufacture oil filters based on K&N's patented technologies and use their decades of experience for their own products.
Their oil filters are just as good and are perhaps the best value for your money out there currently. The FILTRO series and more specifically the HF204 black premium oil filters by Hiflo are among the best out there and their low price makes them almost a no-brainer for anything looking for a quality replacement part for their DIY oil change.
The filter works for a variety of Honda, Kawasaki, Yamaha, and other Japanese models. There are other filters from the HF series that are suitable for other bikes as well. All of the filters from that series share a few common qualities, though.
They have a better filtration PFE than most OEM filters and actually last longer than them, making them a good combination to go with some synthetic oils. According to Hiflo's own tests, their filters last nearly 30% longer than comparable OEM filters. Pair that with the fact that they cost a fraction of the cost, and you see why a lot of DIY enthusiasts prefer them over any other alternative.
The filters use traditional paper filter media which may be a downside to some people but this has been tried and tested through time to be the best value-for-money combination for an oil filter. The filter housing itself uses steel from NKK Japan and Toyota and other parts from Germany, Finland, and the USA.
Pros
Premium materials
Excellent price-to-value ratio
Long-lasting performance
Durable outer shell
High PFE
Good OEM alternative
Cons
The filter media is traditional cellulose which has downsides compared to synthetic ones
The compatibility of these filters is fairly limited
Mobil 1 M1-108A Extended Performance Oil Filter
Mobil's Extended Performance Oil Filters are among the best synthetic models out there. They are built and tested to work specifically with Mobil oils but they also perform great with other brands.
Their prices are also among the lowest for a synthetic filter, making them a great band for your buck. The synthetic fibers in the filter media allow for two major things – a good percentage of removed particles and longer service life.
Mobil's claims are that their filter lasts up to 1 year or 20,000 miles which goes hand-in-hand with their new synthetic oil claims. This makes for a good high-mileage combination if you use all of the brand's oil-system products but their oils are typically at the top of the range when it comes to price, so make sure the bill fits your budget.
Synthetic filter media are also known for maintaining a good oil flow even in less-than-ideal conditions such as cold starts or thicker oil in general. The M1-108A filter is known to be tested in pressures 9 times the normal operating pressure of a standard motorcycle engine.
Pros
Great price
Good synthetic filter performance
Thoroughly tested with synthetic oils
Work great with Mobil-1 oils
Withstands high pressure
Cons
Not easy to install
Not a lot of safety valves
Honda OEM Oil Filter
While some people prefer going for an aftermarket oil filter, there are still others that prefer their genuine OEM parts for their bikes. Honda and other Japanese brands are known for having short wait-times and low prices for their OEM parts, making them extremely desirable bikes even solely for that purpose. Honda's oil filters make no exception to that. They are well-priced, built very well, and have a long service life with a good PFE and excellent safety mechanism.
The filter is good for almost all Honda motorcycle models including their VFR, GL, CBR, CB, VT, VF, ST, and Fury series up to 2007-2012. To make sure this fits your bike, check whether your model is within the ones that this filter is meant for.
Also, make sure that you double-check that the oil filter you received has the Honda logo on its side along with the writing "Genuine Parts" since there are a lot of imitation products out there that are simple aftermarket filters. Another way to distinguish whether the product is real or not is by the honda barcode sticker on top upon arrival.
Pros
Well-priced for an OEM part
Very durable
Long service life
Good filtration properties
Semi-synthetic filter media
Cons
There are counterfeit parts similar to it
Difficult to install compared to top-bolt models
Mann-Filter W 940/25 Spin-on Oil Filter
Mann-Filter is a brand that has exceeded at budget aftermarket filters for decades now and their oil and air filters are among the most famous options among motorcycle enthusiasts. While they are available with synthetic and natural filter media, the W 940/25 spin-on oil filter is a semi-natural one.
The filter media does a superb job at separating particles and has a good dirt capacity of more than 20 grams. It is chemically resistant and has a good pleat geometry allowing for optimal oil flow. As a whole, for a semi-natural oil filter, this is one of the best deals out there purely thanks to its build quality and low price compared to its competition.
The casing has one of the highest build qualities on this list and can easily withstand operating pressures of up to 10 psi and spikes well beyond that. The filter's walls are also reinforced for added pressure and are corrosion-protected. Speaking of pressure, there is a pressure-relieve mechanism that lets oil bypass the filter as a whole if the filter media is clogged up or the oil is too thick.
This allows for easier starts in the cold and/or longer service life even after the point of necessary oil filter change. Lastly, there is an anti-drainback valve that prevents the oil from getting back to the oil pan after you shut your bike's motor off.
Pros
Extremely cheap
Superb build quality
Efficient filtration
Anti-drainback valve
Pressure-relieve valve
Anti-corrosion coating
Cons
Synthetic options are better
Some filters come with a missing O-ring
BMW Motorcycle Oil Filter
The main issue with most BMW cars and motorcycles is that they are expensive to buy and even more expensive to run long-term. This translates to their parts as well but what you get in return is relatively proportional to the money you spend. Genuine OEM parts for BMW motorcycles tend to last longer and work better than some cheaper aftermarket options.
The BMW oil filters are built following the highest quality standards and that is true for every single part of the filter. The O-ring always provides a snug fit and rarely breaks down even after 20,000 miles.
The filter media is durable, handles high pressure, and filters the oil with a PFE percentage of over 98%. The housing is corrosion-resistant and has thick walls allowing it to withstand heavy pressures. There are also anti-drainback and pressure-relief valves to keeps things in check.
The two issues here, though, are the price and the potential fake products out there. This is why you should keep your eyes open for the BMW genuine parts logo and the OEM sticker on top of your filter after you get it. BMW motorcycles also use a large variety of different filters both in terms of diameter and overall size, so make sure you check with your bike's manual and the part number before you order.
Pros
Superb quality
Excellent filtration
Easy to install
Long service life
Safety mechanisms
Corrosion-resistant
Cons
Very expensive
Possible fake filters out there
A lot of different options for different BMW models
FRAM PH6022 Black Oil Filter
Made to fit all models from the famous European brand Motto-Guzzi, the Fram PH6022 Black oil filter is one of the cheapest on this list and is an excellent alternative to some OEM filters out there. It has a natural cellulose multi-fiber filter media that does a good job of eliminating most of the pollutants from your engine's oil. It has a PFE of 96.2 at multiple independent testings and has a surprisingly long life for such a budget traditional oil filter.
The major downside of traditional cellulose oil filters is that they simply don't last as long as the synthetic ones, meaning this will hardly be a good option if you plan on going more than 10,000 miles without changing your oil and filters. The lack of a pressure valve also makes this a little more prone to tearing.
While the construction is good, there have been some complaints about the warpage over time. There also aren't a lot of safety mechanisms here including the lack of an anti-drainage valve and a pressure valve.
The absence of these two will make cranking your engine on a cold day harder for the oiling system and can potentially damage the inside of your engine if the conditions are right. Still, being one of the cheapest filters on this list, it brings a good enough value for most people to get it for their Moto-Guzzi motorcycles since it fits all models and years from this brand.
Pros
Very cheap
Easy to install and remove
Fits all models and years from the brand Moto-Guzzi
Good PFE
Traditional filter media does a good job of filtering the oil
Cons
Prone to warpage
Lacks pressure valve
Lacks anti-drainback valve
Doesn't have a long service life
Motorcycle Oil Filters Buyer's Guide
With motorcycle oil filters, things can get a little confusing, especially since most filters look the same and claim the same functionality. Ultimately, the differences between modern motorcycle oil filters boil down to just a few key factors.
A decade ago there was a huge price gap between OEM and aftermarket filters. Nowadays, the abundance of aftermarket high-performance filters has brought OEM prices down a bit, ultimately benefiting the end-user. Now, let's take a look at the few important aspects of an oil filter that you should be paying attention to when buying one…
How to Choose the Right Oil Filter
When you're looking for a good oil filter for your motorcycle, there are a few things that you should consider. The most important of the bunch is the filter media of the oil filter as well as its filtering efficiency.
Additionally, you need to look for the right size and fitment for your bike's engine. Below we will dive deeper into each of those aspects and see the role they play in the oil filter's overall quality.
Filter media
Fit
Brand
Price
Additional things to consider
Filter media
Traditionally, oil filters were made following a simple recipe – a neatly folded cellulose barrier that had microscopic pores in it small enough to stop most pollutants in the engine's oil. With the improvement in material technologies, however, synthetic materials started taking the edge with their superior design.
They add glass or plastic fibers into the cellulose mix, making the pores even smaller while also adding more rigidity to the barrier, making it harder to break or get damaged over time. Synthetic filter media are also longer lasting and have better SPE. The major downside of synthetic filters, however, is that they typically cost twice as much as the traditional oil filters.
The main quality of the filter media is its effectiveness, or simply put – how good it is at removing the contaminants from the oil. Motor oil contaminants can come from a variety of sources. The main ones are engine residue from inside the cylinder walls, contaminated fuel, or even microscopic metal shavings from improper engine operation.
Oils also have organic and non-organic particles in them naturally. These are also unwanted in your engine bay which is why the oil filter's single-pass efficiency (SPE) matters too. It indicates how much of the organic and non-organic matter is being held back from passing through the filter on a single pass. Modern synthetic filters have an efficiency of around 96-99% which is good enough to protect your engine from potential damage.
Fit
An oil filter that isn't built specifically for your motorcycle engine won't fit well and will cause oil leaks and improper filtering which can result in catastrophic damages for your bike. This is why fitment is extremely important.
Luckily, most brands have fitment tables and other tools that allow you to find the perfect filter for your specific bike brand, model, and year. The way your motorcycle's engine is cooled also matters when it comes to the oil filter size and filter media, so make sure you get the one that is meant to go into your bike.
Most bikes share similar engine builds with some cars which is why you can see universal filters out there that are good enough for all sorts of car and motorcycle models. While these are decent, going for a specific OEM filter for your bike will always be a better choice even if will cost you a few extra bucks.
Brand
This has been a hot topic in the motor world as a whole and not only in motorcycle circles. In the last decade, a lot of brands emerged with solid synthetic and traditional aftermarket oil filters that seemingly outperformed OEM filters at a lower price. Nowadays, these aftermarket filters are so popular that some brands have become more expensive than going for an OEM filter.
A good example of that is K&N. Their filters are quite expensive and come with a promise of superb filtering combined with slight performance gains. The same goes for their motorcycle air filters.
Still, whether or not those claims are true is still heavily debated. As a whole, if you aren't feeling sure enough to invest your money in an aftermarket option, going with OEM is and will always be the safest option out there. If you go with the aftermarket option, you can trust brands like Hiflo, Bosch, Fram, and Mobil. Hiflo is actually the brand behind the K&N filters family.
Price
While oil filters are typically the cheaper part of your motorcycle's maintenance, there are still some price differences that you need to take into consideration. Normal-priced traditional oil filters shouldn't set you back more than 10 dollars, while synthetic filters often cost in the realm of 10-15 bucks.
Some premium aftermarket brands can cost more than 20 dollars for a single oil filter which can quickly add up to your overall oil change costs with minimal performance improvements. As a whole, OEM filters are twice the price of normal aftermarket filters and aren't as good of a value for your money anymore since the quality of aftermarket filters has quickly caught up in the last few years. If your motorcycle is still under warranty, however, using aftermarket parts might void certain parts of that warranty, so have it in mind.
Additional things to consider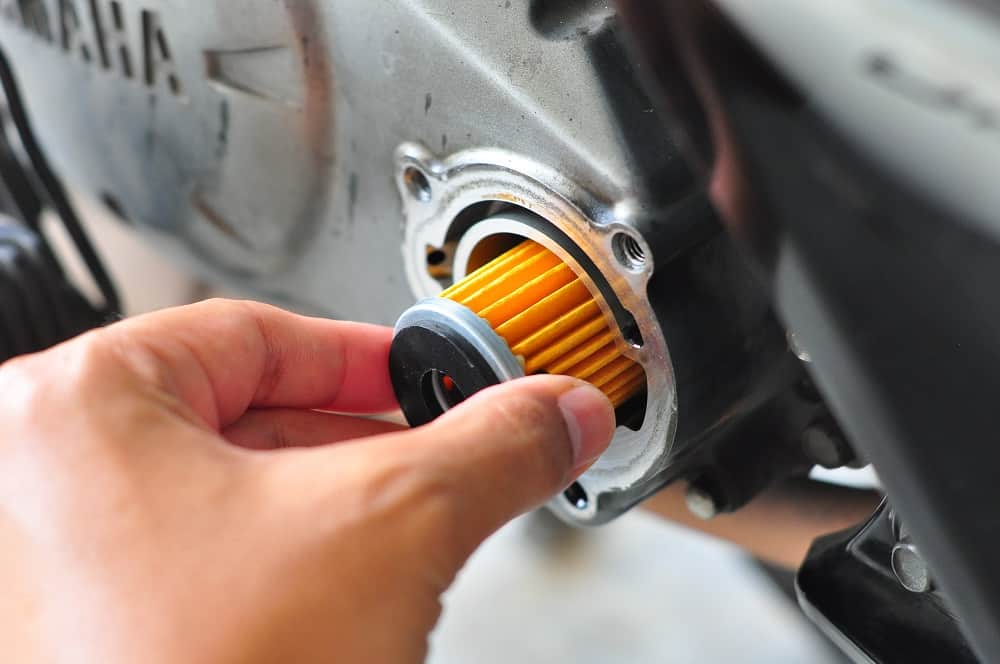 There are quite a few things that often go overlooked in an oil filter but are rather crucial to its performance and the engine's long-term health. One of the major features that you need to look for is the anti-drain-back valve.
This valve prevents oil from dripping back into the oil pan once you shut off your motorcycle's engine. That way, you can have oil ready to quickly circulate through the engine's cylinders next time you start up the bike. While this isn't crucial with vertical oil filters, it is an absolute must-have for horizontally-installed oil filters.
Another important feature is the relief valve of the filter. Sometimes, for various reasons, oil won't be able to fully pass through the filter and will, therefore, be heavily restricted from entering the engine and lubricating it properly. This can have devastating results for the engine and that is why most oil filters are fitted with a bypass valve that lets oil bypass the filter and go straight into the engine.
While this isn't ideal, it is still better than not having oil go through the engine at all. The major reasons for oil not being able to pass through the filter are the filter getting clogged up or the oil is too thick.
Some oils for warmer climates thicken in cold temperatures so much so that they can't pass through the oil filter properly. This is where this valve comes into play and allows the oil to run through the warmer engine. Eventually, the oil warms up and becomes viscous again. If you live in colder climates and run your motorcycle in lower temperatures, this feature is another must-have for your oil filters.
Lastly, when it comes to the filter installation, look for filters that come with a nut on top. That makes them much easier to bolt into their socket and remove them when the time for oil change has come.
What is SPE (Single-Pass Efficiency)?
As we already mentioned, different filters use different filtering media. In general, oil filters have a cellulose film mixed with synthetic fibers that filter liquids with ratings of 20-40 microns such as engine oil. The main unit of measurement of this filtering process is single-pass efficiency (SPE).
In the tests that define this metric, the fluid passes through the filter once and then the remaining liquid is compared to the original one that was forced through the filter. Then, the efficiency is calculated in percentages of retained particles.
Any efficiency over 90% is good enough for the engine to remain healthy. Have in mind that oil passes through the filter multiple times per minute, making the chances of particles remaining in the circulation almost impossible if the filter is whole.
Synthetic filters typically have a slightly higher SPE than traditional paper filters and have a longer lifespan but are slightly more expensive and aren't as consistent in their performance. A lot of people tend to also avoid them due to their sporadic maintenance record, meaning you can change them every 1.5-2 oil changes, making it a bit harder to keep track of things, while paper filters should and are changed every oil change. Combine that with them being easily good enough and actually cheaper and you see why they are still around.
Now, let's answer some other important questions when it comes to changing your motorcycle's oil and filters…
Frequently Asked Questions
Are Hiflo oil filters any good?
The thing that most people don't know about Hiflo filters is that they are actually behind the production of the famous K&N brand that many motorists go after. The only difference between the two is the nut on the can.
Are OEM oil filters better than aftermarket ones?
This is an age-old question that nobody can honestly answer. The main difference and advantage of the OEM filters are that you get a guarantee that their housing is properly sealed and built well.
However, this might make them much more expensive than some well-made aftermarket options. Nowadays, the aftermarket filter companies have nearly caught up with the OEM quality at cheaper prices, making them a highly competitive and attractive option.
Which is the best oil filter for a Harley-Davidson?
If you're looking for aftermarket options for your Harley, I suggest checking out the K&N motorcycle oil filter (Performance Black Oil Filter).
Are cheap oil filters a good alternative?
While they are good in the short run, they aren't a very reliable long-term option since the oil flow often breaks them. Upon breaking, they are rendered useless and can no longer filter your oil from its contaminants and particles.
What are the differences between synthetic and regular oil filters?
The main difference is in the material used in the filtering system of the synthetic filter. While traditional oil filters use paper filter media, synthetic filters often use plastic filter media that isn't necessarily better than paper but it definitely lasts longer, making it a cheaper overall investment since it has to be changed less frequently.
Can you use car oil filters on your bike?
While technically you can, there have to be a lot of boxes checked before you can safely use a car oil filter on your bike. First and foremost, you need to make sure that the dimensions match perfectly.
Secondly, the attachment mechanism has to be the same as well. All in all, it isn't worth the hassle and car oil filters aren't cheaper so it really is easier and more convenient to just go with your bike's own OEM filter for a replacement.
In the case of larger motorcycles, though, filters are almost nearly identical, so there isn't much difference. In fact, most large motorcycles share their filters with some car oil filters.
Final Words
When the time comes for your bike's spring maintenance, you will need to look for the best motorcycle oil filters that will help your engine run smoothly and cleanly throughout the season. In order to do that, you will need to consider a few major factors such as the manufacturer of the filter, pricing, filter media, and most importantly – the fit. Going OEM is alright but if you want to save some money and maybe gain a little bit of extra performance, then you should consider some aftermarket options.