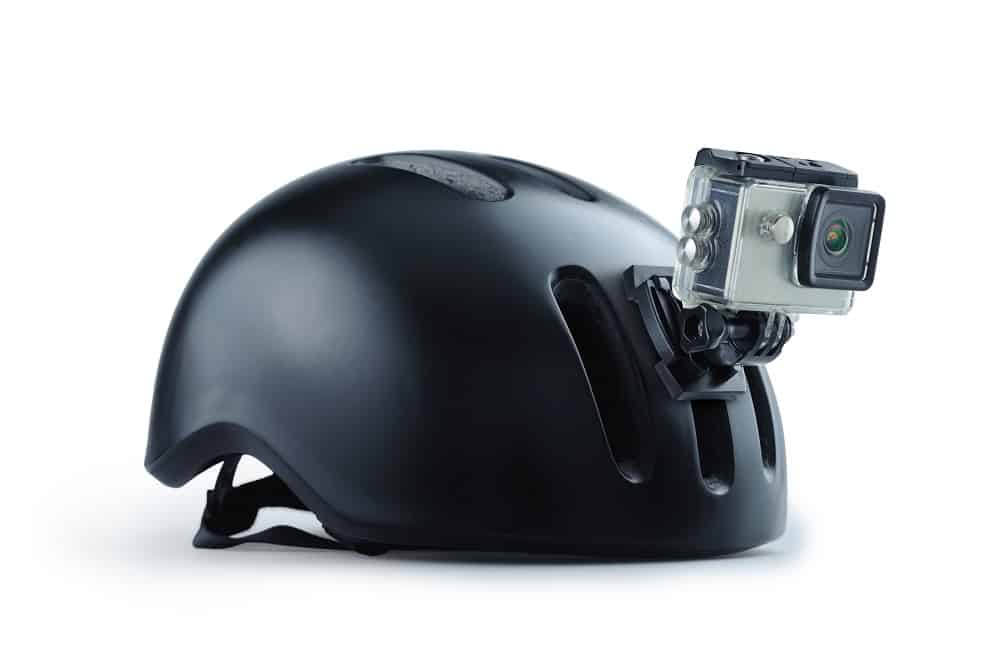 If you love riding your bike around town, down backcountry roads, or you plan an annual bike trip with the buddies, then you need an action camera and mount that will allow you to document your experiences and share them with family and friends.
Mounting an action camera to your helmet can be a great way to enjoy a hands-free shooting experience on your bike, using a best-selling GoPro camera. However, when you're shopping for the best GoPro helmet mounts, there are some factors that you'll want to take into consideration that can have an impact on your shooting experience.
Since there are so many mount types and styles to choose from, I've created a buyer's guide that will go over your options, what features to look for, and how to determine if a mount you're interested in will work for your shooting needs and riding style. Below, you'll find a comparison chart that discusses the five models I've chosen and some of the important features they have to offer, which can help you pinpoint which models will work for you and your budget.
GoPro Helmet Mounts Comparison Chart
Product
Type
Accessories
Compatible
With
Rating
Taisioner Chin Mount


Shop On Amazon!

Chin
Fixed Strap
GoPro Hero
2-8
SUREWO Chin Mount


Shop On Amazon!

Chin
Wrench
GoPro Hero
4-8
SUREWO Chin Mount


Shop On Amazon!

Chin
Wrench,
Safety Rope
GoPro Hero
4-8
SoPro Mounts Mount


Shop On Amazon!

Chin
None
GoPro Hero
2-8
MiPremium Mount


Shop On Amazon!

Chin/Side Mount
None
GoPro Hero
4-8
Taisioner Bicycle Motorcycle Helmet Chin Mount Strap for GoPro
If you need a camera mount that's simple to install and remove, and one with a versatile design that's highly adjustable, then this model by Taisioner is a must-have and a mount that you'll find yourself relying on for every ride. This is a chin style camera mount for GoPro cameras.
It features a lightweight design and is made out of high-quality PVC material. This helmet strap style mount should be used with a folding mount, which will allow for more shot angle versatility.
The angle and direction of the camera can be adjusted based on your needs, providing the user with the perfect camera angle for POV shooting. This camera mount is compatible with curved chin helmets, standard full-face helmets, and most full-faced models that are products by Shoei.
It's also compatible with the following cameras:
GoPro Hero: 2, 3, 4, 5, 6, 7, 8
In this package, you'll get:
One chin mount
One fixed strap
Two folding adapters
Two GoPro screws
Helmet rotatable adapter
Pros
Includes fixed strap
Versatile
User-friendly
Low price
Compatible with a wide range of GoPro cameras
Cons
Tightening the fixed strap can be difficult
Conclusion
The helmet's support can be adjusted to a variety of angles, offering more shooting versatility. This versatile mount allows you to experiment with a wide variety of angles, so you can capture important moments and exciting footage.
If you're looking for a mount that will provide a more stable base for your camera, then this is it. The fact that it's also very versatile is a huge selling point for the rider that loves to experiment with different angles in order to take the best footage and shot quality possible.
SUREWO Aluminum Motorcycle Helmet Chin Mount
This helmet mount is made out of aluminum and features the type of lightweight design that won't add too much weight to your helmet, helping to reduce neck strain and rider fatigue. In the past, this manufacturer used plastic for its chin mounts.
This updated design improves the durability of the mount, which results in a better, more stable base. The new mount consists of a curved one-piece design, which will make it compatible with a wide range of full-face helmets. This model also comes with a special aluminum wrench that's designed specifically for this mount.
Pros
Aluminum design
Wrench included for fast adjustments
Durable
Lightweight
Simple to install
Cons
Can be difficult for some users to adjust
Conclusion
This lightweight aluminum chin mount is easy to install, lightweight, and more durable compared to competing chin mounts that are made out of plastic. This versatile mount can work with all types of Go-Pro Hero cam models including 4, 5, 6, 7, and 8, and can be used for both full-face and modular helmets.
The included wrench is made out of aluminum and specifically designed to adjust the included hardware. This is a great buy for riders on a budget in search of a durable chin mount that allows them to shoot and capture footage at higher speeds.
SUREWO Motorcycle Helmet Chin Mount
This is a chin mount kit that's designed to work with GoPro cameras. The mount comes with four joints that can be adjusted and rotated based on user preference. The ability to rotate the mount one hundred and eighty degrees will allow you to experiment with different shooting styles, so you can truly get creative when you're on the road and want to record your latest adventure.
The included adhesive mounts are divided into flat and curved mounts, so you can choose which type of stick pad adhesive mount to use based on personal preference. These sticky pads make installing the mount a cinch.
The pads themselves are waterproof, so there's no fear of the pads losing their adhesive power if you're shooting footage in inclement weather. This kit also contains a wrench and a safety rope. The rope should be installed after the camera and provides an extra level of protection, preventing the camera from falling off the helmet, in the event the sticky pads lose their sticking power.
Pros
Versatile
Easy to install
Includes safety rope for an extra level of protection
Low price
Cons
Adhesive pads can lose their sticking power over time
Conclusion
This versatile chin mount will allow you to capture amazing footage as you ride, thanks to the versatile and highly adjustable design that allows you to choose the style of your shots based on personal preference and where you're riding.
The addition of a safety rope is a huge plus since this can provide additional protection, preventing your camera from falling off as you ride. Overall, this is a great kit for the rider in need of a mount that is more versatile, durable, and priced affordably.
SoPro Mounts Full Face Helmet Chin Mount for GoPro
If you're looking for a GoPro compatible chin camera mount that's durable and easy to mount, this latest model by SoPro fits the bill. It's very versatile and will work for any type of full-face helmet. It also offers the perfect angle for POV filming and comes with a basic design that makes it simple to attach and detach.
The mount is made out of aircraft-grade aluminum, combined with injection-molded plastic, nylon webbing, and mini cell foam. The mount is very durable and perfect for a wide range of shooting applications whether you're flying down a country road or in the desert on your dirt bike and in need of a tough camera mount that will allow you to capture action shots.
Pros
Easy to install
Made out of aircraft-grade aluminum
Low price
Made with mini cell foam for user comfort
Conclusion
The lack of adjustability can make this model a poor choice for the rider who is looking for a mount that's more versatile. In terms of shots, you'll find that this mount is very limiting, so, if you're looking for a camera mount that will allow you to experiment with different types of action shots, this mount isn't it.
If you're simply looking for a mount that allows you to record a standard POV shot, then this model performs well and offers the type of stable base that's needed in order to prevent shaky shots.
MiPremium Helmet Mount Set
This durable, heavy-duty mount kit allows you to mount your camera on the chin of your helmet or the side. The mount is made out of heavy-duty plastic and comes with thumbscrews that are made out of stainless steel.
The included curved extension arm mount will work with any type of motorcycle helmet, which is a huge plus for the rider who wears half helmets, modular, and full-face helmets. The mount is designed to keep the camera firmly and securely in place, in order to prevent shaky footage.
The mount features a versatile three-way pivot arm that further improves its versatility by allowing you to shoot from a variety of angles. This model is compatible with GoPro Hero 4, 5, 6, 7, 8 camera models. It's also very easy to install and comes with an adapter that can be adjusted with the ability to rotate one hundred and eighty degrees, offering impressive angle flexibility.
This set includes:
Curved extension arm
Two connection chains
One long stainless steel thumbscrew
Two short screws
One adhesive flat mount
One adhesive sticky pad
One quick release buckle clip base mount
This product is also backed by a one hundred percent money-back guarantee.
Pros
Can work as a side or chin mount
Includes durable rust-resistant hardware
Easy to install
Low price
Cons
Adhesive sticky pads can lose their sticking power over time
Conclusion
This mount can be used as a chin or side mount, so you can experiment with different shooting techniques to determine which mounting option will work the best for your shooting goals. The included software is rust-resistant, durable, and allows you to install your mount quickly and easily.
The highly adjustable arm will also allow you to quickly adjust the angle of the mount depending on the desired shot angle. Overall, this low-priced mount is a perfect buy for those new to taking action shots, since it provides a highly adjustable design that makes it versatile and very user-friendly.
GoPro Helmet Mounts Buyer's Guide
Using a GoPro camera and mount for your next riding adventure can seem pretty exciting until you start shopping online and realize that there are many different types and styles of mounts to choose from. Some may be sold alone or in a set. You may not know how to use a mount, or if the type you're interested in will work for the style of helmet you normally wear.
If you're not sure how to choose the right mount based on helmet type, riding style, lighting conditions, and more, then this guide will walk you through the different mounting options available, what type of shooting performance they're best used for, and how you can get the most out of your next shooting experience.
You don't have to have experience with a camera in order to take some great action shots when you're on your bike. However, there are some tips you should follow that will ensure that you get some pretty cool shots in.
If you've ever attempted to take some action shots with a camera as you ride, then you've already realized that it's not as easy as it looks. When you film as you ride, you need to use the right angles, the right camera, and decent lighting.
But the most important key to achieving great action footage involves how the camera is mounted. There are several mounting options available and a variety of mounting options for your helmet, whether you decide to use a front, chin, or side mount. But the best mounting location for you will ultimately depend on what your shooting goals are.
You may be trying to replicate a motorcycle video you've seen, or you may simply want to capture the surrounding scenery and the roads themselves. You may even want to make yourself the subject of the video if you feel like showing off your skills as a rider. Each goal will benefit from a different orientation of the camera and mounting locations.
Defining your goals before you purchase a mount will be the most important step since it can help you to determine which mounting location will work best. Keep in mind, the best way to determine the right mounting location for your shots can also be to experiment with different styles.
Helmet Mounting Locations
Each mounting location will come with its own pros and cons, so the best option for you will ultimately depend on what you're looking for.
Top
The top mount is by far the most common way to mount your camera, but that doesn't mean it's the best. Mounting your camera to the top of your helmet will provide a POV feel and prevents the vibrations from your bike from affecting the camera. However, placing the camera in this location can cause too much wind drag, if you're riding at a higher speed, causing the wind to pull
Additionally, from this shot, the camera may experience too much head motion, which can make it difficult for viewers to watch since it can be very disorienting. Placing the camera in this position is a good idea if you want to film other riders behind you, so it's perfect for group rides.
Side
Mounting a camera on the side of your helmet allows you to get some great footage, but it can be uncomfortable, considering the bulky design. It can also have an impact on aerodynamics. While it provides a true POV feel and the vibrations from the motor will not have an impact on the camera, your video footage may have too much drag.
However, it does provide a lower profile compared to a top-mounted cam. This mounting location is a great choice as a backup option if you've tried a chin mount unsuccessfully.
Chin
A chin mount will provide the closest POV footage if you have the right type of helmet for this mounting option. This mounting option provides the most aerodynamic and lowest profile of any helmet mounting option.
If your helmet has a chin bar that's angular or pointed, then mounting your camera here can be tricky. The footage may also have too much head motion going on, which will be disorienting to the viewer.
Kits
Many helmet mounts will come with a variety of accessories and mounts and are sold in kits. If you only want to purchase a single type of mount, then look for a kit that comes loaded with fewer accessories. These smaller kits will be more affordable will only come with the accessories you need.
Compatibility
Buying a helmet mount can be a great way to customize your helmet, but before you buy, it's important that you ensure that the mount you choose will be compatible with the type of GoPro camera you have.
The manufacturer should clearly list which models of GoPro cameras that the mount will work for. To learn more about different helmet options and which type will work best with a GoPro camera, click here to read my article on which motorcycle helmet you should use.
Durability
How durable is the mount? What kind of damage can it handle? Some models may only be able to sustain low impact and can become dismounted under high impact. Check a mount's impact rating before you buy. The goal will be to purchase the most durable mount possible.
Price
Most mounts are relatively affordable. If you're considering purchasing more than one type of mount, then you may be better off purchasing a mounting kit, which will give you more bang for your buck since these kits often include a variety of mounts and the required hardware.
If you're on a tight budget and want a specific style of mount, then shop around and search for a model that's not sold in a kit, but one that comes with all the right hardware. You can expect to pay less for these individually sold mounts since the kits will come with several mounts, accessories, and hardware, but if you've never used a mount before, then you may be better off purchasing a kit, one that will come with more accessories and mounting options.
Shooting Tips
As you can see, it's important to keep the filming experience in mind while you ride and attempt to take shots that are smoother. This can mean refraining from making any sudden movements and being mindful of the camera's shift when you change positions. You can use computer software to help stabilize video footage, however, this will take more effort on your part during the editing process.
You can also use an app that will turn your tablet or smartphone into a viewfinder, so you can set up shots before you start riding.
Make sure you periodically check the lens to ensure its clean and free from dirt, debris, water droplets, and dead bugs, all of which can have a negative impact on video footage.
Use an external mic if your camera comes equipped with a jack. This can be a huge improvement on audio quality since the mic can be positioned in order to avoid wind noise.
Try to get more creative with the mounting locations you use and the type of mounts. There's no reason why you have to stick with just one type of mount. Buy several different styles of mounts and don't be afraid to use your imagination to achieve a more creative shot. With just a little creativity and a few accessories, you can come up with some great shots and incredible angles. Of course, you can also expect your camera footage to be somewhat shaky in the beginning, until you learn how to properly move when filmed and what angles work best.
Final Thoughts
The best GoPro helmet mounts will allow you to experiment with shots, angles, and can produce the best footage, with minimal shakiness and vibration. The mount should be easy to use, should be able to survive an accident, and should be priced affordably.
Remember, it's important that you first check to ensure the mount you're interested in will work for the type of GoPro camera you have. With so many mounts on the market, feel free to purchase more than one style, in order to get creative with your shots when you're on the road, and find a mount that will work with your riding style and your budget.