Riding a motorcycle is one of the most relaxing or energizing things one could do. And while for the most part, we get to enjoy good weather, rainy days aren't rare, especially as Fall approaches. To be prepared for all the water on the road, rain, and colder temperatures, bikers equip themselves with specialized gear that is meant to handle such conditions. If you're one of the people that prefers not to winterize their motorcycle early, this guide is just for you!
Below, we'll take a look at some of the best motorcycle rain gear items, including full-body suits, helmets, boots, gloves, and more!
Best Overall – Nelson-Rigg Stormrider Rain Suit
One of the best rain suits currently out there is the Nelson-Rigg Stormrider. It is a two-piece suit which is 100% waterproof and comes with a few useful features that make it both comfortable and reliable in the wet. The jacket has a fully protected zipper that ends in a high collar to protect your neck from the rain.
At the bottom of the jacket, there is a self-fastening band. Each sleeve has a large Velcro strap that can be easily used even if you have your motorcycle gloves on. There are two extra large pockets upfront which can be closed reliably.
In terms of protection, apart from being fully waterproof, the jacket is also somewhat breathable thanks to its two armpit vents. The pants are far less breathable, however. They are also 100% waterproof and have an anti-slip coating on top. They have an elasticized waist band, two cuffs at the bottom and boot stirrups.
The suit comes in 3 color combinations including this high-visibility yellow which is perfect for the Fall. You can choose from a ton of sizes ranging from S to 3XL. One thing I don't like about the Nelson-Rigg Stormrider is that it doesn't have suspenders like some other two-piece suits. However, for that price, you will have a hard time finding something better, which is why I fully recommend this.
Pros
Comes in a high-visibility yellow color
Fairly durable
Breathable jacket
Elasticized cuffs all around
100% waterproof
Decent bang for the buck
Has a lot of sizes
Cons
Doesn't have suspenders
Can be damaged easily by sharp objects
Best One Piece Rain Suit – Wicked Stock One Piece Motorcycle Rain Suit
The Wicked Stock Full-body rain suit offers something slightly different that most other suits out there. It features a one-piece design that will do a much better job at keeping the water out. The suit is also significantly cheaper than some two-piece rain suits, which is a huge upside. However, there are a few major drawbacks that I want to mention.
The obvious one being that the suit is going to be harder to put on and take off. Also, there are only three sizes (Large, XL, and 2XL). And while these sizes are meant to generally hit the target demographic of such suits, they do run small, so you will need to order a size bigger. In addition to that, the sleeves and legs aren't sized correctly and will almost always be longer than you'd expect.
The outer shell of the suit is made out of polyester which is lined on the outside with polyurethane. Not only does this make the suit slightly more durable, it also makes it fully waterproof. On the inside, the suit has a 210 Denier non-stick liner that works great with all sorts of leather and textile motorcycle clothes.
The zipper at the front is fairly long at 43 inches and gives you a (somewhat) easy entry, although compared to two-piece suits this is still a hassle. The neck has adjustable closure and also a packable hood with snaps that you can put under the helmet. The waist has additional bands around it to keep the suit in place without it sliding up or down while you're riding your bike.
While there are three sizes, there are no additional color options to choose from apart from that safety yellow. All in all, if it weren't for the low price this would've been an offer you can easily skip. However, this suit presents a good bang for your buck at that price.
Pros
Very cheap
Comes in reflective yellow
Polyurethane coating
Fully waterproof
Large front zipper
Packable hood with snaps
Cons
Hard to put on and take off
Comes in only three sizes
Sizes aren't true to the fit
You will need to order a larger size
Fairly vulnerable to cuts
Best Motorcycle Boot Covers – Frogg Toggs Waterproof Overshoe and Gaiters
Apart from suits, any rider in the rain will also need a way to protect his feet from getting soaked. While most motorcycle boots are already good enough at keeping the water out, it won't hurt getting an additional layer of rain protection. The Frogg Toggs Waterproof Overshoe and Gaiters are ideal for motorcyclists since they cover a large portion of the lower leg and have a grippy sole that won't lose traction with the clutch at a crucial moment.
The gaiters are 17 inches high and the whole overshoe is made out of durable materials. One of the main components is a 600-denier rubberized nylon. Nylon is notoriously good at moisture and thermal protection.
It is also very durable and cannot be damaged by any sharp objects or the heat coming from your bike's exhaust. There are two adjustable ankle straps that will hold a snug fit with your motorcycle boots with an additional adjustment wrap around the calf.
The main disadvantage here is that there are only two sizes – Large and Extra Large. What this means is that these overshoes aren't meant for people with small legs, no matter how tightly you adjust them around your boots. If you have a larger shoe size and want a good additional layer of rain protection for your feet, this should be on your shortlist.
Pros
Very durable
Can be adjusted on the ankle and around the calf
17 inches tall
Heat and water protection
Doesn't impact riding comfort
Decently priced
Cons
The available sizes are huge
Not ideal for women or people with small feet
Can take some time to get used to them
Best Motorcycle Helmet for Rain – YEMA YM-831 Full Face Motorcycle Helmet
Not all helmets are created equal. And while the differences in most helmets are solely in the design and protective properties, some helmets actually do provide better protection against water and rain. The YEMA Full-face Helmet is actually a good example to that.
It is a DOT-approved and can be comfortably used on long trips as well as on short runs. Apart from its great aero, the helmet has a layer of abs plastic and another one of multi-density EPS. It comes with a sun visor system that can be placed on the place of the regular visor.
For the rain, however, this helmet provides a proper seal that won't leak or let any water or moisture inside. It also runs fairly down to your neck providing both great protection and good amounts of comfort in the Fall. If you ever find yourself in the middle of a hot day, the YM-831 also has adjustable vents that can control the airflow inside the helmet.
The helmet comes in 5 different sizes and only one color – matte black. As a whole, it is fairly cheap for what it brings on the table and definitely safe enough for all types of riders. If you already don't have a full-face helmet, this one is something worth considering.
Pros
Aerodynamic shape
Air vents for temperature control
Decent seal against water
DOT-approved
Comes in 6 sizes
Decently priced
Cons
Lacks front padding
Advisable to get a size bigger
Not great for hot sunny days
Best Rain Jacket – Alpinestars Hurricane Rain Motorcycle Jacket
If you already have other types of rain gear that will protect you, then you might just want to get a waterproof jacket. In that case, the Alpinestars Hurricane Rain Jacket is one of your best bets. It is fairly priced and offers plenty of protection. On top of that, it is lightweight and easy to put on, making it highly compatible with normal motorcycle jackets or other gear.
The Hurricane jacket is made out of poly-nylon fabric which is what makes it so lightweight. As its top layer, it has a coat of polyurethane that adds waterproofing. One great advantage of the nylon lining is that it doesn't stick to leather or textile gear.
On both sleeves of all colors, you get two reflective bands, while there are also green and neon yellow color options. These latter two colors greatly increase the visibility on darker or rainy days. On the inside, there is an additional mesh layer that improves breathability and makes for better air circulation.
If you decide you don't want to wear it on your trip, you can easily put the jacket inside its carrying bag. That bag is small and can be put in your luggage in case of surprising weather conditions. One last thing about the Hurricane jacket is that it comes in 6 size options ranging from Small to 3X-Large. All in all, for the price, there aren't many better jackets you can get and you should seriously consider this one!
Pros
Fairly priced
Lightweight
Reflective bands and colors
Breathable design
Comes in 6 different sizes
Works well with normal motorcycle jackets
Cons
Not very durable
Not great for colder weather
You should get one size up
Best Rain Gloves – Kemimoto Winter Motorcycle Gloves
The Kemimoto Winter Motorcycle Gloves are, by far, one of my favorite picks for a rain/winter glove this year. These gloves will not only keep you warm but are also fully waterproof and windproof. They are also priced extremely competitively, also making them a solid choice if you're on a tight budget.
The main feature of these gloves is that they have hard-plastic armor on top along with plastic panels that protect the fingers. On the opposite end, the palms have an abrasion-resistant microfiber layer that enhances your grip on the handlebars and provides enough sliding protection.
Another very cool thing I like about these gloves is that the first three fingers are touch-capacitive and allow you to work on smart devices without taking them off. On colder days, you will benefit a lot from the inner liner which is made out of velvet and is very comfortable. On the wrist, there is an elastic band combined with a manual strap on the outside.
These will keep the glove insulated and windproof. It will also allow your sleeves to tuck in the glove securely. One notable downside to these gloves is that they are quite warm and might make your hands sweat during the early Fall days. They also run slightly smaller than usual, so make sure you choose a size up.
The gloves come in 4 sizes ranging from Medium to 2X-Large. There are also two color options including black and black/red. In summary, for the price you're paying here, these gloves offer plenty of protection against impacts, sliding, cold weather, rain, and wind. All that makes them a no-brainer if you're out looking for something similar.
Pros
Provide impact and sliding protection
Great for winter
Well-insulated
Wind and rainproof
Works with touchscreen devices
Reflective piping
Good price
Cons
Can be too warm for the earlier Fall season
Sizes run a bit small
Best Two Piece Motorcycle Rain Suit – ILM Waterproof Motorcycle Rain Suit
While there are plenty of two-piece motorcycle rain suits out there, there are brands that simply make things better than the rest. ILM is a specialized motorcycle brand that makes one of the finest products for bikers and their Waterproof Rain Suit is an affordable yet highly effective alternative to more expensive one-piece suits. The main feature of this suit is its build quality and design.
Everything here is made out of nano fabrics lined with eco-friendly PU coating. All of the zippers are protected against water and rain and there are two full-sized storm flaps that will keep you dry even in the biggest rain. The high collar and the loose-strap buckles are designed to also help with wind.
The pants are fairly simple yet easy to put on top of normal motorcycle jeans. They have no seams on the back rise which will prevent water from getting in from the motorcycle seat. There are 6 pockets all over the suit which are of different sizes. They are all waterproof and come with watertight zippers.
On the inside, both the pants and the jacket have a mesh lining which improves breathability. The ankle and wrist cuffs have velcro straps to them that will help keep the water and wind away from your body.
On top of all that I just mentioned, there are 7 cool color options to choose from along with 7 size options. If I have to point out a major drawback of this two-piece rain suit is that it isn't very suitable for colder days. Other than that, for that price, you will have a hard time finding something better.
Pros
Excellent price
Windproof and waterproof
Velcro cuffs
Two storm flaps
Waterproof zippers
Easy to put on
7 style and size options
Cons
Not ideal for colder days
Not very durable against scratches or tears
Doesn't fit women well
A bit heavy
Best Motorcycle Backpack for Rain – Nelson-Rigg SE-3040 Hurricane Waterproof Backpack
Oftentimes, people talk about rain gear completely forgetting one of the most crucial elements of motorcycle traveling or even commuting on your bike – the backpack. And while most backpacks are naturally resistant to water, not all are.
The Nelson-Rigg SE-3040 Hurricane Backpack is a waterproof high-volume motorcycle pack that can fit all of your possessions and keep them dry. And while it will cost more than your other rain gear combined, it is extremely practical and just as durable.
The most important part of the construction of this backpack is the material used in its outer shell. The 24oz Tarpaulin PVC is one of the most durable materials you could see on a motorcycle backpack. It is made to withstand hits, scuffs, high/low temperatures, moisture, and rain.
It is UV coated and the seams are heat-welded which adds even more to the long-term durability of the backpack. There is a purge valve that allows for easy compression, as well as a reversible waterproof MOLLE panel. On both sides, you have 30oz mesh pockets.
While the backpack is fairly expensive, it does come in a smaller (and cheaper) 20 Liter configuration. This takes a bit of the sting away but it still is an experience piece of gear if you want to truly be waterproof during the Fall rainy season.
Pros
Extremely well-built
Electronically heat-welded seams
Plenty of internal volume and pockets
2 mesh pockets
Revirsible waterproof MOLLE panel
Fully waterproof
Cons
Very expensive
Can be a bit bulky for smaller people
Best Budget Rain Suit – Viking Reflective Waterproof Motorcycle Rain Suit
Last on this list is another rain suit from Viking Cycle. Their reflective waterproof motorcycle 2-piece rain suit is among the cheapest you can buy out there. And although it is good at what it is supposed to do (keep water away), it does feel its price from time to time.
The jacket and pants are made out of 600D polyester which is breathable and lightweight. On top of that layer, there is a polyurethane layer to help with waterproofing the suit. There are protected zippers on the jacket as well as two large pockets on each side. The jacket is also windproof which comes in handy on windy days but it struggles to keep you warm during the cold season.
The pants have velcro cuffs and an elastic waist hem, as well as adjustable zippers on the legs. There are heat shields on the calves to protect from the heat coming from the bike's exhaust system. The pants also have removable stirrups.
Styling-wise, there are four colors to choose from as well as 4 sizes. As a whole, for the money, this really does bring good value, although I'd recommend a slightly more expensive suit from brands like ILM.
Pros
Waterproof
Wind-resistant
Comfortable and breathable design
Removable stirrups
Heat shield on cals
High-visibility reflective piping
Velcro closures
Cons
Not a lot of size options
Not great for colder days
Not very durable
Motorcycle Rain Gear Buyer's Guide
When the rainy season comes, the need for gear that will withstand colder temperatures and lots of moisture becomes apparent. However, it isn't very easy to scout through some of the top rain gear online, especially with all the new products that aren't exactly top-shelf quality. To be able to recognize well-made products better, I've dedicated this next buyer's guide part.
Here, we will get familiar with all the parts of a full rain gear as well as the features you need to look for. Lastly, we will discuss the benefits of owning a full set of gear meant for the colder rainy days. Now, let's jump straight into this!
The Different Types of Motorcycle Rain Gear
Motorcycle rain gear comes in different shapes and forms and consists of quite a lot of elements actually. In general, to have a complete set of gear for the Fall, you need the following:
Other than that, you can include things like waterproof socks, visor inserts that will help with fogging and waterproofing, and boot rain covers for extra protection against water splashes. Some full-body rain suits (and two-piece ones) can actually handle most of the job themselves but they are often uncomfortable to put on and off and quite costly. This is why motorcyclists prefer getting all the gear individually by getting different parts from different brands based on the overall quality and features they offer.
Now that I've explained what the different parts of a full rain gear are, let's dive into the features that will actually make this rain gear worth your time and money!
Things to Look For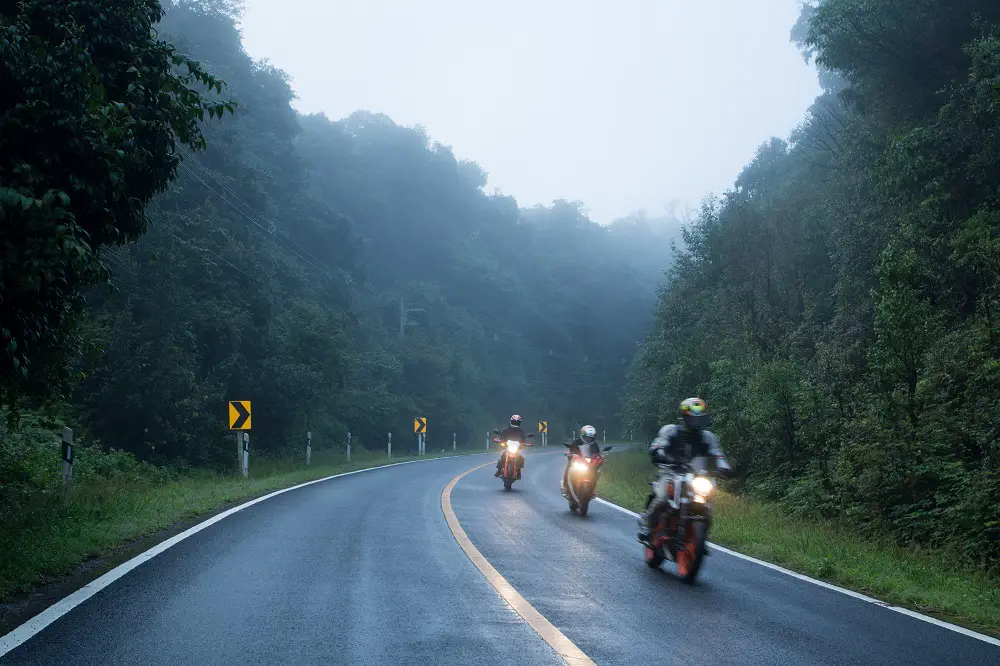 There are a few important things you need to look for in any type of rain gear for your motorcycle. These are:
Waterproofing & windproofing
Sizing
Comfort and fit
Coverage
Materials & Durability
Breathability
Price
Waterproofing & Windproofing
While each brand achieves their waterproofing rating in a different way, the most common tactic is to use a type of coating over polyester or cotton suits/jackets. The coating can also be of a rubberized layer on top of the suit. Whether or not it is from rubber or PU, it essentially blocks all water out and makes the suit or jacket hydrophobic.
This means that the water will not only have no way of entering lower layers of your clothes but will also drip down your suit once you get going on your bike. This is also important for breathability because your suit will essentially stay dry for most of the time.
In addition to that, look for jackets and suits that have their seams tape-sealed. This will ensure even better waterproofing as there will be no spots for the water to enter. Also, pay attention whether something is water-resistant or waterproof. While these are essentially both good enough, water-resistance isn't on the level of complete waterproofing, hence that type of gear will often cost less and will be only good for a short ride and not a full on motorcycle trip.
Sizing
As with every other part of your motorcycle apparel, you should look at specific sizing. The difference here is that most of the rain suits go over your traditional gear. This is why it is sometimes a good idea to get a size above what you usually wear. In most cases, jackets and suits will come in a variety of sizes. Boot rain covers are usually adjustable according to the size you're wearing, so you don't have to think much about them.
Comfort and fit
Since most suits and rain jackets will go directly over your traditional motorcycle gear, you should seriously consider the comfort. Most people get these for long road trips where rain storms are a possibility. While comfort is primarily dependent on getting the right size for you, the way the suit is built will also play a major role in how comfortable it is and how well it fits.
Thicker suits will provide much more comfort and are going to be easier to wear on longer trips. Unfortunately, most rain gear can be narrowed down to a glorified motorcycle rain poncho. This is why you should seriously consider some of the more expensive models that come with multiple material layers and well thought out designs.
Coverage
When it comes to coverage, you can divide rain gear into full-body suits and two-piece suits. Full-body suits are a bit harder to put on and take off but are much more comfortable and actually look like you belong on the track. Two-piece suits are cheaper, easier to wear but have the obvious disadvantage of less coverage. Water can get between the top and bottom part, whereas with the full-body suit that isn't possible.
It is important to mention that the boot covers and gloves can also have significant coverage in the form of overlap on top of your jeans or jacket. This will keep water away from your legs and hands which typically suffer the most from increment weather.
Materials & Durability
The materials of your rain gear are equally as important as everything else. Based on the primary material used, you can easily determine the quality. PU gear along with polyester and nylon ones are generally quite durable but isn't very resistant towards cuts and long-term wear and tear. Some rain gear comes with a rubberized outer coating or PU (polyurethane) coating.
This makes the underlying material (normally polyester) waterproof. Most jackets and suits also come with a non-stick inner liner that helps with the suit's contact on your clothes. In fact, one of the most important features of most rain jackets and suits is whether or not they stick to your clothes when they are worn over leather or textile garments.
Another factor that you should consider when it comes to the materials and their properties is anti-slip textures. Nothing is worse than sliding off your bike while driving. This is why most motorcycle rain suits are designed with this in mind and have anti-slip panels across them or are covered with an anti-slip layer on top.
Lastly, look for suits that come with heat-resistant panels. Rain gear isn't typically very tough and might get easily damaged by your exhaust if you get too near. That's why some suits have panels at exactly those spots to protect the suit from melting.
Breathability
While breathability and waterproofing don't always go hand-in-hand, there are some rain suits that manage to master both these qualities. Some materials allow heat to go out without allowing water molecules to enter. This allows for simultaneous waterproofing and breathability. These are the materials you should be actively looking for if you want something for your early Autumn trips.
Leather jackets that have additional waterproofing are notoriously bad at breathability. However, some newer synthetic models have given motorcyclists the best of both worlds. Also, these newer synthetic suits and jackets are often cheaper than their leather counterparts.
Price
You should always take the price into account. While it isn't the most accurate determining factor when it comes to quality, it generally points in the right direction. Budget motorcycle suits tend to tear more and aren't as weather-resistant nor comfortable as the more expensive ones.
The materials are also less breathable and last far less than products from premium brands. This is why you should always try to get the best for yourself but without burning a hole in your pocket.
Benefits of Having Special Rain Gear
There are tons of benefits of having specialized rain gear for the Fall season. This will allow you to ride your motorcycle a few extra months before having to winterize it. And while it won't help you corner better, it will definitely keep you dry. In my opinion, some of the best advantages of having such gear are:
Weather resistance. Having protection against the elements will improve almost every aspect of your ride. These clothes will keep water and cold temperatures away from your skin, making your ride much more pleasurable.
Improved windproofing. A fact that always gets ignored is that waterproof
Improved visibility. This feature is specifically targeted towards the helmets that are designed to work well in rain storms. These helmets typically have improved coatings on their visors and can repel water without impacting your vision almost at all.
Better comfort. While rain gear keeps you dry, it also keeps you warm and comfortable on longer journeys. Another cool aspect of most rain suits is that they can be easily taken off and put in the storage compartment if you don't need them anymore on your trip. Some pants are designed to be especially soft and comfortable on longer journeys. Most suits manage to do that without a large sacrifice in breathability.
Improved safety. When most of your gear is designed to work in rain, your hands, feet, and eyes are going to be dry and grippy. This will keep you safer and will reduce the risk of slip-ups, which can be catastrophic above certain speeds.
If you're planning a motorcycle trip in the later months of the year, waterproofing your gear is one of the most essential parts of the process. Learn how to prepare for a motorcycle trip by clicking here!
Frequently Asked Questions
What is the best brand for motorcycle rain gear?
There are a lot of brands that specialize in making waterproof gear for motorcycles. However, certain brands stick out more than the rest. Such brands are Tourmaster, Joe Rocket, Nelson-Rigg, Frogg Toggs, and more. These all specialize in both summer and rain gear for motorcyclists and make various products with superb quality at a good price (most of the time).
Is it okay for my motorcycle to get wet?
Motorcycles are meant to be driven outside and outside isn't always sunny. Some bikes were even specifically designed to be driven in wet and muddy areas. And while most motorcycles will have no issue with water whatsoever, continuous exposure to excessive amounts of water and moisture can damage certain components of the bike. Rust is another obvious issue that you should take preventive care for.
Is it safe to drive your motorcycle in the rain?
Typically, driving your motorcycle is considered dangerous as a whole. Driving in the wet is just putting an extra hazard layer on top. Bikes are more unstable on wet roads. Moreover, white marks on wet roads are practically like ice to motorcyclists. This is why you should always pay extra attention to the road and your surroundings when riding in the rain.
Final Words
Finding the best motorcycle rain gear depends on a few things. First of all, it really depends on how much protection you're looking for. Full-body rain suits is what will give you the ultimate protection against water.
Additionally, you can get gloves, boots, and a helmet that are also waterproof. Look for the clothes' waterproofing index, their durability and breathability. The only thing worse than being wet on the outside is being super wet on the inside of your suit.