If you don't use the best motorcycle seat pads and you're planning to ride your bike across the country this summer, you're in for a painful experience. If you don't have the proper seat, you will find yourself constantly shifting as you ride and pulling over for breaks often, since most stock seats lack padding and support. If you purchase a high-quality seat pad, you'll notice a significant difference in your comfort level and how long you're able to ride, right away.
I've created this buyer's guide which includes all the information you'll need to pick out a seat pad that works for you, your budget, and your bike, so you can ride in style and comfort this summer. I've also reviewed the most popular pads on the market, so you can choose from the top five motorcycle seat pads and find one that offers a comfortable, perfect fit.
Below, you'll find a comparison chart that will showcase each pad's top features, spec information, and how each pad rated.
Motorcycle Seat Pads Comparison Chart
Product
Filler
Bike Type
Size
Our
Rating
ASI Seat Cushion


Shop On Amazon!

Neoprene
Cruiser
5" x 13.5"
x 2.4"
SKWOOSH Seat Cushion


Shop On Amazon!

Gel
Cruiser and
Touring
13.5 x 15 x 1"
Airhawk - R-REVB


Shop On Amazon!

Polyurethane
Cruiser
16.3 x 8 x 4"
CONFORMAX Gel Seat


Shop On Amazon!

Gel/Foam
Cruiser and
Touring
14.8 x 13.54
x 3.07"
Badass Moto Seat


Shop On Amazon!

Air
Cruiser/Sport
14.29 x 13.31
x 2.01"
ASI Air Seat Innovations Motorcycle Seat
This is an inflatable motorcycle seat pad that's made out of neoprene and made to fit all types of touring bikes and large cruisers. The pad can easily be adjusted to fit the shape of a bike's saddle, offering a custom fit. The pads are designed to improve blood circulation, so they're perfect for those longer rides.
The pad's design will also absorb shock from bumpy roads, absorbing vibration and any bumps that a bike's suspension isn't able to handle. It's also waterproof and highly breathable, so you can enjoy a comfortable ride in a variety of weather conditions.
Pros
Works with all types of touring models and large cruisers
Absorbs shock
Reduces pressure
Easy to adjust
Promotes circulation
Can work for UTVs
Made out of high-quality materials
Cons
Price
Will not work for street bikes
Conclusion
While the price of the pad may be steep, it's definitely worth every penny to the avid rider. If you're tired of saddle soreness, numb or painful legs after a long ride, or feeling every bump in the road, then this latest model by ASI Air Seat Innovations can change how you ride for the better. Highly adjustable, easy to install, and offering a whole new level of comfort, once you take this pad with you on your next trip, you'll never want to ride without it.
SKWOOSH Classic Saddle Motorcycle Gel Seat Cushion
This is a gel seat pad that's designed for reduced reach and stock seats. The pad is durable and will maintain the ergonomic design of any type of seat. It's also covered in breathable mesh fabric that will provide a cooler ride, so it's a good choice for riding in hotter climates and use during the summer. The air channel design works by directing airflow where you need it the most and can prevent the rider from excessively sweating.
It also comes equipped with a cutaway design that provides tailbone relief. The pad will remain securely in place, thanks to the non-skid anchors and elastic attachment, which is secured under the horn. The gel material helps improve rider comfort by reliving pressure on any body part that comes into direct contact with the pad, promoting circulation, and minimizes peak loading on the skeletal structure.
Pros
Breathable
Minimizes pressure on the skeletal structure
Folds down for easy storage
Cutaway for tailbone relief
No maintenance required
Pad will not change distance to footpegs
Cons
Designed for reduced reach seats and stock seats only
Price
Conclusion
This seat pad is supportive, helps reduce pain that comes with riding longer distances, and easily conforms to different body shapes. The pad is covered in a mesh fabric that's very breathable, and promotes cooling and air circulation, so the rider will stay cool and comfortable, wherever the road may take them.
Airhawk – R-REVB Motorcycle Seat Cushion
This polyurethane seat pad by Airhawk will allow you to ride longer, in total comfort. The pad features built-in stress relieving components that minimize pressure that's placed on the prostate, scrotum, and tailbone. It also comes equipped with air cell technology that will prevent and cushion any pressure injuries, for a more enjoyable and longer ride with no pain.
The pad's ergonomic design features a center cutout that goes from the front to the back of a saddle. The pad itself is covered by a breathable mesh material that promotes air circulation, for a cooler and more comfortable ride.
Pros
Breathable
Cutouts reduce pressure
Equipped with air cell technology
Ergonomic design
Cell height is lower on the front for better leg passage
Non-skid bottom
Cons
Price
Works for cruiser bikes only
Conclusion
This seat pad provides the type of support and comfort you need if you have past injuries or a long ride ahead of you. The breathable design can prevent excessive sweating during the summer or when you're riding around in a hot climate, and the ergonomic design is very supportive and promotes blood circulation, rider comfort, and reduces pressure placed on areas of the body that make contact with the pad. While the price may be a little steep for some riders, it offers the type of durability, easy installation, and ergonomic design that all riders are looking for.
CONFORMAX Topper Excel Motorcycle Gel Seat Cushion
This gel bike pad is designed to provide top of the line comfort and is designed for both cruiser and touring bikes. This model features gel protection, which provides comfort to the rear and lower back areas. This seat also comes equipped with half an inch of foam, which conforms to the rider's anatomy.
Together, the foam and gel design will help minimize sitting pressure. While the top of the seat features a durable, tough design, the bottom is grippy and designed to stay in place, so it won't slip or slide when you get on and off your ride.
Pros
Gel and foam design
Breathable
Prevents saddle soreness
Minimizes pressure on the rear and lower back
Stays in place
Minimizes heat buildup
Cons
Price
May be too narrow in the front for some riders
Conclusion
This seat pad offers the best of both worlds, with half an inch of foam and half an inch of gel. The pad will reduce pressure placed on the rider's lower back and bottom, will minimize pain and discomfort, and features a design that's durable and easy to install.
This hybrid foam and gel seat pad will keep you cool when you're riding during the summer, can allow you to cover more ground during the day, since you won't need to frequently take breaks due to rider discomfort, and features a durable design that ensures the pad will last season after season.
Badass Moto Motorcycle Seat Cushion
This inflatable seat pad fills with air to make your motorcycle seat more comfortable, allowing you to enjoy a longer ride, without the stress of frequent stops. The pad will help minimize pain on pressure points, while promoting improved circulation.
The user can choose the air fill level, based on personal preference, so they can find the most comfortable riding position. The pad is also designed with cooling properties and a breathable design that prevents excessive sweating in hotter climates.
The pad itself is very easy to install and remove, thanks to the highly adjustable elastic straps. The pad works with cruiser or sport bike saddles and can be swapped from bike to bike, so the multiple bike owner only has to invest in one pad.
Pros
Works for cruisers and sport bikes
Highly adjustable
Breathable
Easy to install and remove
Supportive
Features cooling properties
Cons
Difficult to inflate
Price
Conclusion
This pad is designed for both sport bikes and cruisers and features an adjustable design that allows you to control the level of air in the pad. The pad does not have to be fully inflated during use. Some riders had complaints regarding ease of inflation, stating it was difficult to adjust the air level to their specific liking. Others complained that when fully inflated, it caused them to sit up to two inches higher, which can make riding uncomfortable.
Once you've adjusted the air level correctly, the seat does deliver, in terms of support, comfort, and breathability. However, for some riders, the difficult inflation process may be a deal breaker. For other riders, this air motorcycle seat will be a great buy, and one that offers the type of supportive and comfortable ride they need, whether they're riding around town, or across the country.
Motorcycle Seat Pads Buyer's Guide
Adding a motorcycle seat pad should be part of your spring maintenance motorcycle checklist, especially if you're planning on riding a lot during the summer months. A motorcycle seat pad can offer the type of comfort and support that's necessary for longer rides. If you have the wrong seat, you won't be able to ride your bike longer than an hour or two. Purchasing a seat pad is an excellent investment and one that can make all the difference when you're riding your bike across the country.
Before I dive into which features you should pay attention to when you're shopping around, first I'll go over the benefits of using one of these seat pads.
Benefits of Motorcycle Seat Pads
If you just purchased a new bike and found yourself sore after riding around for 30 to 60 minutes, this is one of the biggest signs that you need to install a motorcycle seat pad. These supportive pads offer plenty of benefits, and are designed to prevent soreness, discomfort, and other health issues.
Below, I'll go over the other benefits you'll enjoy when you purchase this must-have accessory for your bike.
Prevents Pain
When you ride your bike for a long period of time, your body tends to get stiff and numb. A seat pad can improve your overall comfort and next day soreness.
Provides Support
If you have any type of pre-existing back or tailbone injuries or issues, then riding your bike for more than an hour may be out of the question. Using a supportive seat pad can make all the difference.
Improves Stock Saddle Comfort
Stock seats aren't exactly comfortable but upgrading to a new one can cost hundreds of dollars. A high-quality seat pad can be a cost-effective alternative.
Allows You to Ride Longer
If you're planning a motorcycle trip, you may need to stop frequently to give your bottom a break and stretch your legs. Pads for motorcycle seats can keep you on your motorcycle longer between stops.
Now that you know more about some of the benefits these seats offer, I'll discuss the different types available.
Types of Motorcycle Seat Pads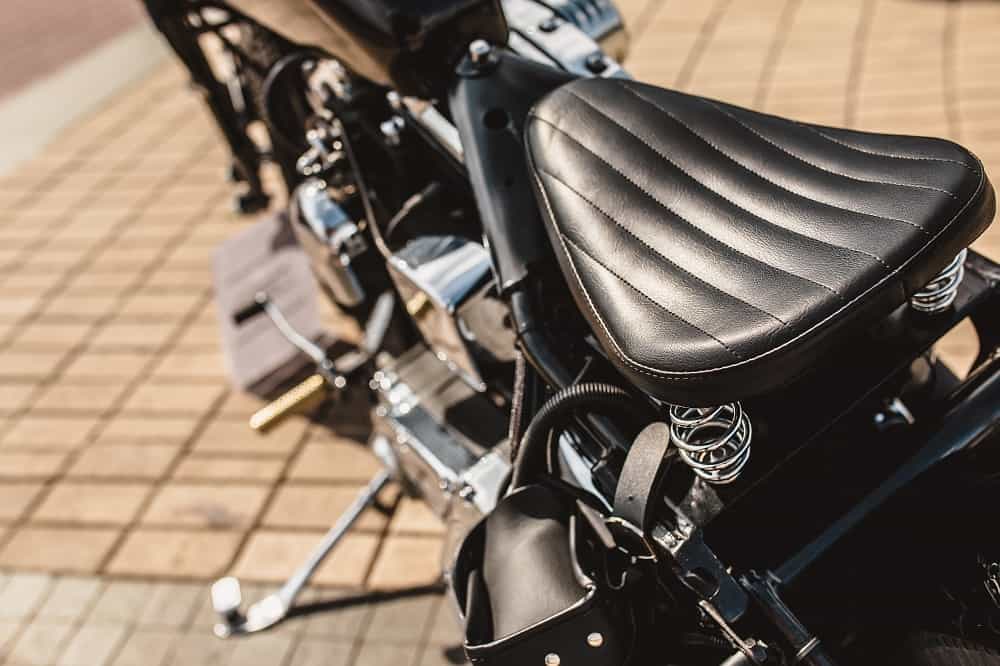 When you're shopping for a seat pad, you'll come across five different options:
Air
Foam
Gel
Sheepskin
Beaded
Air
An air seat pad is pumped up with air to provide a cushioned surface for your bottom. This type of padding is easy to inflate. One of the best qualities of this style is that you can decide on how much you want to inflate it. Additionally, they work to evenly distribute pressure which can prevent numbness and discomfort as well as shock absorption.
Foam
Pads that are made out of foam are very comfortable and supportive. They feature shock absorbing properties and can also prevent numbness and discomfort. Some of the most popular models are made out of high-density memory foam which is perfect for a longer ride.
Gel
Pads that are made out of gel will conform to your bottom, which can make them more comfortable than the other options available. These pads will reduce numbness and evenly distribute pressure. Pads made out of gel are commonly used in the medical field because they can prevent soreness while providing support.
Sheepskin
Sheepskin pads will regulate the rider's body temperature, keeping them warm in the winter and cool in this summer. Additionally, this type of fabric dries quickly, so it's a great choice if you're planning on riding in rainy or wet environments. Additionally, sheepskin will absorb sweat, however, it also provides great air circulation. Unfortunately, pads that are made out of sheepskin can be pretty pricey, however, there are some affordable models on the market.
Beaded
Beaded pads are said to offer support and massage. Unfortunately, this type does not offer much in terms of cushioning. Most beaded pads offer a universal fit, so you should make sure you measure the dimensions of your motorcycle seat to ensure that it will fit your bike correctly.
Other Important Features
Below, I'll go over the other key features to look for, to ensure the pad you buy will work for your comfort needs, your budget, and your bike.
Shape and Size
Motorcycle pads come in a variety of shapes and sizes. Before you buy, it's crucial that you measure the seat on your bike and ensure that the pad you purchased works for the width and length of your seat. Many pads are irregularly sized and tend to be narrower in the front and wider in the back.
Height
These pads are available in a variety of designs and some are thinner than others, depending on the material it's made out of. You want a pad that's thick if you're looking for ultimate comfort, or a thinner pad if you don't want the pad to cause you to sit too high on your saddle. More height can be a good thing or bad thing, depending on your riding needs.
Breathability
The warmer months are the most popular time to ride a bike, but the hotter it is, the more likely you are to sweat. When you sweat, it can lead to chafing which can be very uncomfortable, especially on longer rides. Because of this, you'll need to choose a cushion that features moisture wicking capability and one that offers good airflow and ventilation, so you don't end up with a wet backside when you hop off your bike.
Weight Distribution
The pad you purchase should distribute your weight evenly so that you remain comfortable at all times. This will also help to minimize pressure and relieve stress.
Easy Installation
Easy installation is always essential, so be sure to choose one that has a reputation for fast and simple installation.
Cooling Properties
Pads that are cooling can help minimize the risk of skin irritation and heat rash, so it's always a good choice if you ride in hotter climates to choose a pad that can be chilled. Other models will help with temperature regulation.
Specifically Designed to for Longer Rides
Look for pads that are specifically designed for long rides. They should feature a design that provides a thick layer between the saddle and you, which can increase comfort while relieving any pain placed on pressure points. A good saddle will help minimize pain so you can ride longer in total comfort and take fewer stops.
Designed to Improve Circulation
Some pads can also help to improve blood circulation. These pads should relieve the hot sensation that you may feel on your backside when you're riding for a long period of time.
Posture
How a motorcyclist rides can also determine where they feel pain on their bottom and back. Some motorcyclists will experience pain that runs down the backs of their legs. This type of pain can involve the sciatic nerve.
There are also other issues that are related to where the bikes foot pegs are positioned, such as forward versus rear. A rider can change their posture to help improve their comfort, however seat pads are often the best option for longer rides and some will force the rider to use the proper posture, which can help alleviate pain associated with poor posture.
Price
Motorcycle pads can cost $20 up to $200. Lower priced seat pads don't compare to their higher priced counterparts in terms of comfort and support. If you need a seat pad for use to ride around town, then a lower priced pad is still a good option. However, if you're looking for a pad you can use for your next long distance bike ride, a higher priced, top of the line seat pad is definitely a smart investment and one that will prevent saddle soreness and discomfort.
Frequently Asked Questions
What Can I Do to Make My Motorcycle Seat More Comfortable?
Buy a seat pad. Other options can include:
Taking frequent breaks
Wear padded shorts
Replace your old seat
Why are Motorcycle Seats so Uncomfortable?
There are many factors that can cause your bottom to become uncomfortable on longer motorcycle rides. In most cases it's the stock saddle seat which feels like it's made out of wood. Additionally, it can also be moisture that's causing skin irritation and saddle soreness.
How do I Stop My Butt from Going Numb on a Motorcycle?
Use a seat pad or upgrading your saddle can help. You can also take stops more frequently and walk around for a few minutes and stretch your legs. While this can help with numbness and pain, it will often return after riding a few miles.
Final Thoughts
A motorcyclist's comfort is critical especially when it comes to longer rides. Using the best seat pad, you can ride longer, which means you can cover more distance in a day, and you'll be more comfortable during your journey. Rider discomfort is the number one reason why motorcyclists will stop frequently. Riding a motorcycle doesn't have to be uncomfortable. With the right type of seat pad, on your next motorcycle trip, you can ride in total comfort.
It will be up to you to determine which of the products I've included here will work the best for your riding needs and comfort. The information in this guide is designed to give you a better idea of what makes a seat pad a good choice for those longer rides, what features you should look for, and which style will meet all your needs.