Choosing the perfect wrap for your motorcycle helmet can be a challenge. Luckily, we have compiled a list of the best wraps for motorcycle helmets out in the market.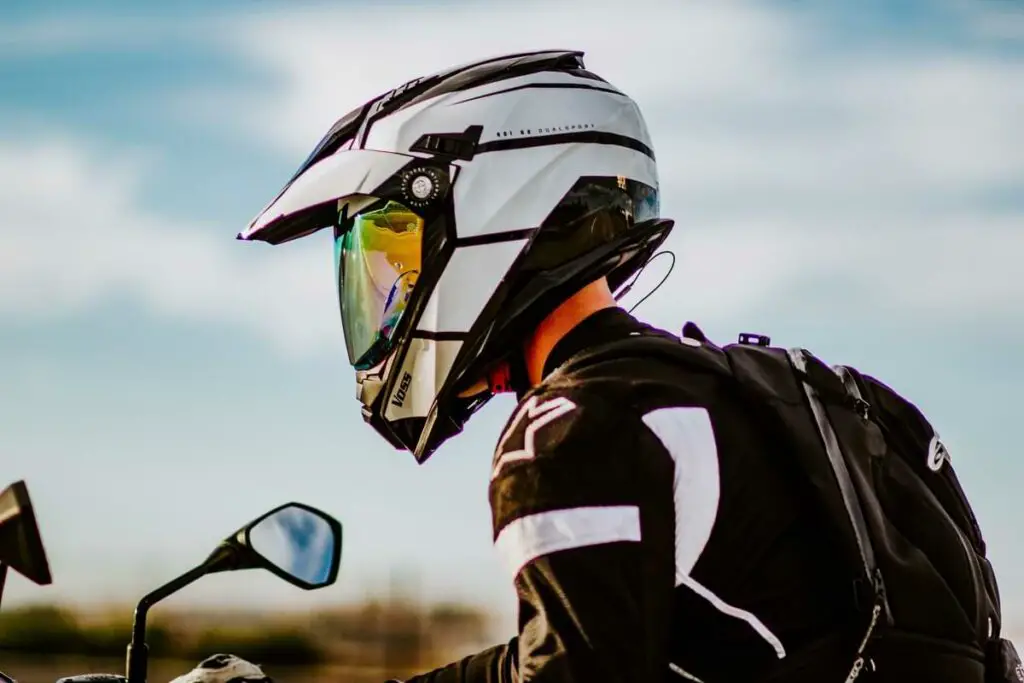 Why wrap your motorcycle helmet?
Wrapping defines the process of fully or partially covering an object, usually a vehicle. Most wraps are made of vinyl, which is the reason for their durability.
Wraps for motorcycle helmets provide the same benefits as wraps for vehicles. Their most advantageous feature is the long-term protection they provide. They act as a barrier between the paint underneath and weather exposure. Vinyl wrap offers a medium of self-expression as well.
Motorcyclists can choose from an infinite number of designs to give their helmets a unique twist. This way they can express their individuality while preserving the quality of their helmets. And if you ever grow tired of your current design, you can easily switch it out for something else without any hassle.
Wraps for motorcycle helmets are generally easy to install and don't require an expert to do it. From the comfort of your own home, you can painlessly wrap your motorcycle helmet. All it takes is a tutorial and a little patience to get it done. Not to mention that many toolkits for wrapping are easily accessible online.
However, it is crucial to choose the correct wrap, especially for a motorcycle helmet. Because a helmet is a circular shape, you'll need a wrap that is flexible and can easily install around the helmet's curves. Most helmets can be wrapped, though the design and shape of the helmet can make the process a bit harder. So that is something to consider when choosing an appropriate wrap.
Types of Wraps
There is such an abundance of types of vinyl wrap that it can be overwhelming to decide. Most of the different types of vinyl wrap are not drastically distinct from each other. For the most part, they are all made of the same components.
The different types of vinyl wrap are more a matter of design preferences than anything else. For example, you can get a chrome vinyl wrap which provides a flash of bright color and a clean look. Or you can get a matte vinyl wrap, which is more traditional and old-timey.
There are even vinyl wraps that mimic the texture of wood, velvet, and snakeskin. The choices are truly endless when it comes to design. In a more practical sense, you do need to be aware of the categories of wrap film.
The main categories are calendared and cast film. Cast film is usually ideal for all kinds of wrapping, but this is especially true for motorcycle helmets. Cast film easily stretches and conforms to circular shapes like that of a helmet. Calendared film does not conform to rounded curves as easily. The quality of the wrap is just as crucial as well.
It is recommended to buy from trusted brands, such as 3M, VViViD, and Avery Dennison- to name a few.
Top 10 Wraps for Motorcycle Helmets
Fortunately, vinyl wraps are incredibly versatile. Wraps for motorcycle helmets are essentially the same wraps used for vehicles. Below is a list of the best wraps on Amazon in no particular order:
1. Red Oracal 651 Vinyl Pinstriping
Our Rating: (5/5)
This vinyl wrap is highly practical and straightforward. It is as simple as peeling it and sticking it to the surface, which requires little to no time. Its thin design allows it to bend around the curves of the helmet.
It should be noted that this product is easier to use on flat surfaces, though it still works for curved shapes. It is best if you use this product to partially cover the helmet instead of completely. You can stick singular strips of this wrap to your helmet, giving it a chic touch.
The vinyl itself is of good quality and can last for about 5 years. It is also available in a large variety of colors leaving customers with an extensive number of options. The major throwback is that the edges of the wrap tend to be rough and unevenly cut.
The rough-cut edges make it hard to neatly wrap the helmet unless there is a way to cover the imperfection of the edges. The thinness of the vinyl also has a disadvantage because any flaw that lies underneath will most likely show through the wrap.
Pros:
Easy to apply around curves
Easy to use
High-quality vinyl
Large range of colors
Cons:
Very thin
Edges are not clean cut
2. VViViD XPO Black Carbon Fiber
Our Rating: (4.5/5)
The VViViD XPO is high-quality and flexible. It also one of the most durable and resistant vinyl wraps currently out in the market. It includes smart technologies that help it withstand the test of time. It can easily adjust to complex curves and shapes.
The VViViD XPO also provides creative freedom to anyone who enjoys DIY. However, it only comes in one color which may be disappointing to some. A few customers also reported difficulty while installing the vinyl wrap, which is most likely due to their experience level. That is something to consider if you are new to wrapping.
Pros:
Extremely durable
Easily stretches and conforms to any shape
Built-in VViViD Air Release, Resist, and Heat Fuse technologies
Lasts 7 years outdoors
Specifically made for people who like to DIY
Cons:
Comes in only one color
Can be time-consuming to apply
3. VINYL FROG Chameleon Vinyl Wrap
Our Rating: (4.5/5)
This vinyl wrap is great for anyone who wants to stand out. It features a beautiful holographic design that captures everyone's attention.
It is highly protective and can withstand weather exposure. It also conforms easily to rounded surfaces and includes an air release channel. The air release channel is supposed to stop any type of bubbling to occur when applying the vinyl.
Based on customers' complaints, it appears that the wrap is sensitive to creases and wrinkles. This may point to a faulty air release channel, though it could also be that customers are installing it incorrectly.
There were also some people who reported a difference in the color shown in the pictures to the actual product. It is possible that the color is not as vibrant as advertised, nonetheless, it is still eye-catching.
Pros:
Stylish
Designed with air release channel
Highly stretchable and protective
Durable
Cons:
Easily wrinkles up when trying to apply
Color can be deceiving
4. DIYAH 4D Black Carbon Fiber Vinyl Wrap 
Our Rating: (4.5/5)
The DIYAH 4D is one of the most stretchable wraps out in the market, which makes it optimal for a motorcycle helmet. This wrap can conform to complex shapes without a problem. The air pocket release design is effective, and the wrap is thin enough to fit in tight spaces.
Conversely, the thinness of the wrap can simultaneously be a disadvantage because it makes it vulnerable to tear. The wrap is generally easy to install, but the overly strong adhesion can make the process frustrating. If you accidentally stick the wrap on an unwanted surface, it might be a struggle to remove.
Pros:
Air pocket release design
Can be molded over complex curves
Can fit in the tightest corners
Easy to use
Self-adhesive
Cons:
Too sticky
Can easily tear if used incorrectly
5. 3M 1080 Gloss Black Air-Release Vinyl Wrap
Our Rating: (4.5/5)
This product is great for anyone who wants an all-in-one deal. If you don't have any of the tools necessary to wrap a helmet, this product comes with them. It is also made of cast vinyl, which is ideal for motorcycle helmets.
The edges are self-adhesive, which eases installation around curved surfaces. The main issue of this product comes from delivery and packaging mistakes, rather than the quality of the product itself.
A substantial group of people reported that the toolkit was not included when they received the product. Though it was not the majority of people by any means, it is still something to be aware of. Some customers also reported that the measurements featured online were inaccurate to the actual product. They ordered a specific measurement but received less.  
Nevertheless, it is not statistically likely this would occur to you.
Pros:
Includes toolkit
Cast Film
Self-adhesive
Easily removable
Cons:
Toolkit sometimes not included
Wrong labeling
6. LZLRUN 3D Carbon Fiber Vinyl Wrap
Our Rating: (4.0/5)
The LZLRUN 3D is durable and practical. The vinyl is high-quality, and the air channels are effective. It comes in a few colors and conforms well to contour shapes.
However, many people reported that the vinyl is more see-through than expected. The adhesion is also not as strong and may require additional effort to get to stick properly.
Pros:
High Quality
Built-in air channels
Conforms well to most shapes
Durable
Cons:
Appears transparent
Doesn't stick well
7. Avery Dennison SW900 436-O
Our Rating: (4.5/5)
This vinyl wrap is perfect if you want to completely wrap your helmet. It bends easily around curves and includes a guide on how to apply it. It also comes in a wide selection of colors including different shades. The thin nature of the wrap makes it easy to tear if not handled properly.
Some customers reported difficulty installing it, however this wrap is very forgiving if you make any mistakes. Overall, it is one of the most reliable wraps you can get.
Pros:
Cast Film
Includes Rvinyl Quick Guide Installation Card
Easy to remove
Large range of colors
Cons:
Too thin
Can be difficult to apply
8. VViViD+ Premium Vinyl Wrap Film
Our Rating: (4.5/5)
This wrap comes in exciting colors which sets it apart from other wraps. It has built-in healing technology that allows scratches to disappear. It is extremely resistant and can last for about 10 years. However, it doesn't mean the wrap can never get damaged.
If placed directly in the sun for years, the color will begin to fade. The fading occurs very slowly though. Once again, people reported difficulty installing this wrap. Ease of installation will depend on your patience and skill. The wrap can be hard to stick as well.
Pros:
Strong colors
Durable
Bubble-free membrane
Self-healing
Resistant
Cons:
Difficult to apply
Poor adhesion
9. Black Reflective Tape Motorcycle Helmet Stickers
Our Rating: (4.0/5)
This product is great for those who want to give their helmet a little edge. It reflects light in the dark, which also makes it great for night-time riding. Other vehicles will be able to spot you at night effortlessly. It is also durable (can last 7 years) and stylish.
On the downside, the roll does not come with much vinyl wrap. It is better used to partially wrap your helmet. Much like the Red Oracal 651, adding singular strips to your helmet is the best way to go. If you are trying to cut specific lengths of this wrap, the material can be hard to cut through. So use the appropriate tools.
Pros:
Great for design
Easy to install
Reflects light in the dark
Durable
Cons:
Brings small amount
Can be hard to cut
10. 3M 2080 G203 Gloss
Our Rating: (4.5/5)
The 3M 2080 is another perfect option if you want to completely wrap your helmet. You will not need to compromise on the design aspect because the 3M 2080 comes in both solid colors and psychedelic patterns. It is made of cast vinyl and includes highly effective air channels.
It comes with a Rvinyl card to make installation smoother. Nonetheless, customers reported difficulty installing the wrap. The wrap is also prone to wrinkles if overstretched, so you have to be careful when applying it.
Pros:
Dual-cast film
Air channels
Rvinyl Quick Guide Installation card
Color variations
Alternatives
Like in any industry, innovation is inevitable. Wraps for motorcycle helmets are rapidly changing. You can now even choose a liquid wrap instead of a vinyl wrap. Additionally, 3M has also launched eco-friendly vinyl wraps. They contain no PVC (polyvinyl chloride), so they pose no danger to health or the environment.
These non-PVC wraps are proving to be more durable and perform better than previous PVC wraps. Moreover, customizable vinyl wraps are offered by many other companies like Wrapshesh, Overnight Wraps, Digital Effects, Infinite Wraps, Rvinyl, to name a few.
Most of these companies will wrap your helmet for you with a design of your choosing at a reasonable price. They also offer high-quality vinyl wraps of their own that you can buy to wrap your helmet. When it comes down to it, the vinyl wrap that is right for you will depend on your priorities and personal preferences.
If your priority is longevity and reliability, then brands like 3M and Avery Dennison are your safest bets. If you are not interested in completely wrapping your helmet and want something that looks cool, then Red Oracal and Bright Knight are for you. In general, you do want a high-quality vinyl that can easily stretch around circular shapes. Flexibility is the most important factor when it comes to wraps for motorcycle helmets. Everything else is up to you.