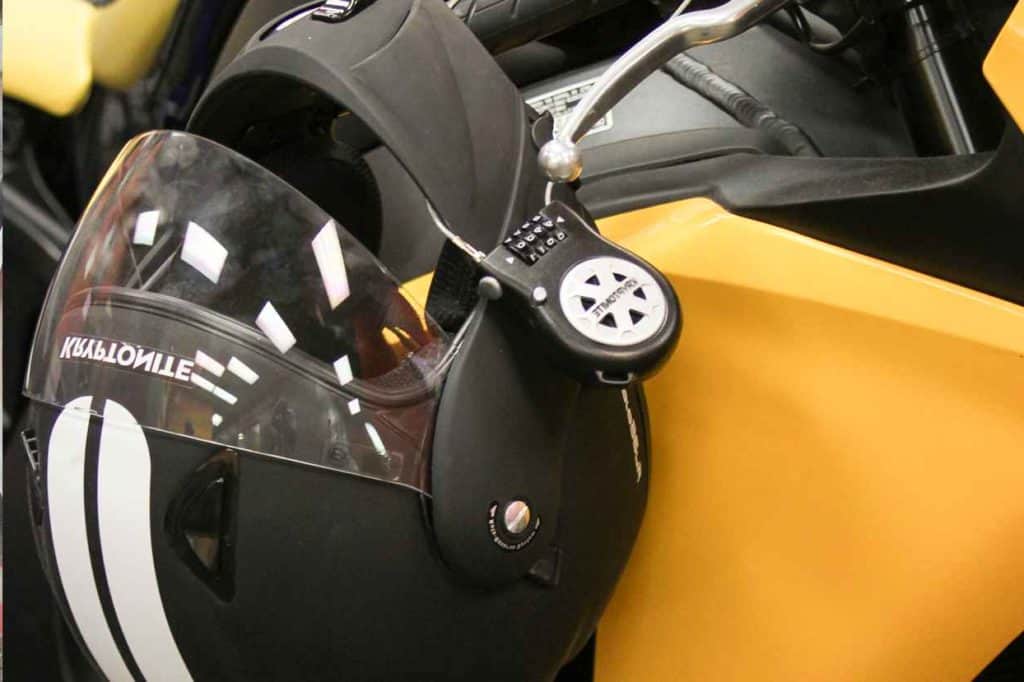 You probably don't want to get stuck carrying your helmet around with you, wherever you go, whether it's dinner with friends, or out on a date, but you also can't just leave it sitting on your bike, waiting for it to get stolen. So, what's the solution?
You need to learn how to lock your helmet to your motorcycle. Fortunately, there are several solutions available, each of which will keep your helmet tightly secured to your hog and safe from thieves. It will also allow you to hang out and relax, without the fear of leaving it behind, or it taking up precious table space.
Helmet Locks
Helmet locks are simple devices that attach to your helmet and the frame of your bike, preventing the helmet from getting stolen. Most models are very slim, lightweight, and are designed specifically for helmets. They're also reasonably priced so you won't have to pay a small fortune to keep your helmet secured.
There are a couple of main styles of locks to choose from.
The most common style utilizes a wire that wraps around the helmet and bike frame.
If you have a helmet with an open visor, you'll need to use a lock that will click the chinstrap into the lock in order to secure the helmet tightly in place. Keep in mind, locks that rely on using the chinstrap to secure it aren't exactly the safest option since all it will take is a sharp knife to free the helmet.
There are other alternatives that are basically a variation of these two main styles. The first is the mesh cord lock.
Mesh Cord
The mesh cord lock features a thick cord with a rubberized coating that adds to its durability. The cord will wrap around the helmet and locks into place with a combination lock or a standard padlock and key. This is a very versatile option since you can attach it to your bike in a number of ways.
License Plate Lock
Obviously, this style will attach to the back of your bike's license plate holder. This type of lock is made out of heavy-duty metal and is much stronger than a cord lock. However, it will take approximately, twenty to thirty minutes to install.
Bolt
A bolt lock features a cylindrical shape and is operated with a key. Like the mesh cord lock, this style is pretty versatile, so you can attach it to your bike's frame in a variety of ways. This type of lock will remain permanently on your bike, is easy to install, small, and can be used for all types of recreational vehicles, not just motorcycles.
How to Attach the Lock
Now that you know there are a couple of different styles of locks you can use to secure your helmet, it's important to learn how to correctly attach it.
The first option is the handlebars. If you choose this option, be sure that a thief will be unable to simply slide the lock off the handlebars. Make sure you use the center of the handlebars only, to connect the lock and helmet.
The passenger pegs are another option. The pegs are actually the most common spot to store a helmet. To use, you'll flip a peg down and use it as a rack of sorts for the helmet. This will work out fine if your bike is parked in a low traffic area, otherwise, the helmet may become damaged.
Your saddle is another great option. If you have a detachable seat, remove it, place the helmet under the seat, lock it, and put the seat back in place.
You can also use your mirror, simply run the lock through the mirror and helmet and place the helmet on the handlebars.
Want to learn how you can safely haul an extra helmet? Be sure to stop by and read my article on How to Secure your Helmet to Your Motorcycle with a Holder.
Do I Need a Helmet Lock?
Yes. Maybe you don't mind hauling your helmet with you, wherever you go. But if you're looking for an inexpensive way to store your helmet when you're out with friends, on a date, at work, or out running errands, then a bike lock is a great, affordable option.
Some models work better than others. If you have a high-priced helmet, or you've invested in the best motorcycle Bluetooth headset, with an expensive system, such as the Cardo Freecom 4 Plus, then you need a top of the line lock to keep your helmet safe from thieves.
If you purchase a universal lock, then you can use it with any type of recreational vehicle to keep your helmet safe.
Product Recommendations
Not all helmet locks are created equal, which is why I've reviewed several of the best-selling models and included a summary of what each model has to offer in terms of features, in addition to its user rating.
Motorcycle Helmet Lock by Master Lock #99
Our Rating: (5/5)
Check out this affordable, tough, lightweight helmet lock by Master Lock. This model is a cable-style keyed lock that measures in at three feet long. The design consists of a long cable that's covered in vinyl and is five millimeters in diameter.
If you're worried about damage to your expensive helmet, then you'll appreciate the thick plastic lock cover that will not nick, scratch or damage the helmet. Additionally, the lock's dead-locking mechanism will prevent a thief from ripping the lock open.
Bikers Choice Helmet Lock 74937S2
Our Rating: (4.5/5)
This Biker's Choice helmet lock is top of the line. This is a chrome-plated helmet lock that you can mount anywhere on your bike. The attractive finish is eye-catching, so it won't take away from the bike's appearance.
It comes complete with its own mounting hardware and a couple of keys. If you find that the lock feels a little loose after you've mounted it, you can use a little spare rubber to wrap around the bar before you clamp the lock on.
This will work to take out any slack. In the end, you'll have a tough, durable, helmet lock that's permanently mounted and designed to keep your helmet securely in place. It doesn't get any better than that.
Helmetlok 4101 Carabiner Style Helmet Lock
Our Rating: (4.5/5)
This model by Helmetlok is a carabiner lock that you can program using four digits of your choice. To use, all you have to do is open the lock, put the carabiner through the D-shackle on your helmet and attach it to your bike's frame and lock it in place. Since the lock is not mounted to the frame permanently, you can attach it wherever you want or use it for multiple recreational vehicles.
This is a carabiner-style lock's design is somewhat different. Unlike a traditional carabiner, when the arm is open it pivots outward. This design allows the user to attach it to large diameter rails, racks, bike frames, handlebars, and more. It has a one and a half-inch max diameter.
The locking mechanism is made out of zinc alloy, which is weather resistant. The carabiner is made out of aluminum and covered with a thick plastic coating the will protect the surface of your helmet from scratches and dings. The size of the lock itself is very small, lightweight, and compact, so you can easily attach it to your belt loop.
Big Pantha Motorcycle Helmet Lock
Our Rating: (4.5/5)
This is a D-ring style lock by Big Pantha is versatile and will work with a wide variety of helmet styles and bike frame sizes, allowing you to attach the helmet to pretty much any surface. This is another carabiner-style helmet lock that's durable, easy to use and comes complete with a thick rubberized sleeve that will protect the surface of your helmet from scratches and dings.
This combination lock allows you to choose a unique four-pin combination. The self-coiling cable makes the lock easy to store and use. It measures in at just 1.8 millimeters long and can be used to secure one to two helmets to your bike, at the same time. The cable itself has a thick PVC coating that protects the surface of your bike and helmet.
Lockstraps 901 Helmet Lock
Our Rating: (4.5/5)
This is a durable, combination carabiner lock that's connected to a couple of feet of durable straps that have been sewn together with a cable that's three millimeters in diameter. The lock is perfect for helmets and can be used for all types of recreational vehicles including quads, and dirt bikes.
It's not quite as durable as a lock that is permanently mounted in place, but it's a great buy if you're looking for an affordable, versatile bike lock that you can use for a variety of recreational vehicles.
To learn more about top of the line accessories for your helmet, click here to read my article on How to Select the Right Visor for Your Motorcycle Helmet.
Final Thoughts
Now that you know how to lock your helmet to your motorcycle and you've gotten an inside look at some of the best-selling models on the market, nothing is keeping you from hitting that buy now button and purchasing the right lock based on helmet style, bike style, and budget.
Remember, investing in a high-quality lock will keep your helmet secure, protected, and safe from thieves. It will also free up your hands when you're out and about with friends, on a date, meeting up with the family or running errands.