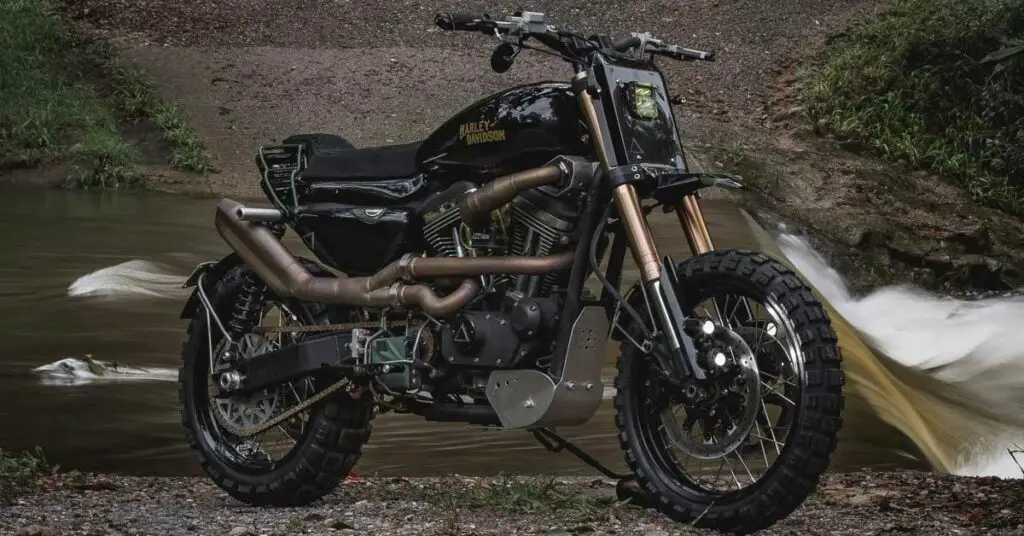 How it all Began
Throughout the 20th century, most motorcycles featured hardtail frames. Hardtail frames are rigid, single-piece frames that lack suspension. Even though hardtail frames are simple and practical, they lack comfort. Hardtail frames allow the rider to feel every little bump of the road.
This may not seem like an issue now because so many of our roads are smooth. However, back then a lot of roads were bumpy, which led to rougher rides. In the early 1980s, Harley-Davidson responded to the demands of the public and designed a more comfortable bike. This bike was known as the Softail.
The main difference between bikes with hardtail frames and softail frames is the suspension. Softails bikes have suspension, which reduces the vibration of the road. This makes softail bikes extremely comfortable to ride for long lengths of time.
Since softails produce a smoother ride, they quickly replaced hardtail bikes as the go-to option for riders.
The Argument for Hardtails
With all the benefits of a softail frame, why would anyone want a hardtail frame? It might seem like a step backwards to go for a hardtail frame, but not so fast. There are perks to hardtail frames that cannot be compensated with a softail frame.
The truth is that hardtail frames are for a specific type of rider. It is for riders who are fascinated with the unique aspects of hardtail frames. Most people think that the only reason people opt for a hardtail frame is because they are cheaper than softail frames.
Although one of the great benefits of hardtail frames is their price, it isn't at all the only reason. Riders who opt for a hardtail frame are usually appreciative of the historic value of hardtail frames. Not to mention the unique feel hardtail frames provide to your riding.
While it is a rougher ride, there are riders who enjoy feeling the vibration and bumps of the road. They feel as if hardtail frames provide a more raw and authentic ride. The simple design of hardtails makes them less heavy than softails.
For this reason, hardtail bikes tend to be faster than softail bikes. Hardtails are also more easy to build than softails, which is why they still remain an attractive option to beginners and veterans alike. In addition, hardtail bikes provide better handling especially at corners.
These irreplaceable qualities of hardtails are why they continue to live on despite softails. The Harley Sportster is one of the most popular and loved cruisers in the world. When it comes to the Sportster bike, a hardtail frame can be a great choice for some riders.
Since the Sportster is a cruiser, it is ideal for everyday commuting. Daily short-distance travel is usually not a problem on hardtail frames. This is especially true if you have a comfortable spring seat. A good seat will take off some of the edge of the rough hardtail ride.
You can also consider lowering the pressure of your tires and investing in spoked wheels. This will help minimize the impact. Another helpful thing to implement is to ride at lower speeds, which should come natural to a cruiser bike like the Sportster.
Overall, a hardtail frame is a good choice for the Sportster bike and for the rider who wants it. Obviously it might not be suited for riders who suffer from certain physical problems, like constant back pains. Otherwise, a hardtail frame for your Sportster bike is a great choice if that is your preference. 
The Components of a Hardtail Kit
There are a multitude of various hardtail kits. For instance, you can find a hardtail kit that includes an oil tank, or you can opt for a hardtail kit that includes just the basics. A basic or naked hardtail kit mostly consists of steel tubing, axle plates, and axle adjusters.
Most naked hardtail kits do not include certain parts like brackets, which need to be bought separately. Riders can find other additional parts such as a seat pan, battery carrier, rear belt, and fender. The variety of hardtail kits and hardtail parts allow riders to dictate the transformation they want to do to their bikes.
Riders can go as far as they like and alter their bikes completely. Many kits are incredibly flexible and allow riders to install them as they like. By the end of the process, riders will be sure to have a hardtail bike that is unique to them.
There are a few main components that need to be considered when choosing the appropriate hardtail kit. These components will ensure that the hardtail frame fits your Sportster correctly and that it is best suited for your preferences. Below are some of the most important factors to consider:
Weld-on vs Bolt-on
These are the two main types of hardtail frames. The main difference between them is that bolt-on hardtail frames are easier to install. They only require a few tools and can easily be installed by a nonprofessional. They also tend to be slightly less expensive than weld-on hardtail frames.
Hardtail frames are not necessarily hard to install, but might require the help of a professional depending on the skill level of the rider. Some also argue that weld-on hardtail frames are stronger than bolt-on hardtails. Ultimately, it is for the rider to choose which option suits their preferences and budget. 
Rear Stretch
Stretch is a very important aspect of a hardtail frame. It is the aspect most riders tend to pay attention to first. Stretch refers to the increased length produced when a hardtail frame is installed.
The hardtail frame moves the rear wheel back making the bike longer. Depending on how large of a stretch it is, it may require you to install a longer chain drive as well.
Ground Clearance
Ground clearance is the distance between the lower end of the motorcycle and the road. Many hardtail frames tend to lower your bike more to the ground. Riders should consider how low they would want their bikes to the ground, so they can choose the appropriate hardtail frame.
Tire Measurement
Tire measurement is simply the size of your tires. Most hardtail kits explicitly state what tire sizes they are compatible with.
Top 8 Hardtail Kits for the Sportster
1. Sportster Hardtail Kit for 82-03 by TC Bros.
Fitment: 1982-2003
Type: Weld-on
Rear Stretch: 2"
Ground Clearance: 5"
Tire Size: 180-200
Price: $450
This weld-on hardtail kit from TC Bros is an incredibly versatile hardtail frame that fits all Sportster models from 1982 through 2003. The frame is entirely constructed from steel to provide the strength and durability you need.
The hardtail frame has a stretch of 2" and a ground clearance of 5". Due to the stretch, a longer chain is required. The slugs and adjuster bungs make it an easy frame to weld. This hardtail kit is also one of the least expensive kits. 
2. Sportster Drop Seat Weld-on Hardtail 82-03 Harley Davidson XL
Fitment: 1982-2003
Type: Weld-on
Rear Stretch: 3-3/4"
Ground Clearance: 4-3/4"
Tire Size: 150mm, 200mm, 250mm
Price: $715-755
This hardtail frame includes a tri-bend seat section. The frame is constructed from Drawn Over Mandrel (DOM) tubing. This type of tubing is produced in such a way that allows for the greatest weld strength possible.
It is also easy to install and poses no alignment issues. You can find three variations of this hardtail kit for different tire sizes.
150mm:
200mm:
250mm:
3. KR Style Bolt-on Hardtail Rear Frame Section 67-78 H-D Ironhead Sportster
Fitment: 1967-1978
Type: Bolt-on
Rear Stretch: 4"
Ground Clearance: 2"
Tire Size: Fits stock tires
Price: $350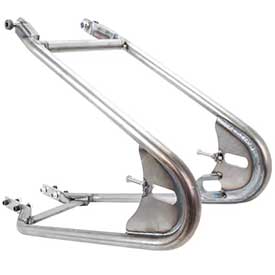 This Lowbrow Customs hardtail frame is a bolt-on frame that fits Sportsters from 1967 through 1978. However, it does not fit 1967-1969 XLCH models. This frame has a stretch of 4" and a ground clearance of 2". It is compatible with the stock rear wheel, axle, and brake.
Not to mention the stylish look of the frame. However, do note that the frame requires a longer chain and brake rod.
4. Deluxe Evolution Sportster Hardtail Kit 1982-2003
Fitment: 1982-2003
Type: Weld-on
Rear Stretch: 2"
Ground Clearance: Not disclosed
Tire Size: Fits stock tires
Price: $1,300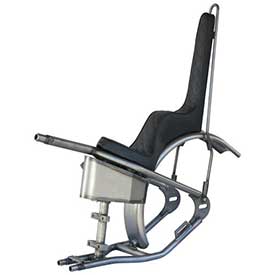 This deluxe hardtail kit from Throttle Addiction features an oil tank, battery, and fender. It is perfect for anyone who desires a kit that includes more than the essentials. The hardtail frame is a weld-on frame that fits a large range of Sportster models from 1982 through 2003.
The kit does not include the hardware for mounting the oil tank, sissy bar, or fender. Overall, it is a pretty solid kit that includes everything you need and more. 
5. Sportster Hardtail Kit for 2004-2013 By TC Bros.
Fitment: 2004-2013
Type: Weld-on
Rear Stretch: 3"
Ground Clearance: 5"
Tire Size: 130-150
Price: $375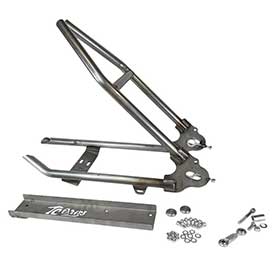 This hardtail kit is another high quality kit from TC Bros. It fits more modern Sportster models from 2004-2013. The frame is made with precision through CNC machining. It is compatible with all of your stock parts as well.
The kit comes with a frame alignment jig which eases the installation process. This TC Bros kit is also one of the most economical and durable weld-on kits. It is a great option for riders who are on a budget but do not want to compromise on quality. 
6. Bolt On Hardtail Rigid Frame Tail Section 52-78 Harley Sportster Ironhead XL
Fitment: 1952-1978
Type: Bolt-on
Rear Stretch: 4 1/2"
Ground Clearance: 4"
Tire Size: Fits stock tires
Price: $235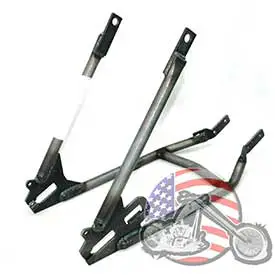 This bolt-on hardtail frame is perfect for older Sportster models from 1952 through 1978. It stretches the bike 4 1/2 inches and lowers it by 4 inches. The installation process is simple and straightforward. The frame is inexpensive and resistant.
Another pro of this hardtail frame is that it accepts drum style brakes. If you have been desperately looking for a frame that fits your older Sportster model, this frame might be the one
7. Harley Davidson Ironhead Sportster 64-81 Hardtail Rear Frame Section MK52
Fitment:1964-1981
Type: Weld-on
Rear Stretch: 3.5"
Ground Clearance: 2.7"
Tire Size: Fits stock tires
Price: $400
This is another excellent hardtail kit from Lowbrow Customs. This frame was designed by Voodoo Vintage and fits Sportsters with ironhead engines from 1964 through 1981. It has a rear stretch of 3.5 inches and a ground clearance of 2.7 inches. It is an easy frame to install that does not require an alignment jig.
8. TC Bros. Universal Weld-on Hardtail Frame Kit
Fitment: Fits all
Type: Weld-on
Rear Stretch: Adjustable
Ground Clearance: Adjustable
Tire Size: Fits all
Price: $124
This universal weld-on hardtail kit is for the rider who wants as much control and flexibility as possible. Since none of the parts are pre-welded, you get to build the frame whichever way you want. You get to choose the specific rear stretch and ground clearance that best suits you.
If you have the skills and love building things from scratch, this kit will provide you with the opportunity to create a frame that is uniquely your own. 
Final Words
Hardtail frames have not gone out of fashion and are not likely to any time soon. They are appreciated for their timelessness and practicality. The rawness that hardtails bring to the riding experience is something that cannot be replaced, and that many riders cherish.
If you are one of these riders, you have a multitude of different options to choose from. The hardtail kit you ultimately choose will be determined by your preferences and budget. As always, use your best judgment.